Future Treasures: Nightborn: Coldfire Rising by C. S. Friedman
Future Treasures: Nightborn: Coldfire Rising by C. S. Friedman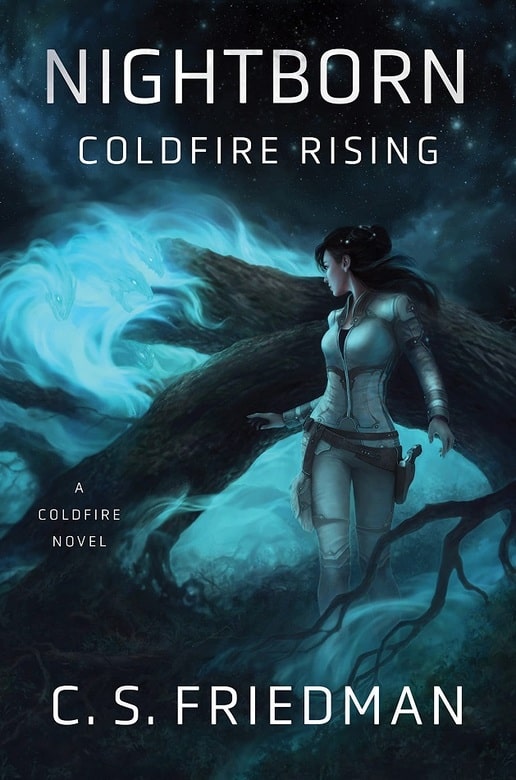 Nightborn: Coldfire Rising by C. S. Friedman will be published this July by DAW Books. The stunning cover art by Jeszika Le Vye evokes and extends the signature covers of the Coldfire Trilogy crafted by Michael Whelan; the trilogy was released during 1991-1995 followed by a 2012 prequel novella, Dominion. Note that a revised version of Dominion, starring the Hunter himself, is in Nightborn!
Pre-order Nightborn: Coldfire Rising now from various retailers via the portal page on The Astra Publishing House page (DAW imprints).
But wait, there is more! Black Gate has an interview planned with C. S. Friedman leading up to the release. This is part of our "Beauty in Weird Fiction" series that focuses on the aesthetics of art in dark fantasy.  Fans of the Coldfire series will know that the mysterious, energetic fae is a beautiful and dangerous medium (see the astral blue entity in the cover above), and we'll corner the author on her take on working visual, alluring magic.
Nightborn: Coldfire Rising
A prequel to the lauded Coldfire trilogy, Friedman's latest novel mixes the best of dark fantasy and chilling sci-fi.
A ship full of colonists arrive on a seemingly hospitable planet, only to discover that it harbors a terrifying secret. Soon the settlers find themselves caught up in a desperate battle for survival against the fae, a natural force with the power to prey upon the human mind itself, bringing a person's greatest fears and darkest nightmares to life.

As Colony Commander Leon Case and Chief Medic Lise Perez struggle to find a way to control the fae before more people die, other settlers have ideas of their own…and they may prove more of a threat to colony than the fae itself.

Nightborn: Coldfire Rising is a tale that blends sci-fi, fantasy, and horror, suspenseful and emotionally intense, as a handful of humans struggle to survive on an alien world that seems determined to kill them. In the end they will have to draw upon both scientific knowledge and mystical traditions to save themselves.

Whether you're just discovering the Coldfire universe through this prequel or returning to it as a classic favorite, Nightborn: Coldfire Rising is the perfect entry point to this unique, genre-blending space fantasy epic.
Praise for the Coldfire trilogy
"Readers will be enthralled." —Publishers Weekly

"Complex and compelling… The richly detailed setting and strong supporting characters give substance to a tale that explores the consequences of embracing evil in hopes of achieving its redemption. A priority purchase." —Library Journal

"Stunning…. A feast for those who like their fantasies dark, and as emotionally heady as a rich, red wine." —Locus

"The creative genius of C. S. Friedman burns brightly with the publication of her stunning new novel, blending elements of science fiction and fantasy into an extraordinary reading experience." —Rave Reviews

"Some of the best writing I have seen in quite a while, and the ending is excellent. Buy this one. Don't wait for it to come out in paperback. Very highly recommended." —Science Fiction Review

"A good mystery wrapped in an adventure story and set against an original and often fascinating background." —Science Fiction Chronicle

"Epic fantasy with a keen, dark edge … shows off Friedman's gifts of craft and authorial insight." —South Bend Tribune

"Words do not suffice to describe the sheer imaginative genius, not to mention incredible power, of Ms. Friedman's formidable storytelling gift—you simply have to experience it." —Romantic Times

"Hard to put down." —Midwest Book Review
C.S. Friedman
An acknowledged master of dark fantasy and science fiction alike, C.S. Friedman is a John W. Campbell award finalist, and the author of the highly acclaimed Coldfire trilogy, New York Times Notable Book of the Year This Alien Shore, In Conquest Born, The Madness Season, The Wilding, The Magister Trilogy, and the Dreamwalker series. Friedman worked for twenty years as a professional costume designer, but retired from that career in 1996 to focus on her writing. She lives in Virginia, and can be contacted via her website, www.csfriedman.com.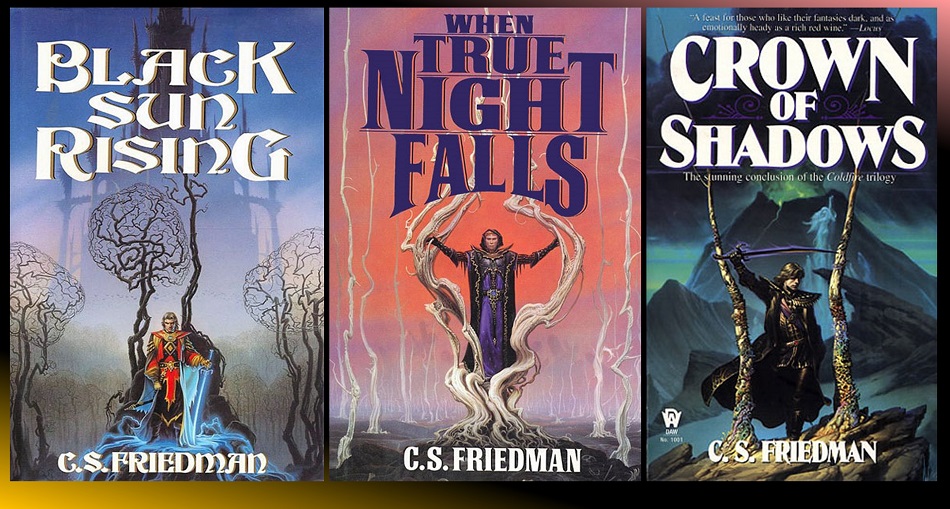 ---