Random Reviews: "Pollen and Salt," by Octavia Cade
Random Reviews: "Pollen and Salt," by Octavia Cade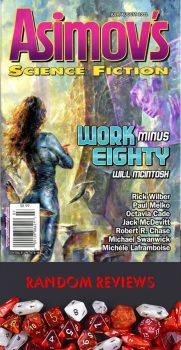 The stories in the database I'm using to determine what to review span a period of several hundred years. So far, the earliest the dice have selected is 1928's "The Yeast Men," by David H Keller, which came up on January 20.  While it isn't inevitable that the dice would select a current story, it is quite possible and has happened. At the time I'm writing this review of Octavia Cade's "Pollen and Salt," the July/August 2022 issue of Asimov's is the most recent issue of that magazine to have been published.
"Pollen and Salt" is the musings of a palynologist who is studying salt flats in a world much further along its route toward global warming than our own currently is. Waters are receding, which is indicative of the world's move toward climate catastrophe, but at the same time opens up new and unique opportunities for study as once water covered areas are exposed.
Even as she explores the mysteries of the world and waxing nostalgic about everything that climate change has killed off, she is also dealing with the death of her partner and spouse, to whom "Pollen and Salt" is a running commentary as she tries to make sense of the world she is finding.
While "Pollen and Salt" may lack in the realm of plot, it offers a strong study in the sense of loss than can afflict someone, not just the loss of a love one, but also the loss of a way of life and the loss of any form of normalcy. Cade's character deals with her losses in different ways. The on-going conversation with her dead spouse offers a way for her to keep his memory alive, even if it means she can't fully accept that he is gone. Conversely, her study into the pollens and salt flats reveals by global warming shows her acceptance of the world in which she has found herself, even if she feels nostalgia for the lost world of her youth.
"Pollen and Salt" isn't entirely about nostalgia. Cade's palynologist is also intent in ensuring that she leaves a record for the future to help them track this history of their world and the way if came about. Her research and addition to human knowledge matters to her and keeps her going. Despite the apocalyptic nature of climate change, it is important to document the way the climate has been changing and what the world was like before and during the transition.
Cade has provided a thoughtful piece with a leisurely pace to allow the reader to more fully understand the issues her character is dealing with and why different methods of dealing with those different losses work for her and can, at the same time, be productive. Although the sense of nostalgia pervades the entire work, it never overwhelms it, instead taking a backseat to the character's productive actions.
---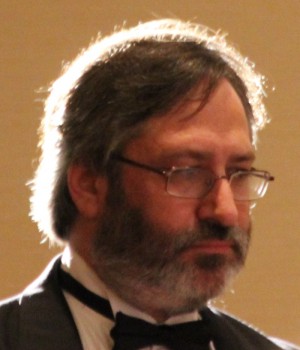 Steven H Silver is a nineteen-time Hugo Award nominee and was the publisher of the Hugo-nominated fanzine Argentus as well as the editor and publisher of ISFiC Press for 8 years. He has also edited books for DAW, NESFA Press, and ZNB. His most recent anthology is Alternate Peace and his novel After Hastings was published in 2020. Steven has chaired the first Midwest Construction, Windycon three times, and the SFWA Nebula Conference 6 times. He was programming chair for Chicon 2000 and Vice Chair of Chicon 7.