Random Reviews: "Pollen and Salt," by Octavia Cade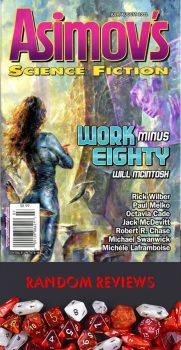 The stories in the database I'm using to determine what to review span a period of several hundred years. So far, the earliest the dice have selected is 1928's "The Yeast Men," by David H Keller, which came up on January 20.  While it isn't inevitable that the dice would select a current story, it is quite possible and has happened. At the time I'm writing this review of Octavia Cade's "Pollen and Salt," the July/August 2022 issue of Asimov's is the most recent issue of that magazine to have been published.
"Pollen and Salt" is the musings of a palynologist who is studying salt flats in a world much further along its route toward global warming than our own currently is. Waters are receding, which is indicative of the world's move toward climate catastrophe, but at the same time opens up new and unique opportunities for study as once water covered areas are exposed.
Even as she explores the mysteries of the world and waxing nostalgic about everything that climate change has killed off, she is also dealing with the death of her partner and spouse, to whom "Pollen and Salt" is a running commentary as she tries to make sense of the world she is finding.