Future Treasures: Drunk on All Your Strange New Words by Eddie Robson
Future Treasures: Drunk on All Your Strange New Words by Eddie Robson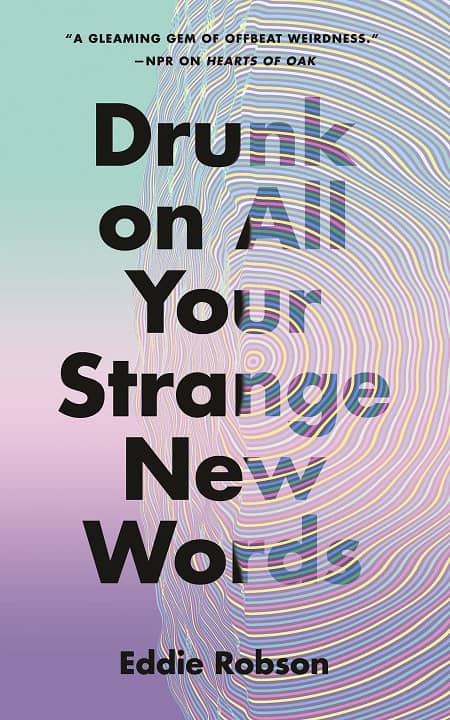 Drunk on All Your Strange New Words by Eddie Robson (Tor.com, June 28, 202)
Eddie Robson is the author of Hearts of Oak, which we discussed enthusiastically here back in October 2020. His latest, Drunk on All Your Strange New Words, is a locked room mystery featuring a murdered alien, his occasional ghost, and an alien language that leaves humans drunk.
Linda Codega at Gizmodo calls the book "a darkly tongue-in-cheek comedy," and Publishers Weekly proclaims it "a memorable exploration of the power of language and technology in a post first-contact world… thoughtful, fast-paced sci-fi." This is clearly a book that refuses to settle peacefully into a single category, and it's all the more interesting for it.
Library Journal has the best single-paragraph description, as it often does. Here's a snippet from its enthusiastic starred review.
Lydia works as the resident telepathic translator for the alien Logi in near-future, post–First Contact New York City… When her boss is killed inside their secure, locked embassy, Lydia is the obvious suspect. In her amateur investigation to clear her name, she is drawn into a cat-and-mouse game of faked evidence, wild-eyed academic theories, selectively incompetent police, and the ghost of her boss giving her clues from beyond… Fans of John Scalzi's Lock In and Brandon Sanderson's Legion will be enthralled with this deft blend of murder mystery and science fiction. In the end, the motives for the crime are all too human, while the means, methods, and opportunities are all firmly part of this futuristic setting. Highly recommended.
Drunk on All Your Strange New Words will be published by Tor.com on June 28, 202. It is 288 pages, priced at $26.99 in hardcover and $13.99 in digital formats. Read an excerpt here.
See all our recent coverage of the best upcoming SF & fantasy here.