Watch the Windycon Sword & Sorcery Panel with Mike Penkas, David C. Smith, Adrian Simmons, and John O'Neill
Watch the Windycon Sword & Sorcery Panel with Mike Penkas, David C. Smith, Adrian Simmons, and John O'Neill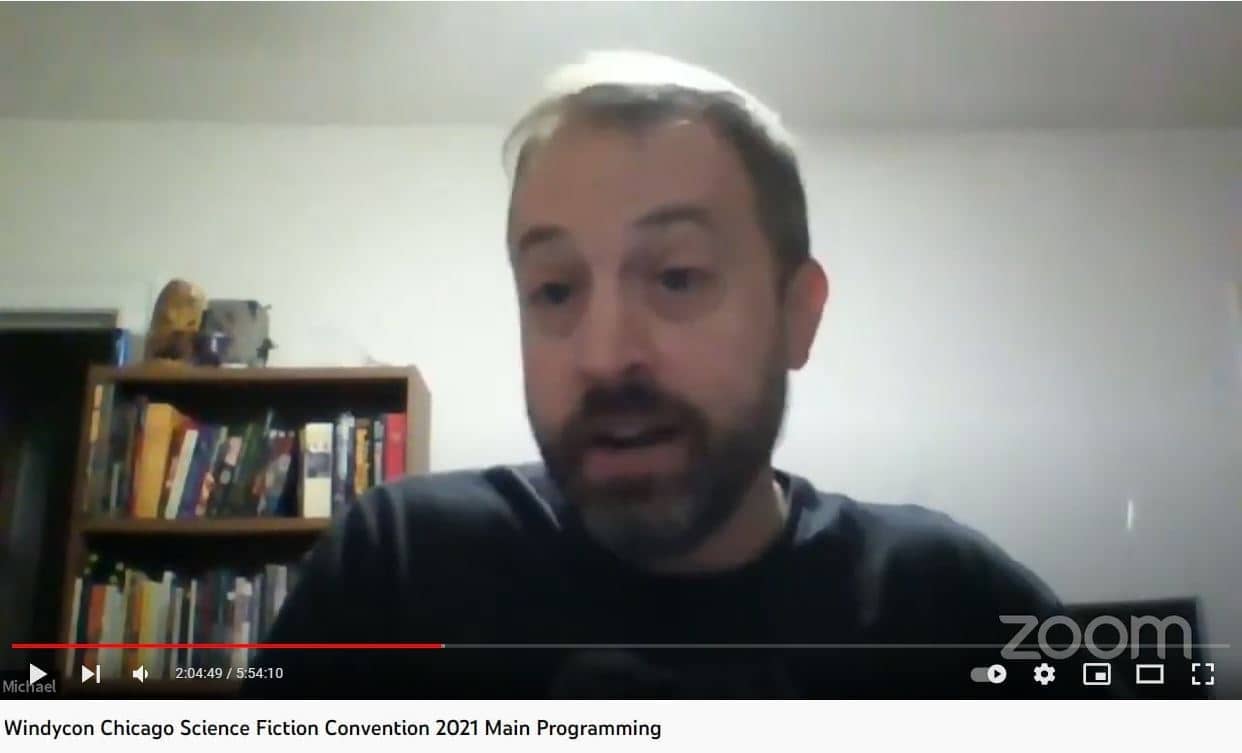 Mike Penkas moderates the Sword & Sorcery panel at Windycon 47
Windycon 47 was held in Lombard, IL from November 12-14. I was a guest of the convention, with a reading and several panels, and it was an absolute delight to attend an in-person convention again. Carlos Hernandez was the Author Guest of Honor, and his wife Claire Suzanne Elizabeth Cooney (former Managing Editor of Black Gate) was the Poetry G.O.H. In addition to their other activities, the two conducted a public demo of their new card-based role playing game Negocios Infernales, and it was a ton of fun to participate. It was also great to meet up with so many other friends of BG, including Rich Horton, Steven H. Silver, Arin Komins, Rich Warren, Tina Jens, Brendan Detzner, Richard Chwedyk, and many others.
But the highlight of the convention for me was Sunday's Sword & Sorcery panel, a lively discussion of S&S past and present. Michael Penkas moderated, and the speakers were Adrian Simmons (distinguished editor of Heroic Fantasy Quarterly magazine), author David C. Smith (Red Sonja, Oron, Coven House, and Robert E. Howard: A Literary Biography), and yours truly.
The discussion ranged far and wide — the golden age of the S&S in the pulps, Sword & Soul, Howard Andrew Jones' groundbreaking Hanuvar stories, the work of James Enge, the Red Sonja comics of the 70s, the artist Frank Thorne, S&S in video games and RPGs, the new S&S boom in magazines like Tales From the Magician's Skull and Heroic Fantasy Quarterly, Andre Norton and The Beastmaster, and much more. The SMOF masters of Windycon recorded the entire thing, and you can listen to it in its entirety here (the panel kicks off right around the 2:04:00 mark).