Vintage Treasures: High Tension by Dean Ing
Vintage Treasures: High Tension by Dean Ing

High Tension (Ace Books, 1982). Cover by Walter Velez
Dean Ing was a staple in James Baen's paperback magazines of the late seventies, Destinies (eleven volumes from Ace Books, 1978-1981) and the copycat series Baen kicked off after he left Ace to found Baen Books, Far Frontiers (seven issues, 1985-86). I also saw Ing's name semi-regularly in Analog and OMNI around the same time. He produced four collections: Anasazi (1980), a set of three connected tales of first contact with a group of surprisingly violent aliens stranded in west Texas in near future 1996; High Tension (1982); Firefight 2000 (1987), later re-released in 2000 as Firefight Y2K, in an attempt to stay cool; and the linked story cycle The Rackham Files (2004).
Ing was an academic with a military background, and that was definitely reflected in his fiction. He served as an interceptor crew chief in the United States Air Force, and he became an aerospace engineer, and eventually a university professor with a doctorate in communications theory. His fiction captured a lot of the public anxieties towards rapidly-advancing technology, especially weapons tech, including his 1989 New York Times bestseller, The Ransom of Black Stealth One.
Ing's other collections: Anasazi (Ace, December 1980), Firefight 2000 (Baen, June 1987),
The Rackham Files (Baen, 2004). Covers: uncredited, Larry Elmore, Stephen Hickman
In addition to his short fiction Ing wrote more than 30 novels, including several co-authored with Jerry Pournelle, S. M. Stirling, and (posthumously) Mack Reynolds, when he completed four of Reynolds' unfinished manuscripts after his death.
Wikipedia sums up Ing's writing succulently and, I think, fairly accurately.
Much of Ing's fiction includes detailed, practical descriptions of techniques and methods which would be useful in an individual or group survival situation, including instructions for the manufacture of tools and other implements, the recovery of stuck vehicles, and avoidance of disease and injury.
I wasn't too surprised to learn that, in addition to SF, Ing wrote nonfiction articles for the survivalist newsletter P.S. Letter.
Paperback magazines with Dean Ing stories: Destinies 2 & 3 (Ace, January-February 1979
and April-June 1979), and Far Frontiers 1 and 2 (Baen, January 1985 and Summer 1985).
Covers by Michael Whelan, Dean Ellis, and Michael Carroll (x2)
Ing died last year, at the age of 89. He continued writing into the early 2000s. He didn't get a lot of critical attention, though his short story "Devil You Don't Know" was both a Hugo and Nebula Award nominee in 1979.
High Tension includes a nicely representative sampling of Ing's fiction and essays from 1976-1980. Each story is prefaced with a two-page intro in which Ing lays bare his ambitions (failed and realized), and the SF writers he drew inspiration from.
Here's the opening paragraph of his introduction to "Domino Domine," the first story in the collection.
Instead of mumbling and kicking a rock, I'll just flat-out admit it: other writers still motivate me. My first story (1955) aped the no-nonsense engineering stories of Harry Stine, alias 'Lee Correy.' And I didn't even realize it until I saw my story lined up with one of Harry's in Astounding. I wasn't nearly as good a Correy as Harry was; maybe, I surmised, I was really Eric Frank Russell! Capering in my Russell suit for the second story (1957), I began to see why young painters copy old masters. Even during the next eighteen years when I was writing sf, I enjoyed studying masters like Blish, Knight, and Sturgeon, who could sculpt styles as Olivier sculpted his putty noses — and to equally devastating effect.
Stine was active from 1951-1992, Russell was very prolific in the 50s and into the 70s.
Authors Ing drew from for inspiration: Lee Correy (G. Harry Stine) and Eric Frank Russell: the Correy novel A Matter of Metalaw
(DAW, 1986), and the Russell collection Deep Space (Bantam, 1955). Covers by John Harris and Mel Hunter
Here's the complete Table of Contents for High Tension. It includes the Harve Rackham tale "Vital Signs," the first two parts of his essay series on Nuclear Survival (he eventually published four), and the essay "Vehicles for Future Wars,"
"Domino Domine" (Destinies, January-February 1979)
"Malf" (Analog Annual, 1976)
"Vehicles for Future Wars" (Destinies, August-September 1979) — essay
"Vital Signs" (Destinies, Summer 1980)
"Liquid Assets" (Destinies, August-September 1979)
"Nuclear Survival, Part 1: Gimme Shelter!" (Destinies, Summer 1980) — essay
"Why Must They All Have My Face?" (Destinies, Spring 1980)
"Down & Out on Ellfive Prime" (Omni, March 1979)
"Nuclear Survival, Part 2: Living Under Pressure" (Destinies, Fall 1980) — essay
"Banzai" (Analog Science Fiction/Science Fact, September 1978)
"Fleas" (Destinies, April-June 1979)
Here's the inside cover.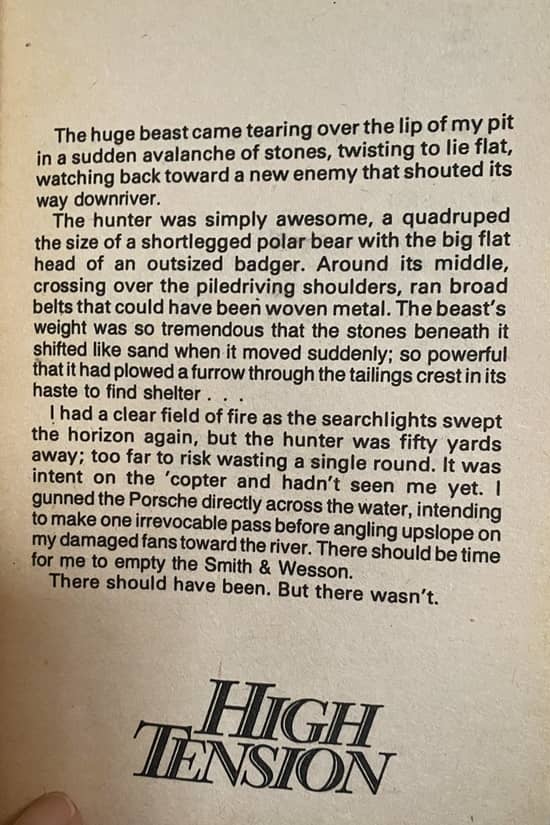 Inside cover of High Tension
High Tension was published by Ace Books in March 1982. It is 278 pages, priced at $2.50 in paperback. The cover is by Walter Velez. It has never been reprinted, and there is no digital edition.
See all our recent Vintage Treasures here.