Future Treasures: The Actual Star by Monica Byrne
Future Treasures: The Actual Star by Monica Byrne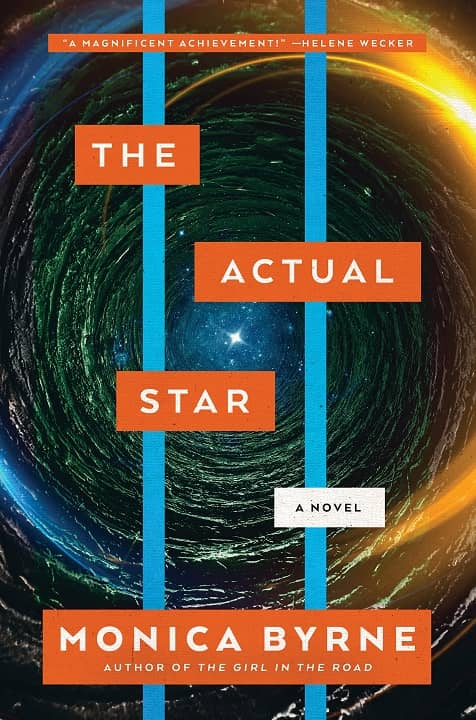 The Actual Star (Harper Voyager, September 14, 2021)
Tomorrow I'm playing hooky from work and spending the day at the Windy City Pulp and Paper show in Lombard, Illinois. It's my favorite annual convention, and the first I've attended in the pandemic era. It will be great to meet up with Black Gate contributors Rich Horton, Doug Ellis, William Patrick Maynard — and Greg Mele, whom I've never met in person before.
Even though I'm going to be spending the three days immersed in the great SF and fantasy of the past, I'm still here for you when it comes to SF and fantasy of the future. So before I jump in my trusty pulpmobile and head out for the weekend, I want to take a minute to tell you about Monica Byrne's second novel, The Actual Star, arriving in hardcover next week. Her first novel The Girl in the Road (2014) was nominated for the Locus award and won the 2015 James Tiptree, Jr. Award. And this one has garnered a lot of advance praise — Booklist calls it "Complex and captivating," and Tor.com says it's "Reminiscent of Octavia E. Butler… Byrne creates cultures and characters that embody depth, sensitivity, and a riveting story line." Here's a snippet from the feature review by Michael Marshall at New Scientist, who labels it "a stone-cold masterpiece."
With her second novel, author Monica Byrne has pulled out all the stops. The Actual Star… has three storylines, separated by millennia: one is set 1000 years ago in a declining Mayan kingdom, one in 2012 and one in a distant future shaped by catastrophic climate change. The seemingly disparate stories are rapidly revealed to be linked.

When a book is this ambitious, either it is a thumping success or it falls on its face. Happily, The Actual Star is a stone-cold masterpiece. It is one of the most moving novels I have read and surely a contender for major awards….

It is in the religion that the three timelines link. Byrne's futuristic theology is based on Mayan beliefs, specifically the idea of Xibalba: an underworld ruled by gods of death.

But this version of Xibalba is a place where people can finally perceive the world as it truly is, without the filters and concepts imposed by our sense organs and brains – to comprehend "the thing-in-itself", as the philosopher Immanuel Kant put it. Or as Ixul thinks at one point: "The star we see is not the actual star." In all three timelines, characters converge on the cave of Actun Tunichil Muknal in Belize where this transcendent perception may be possible…

The book is perfectly paced: it is leisurely enough to let you get to know the people and grasp the heady concepts, but there is constant forward momentum and a steady crescendo. The climax is as dramatic as anyone could wish for, but for me the real joys of The Actual Star are the vivid characters and societies. It is a book that will resonate with me for a long time.
The Actual Star will be published by Harper Voyager on September 14, 2021. It is 624 pages, priced at $27.99 in hardcover and $14.99 in digital formats. Get all the details here.
See all our coverage of the best upcoming SF and fantasy here.