Goth Chick News Reviews: My Heart is a Chainsaw by Stephen Graham Jones
Goth Chick News Reviews: My Heart is a Chainsaw by Stephen Graham Jones
My Heart is a Chainsaw (Saga Press, August 2021)
Over the Labor Day weekend, I got to do something I have literally not been able to do for close to four years. And before you ask, it had nothing to do with goat leggings or full moons.
Having been trapped in academic hell since January 2018 when I made the questionable decision to pursue a doctorate degree, I have had zero time to enjoy simple pleasures. Like sleeping, or having a weekend off. However, the thing I missed most was devoting an entire day (or two) to devouring a good book. To me, there is nothing quite as awesome as parking myself with some snacks and a cold drink, then tucking in to a novel from cover to cover. Due to a series of fortunate events, that is precisely what I was able to do this last Sunday and Monday.
Knowing I would have this extremely rare extravagance, I did another thing I haven't done in ages:  spend a few hours at my local Barnes and Nobel choosing the perfect title. In the "new releases" section I found My Heart is a Chainsaw by prolific horror writer Stephen Graham Jones, which had just hit shelves on August 31st.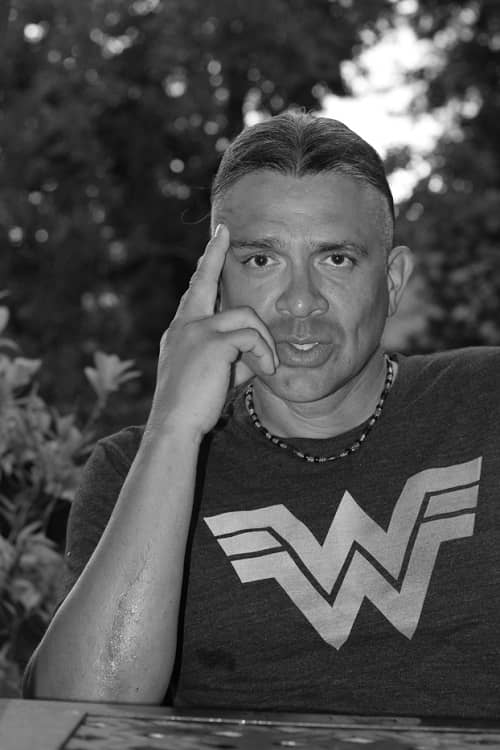 Stephen Graham Jones
Since his first in 2000, Jones has penned 30 novels and 7 short stories. In 2002, Jones won a National Endowment for the Arts fellowship in fiction and in 2006, he won the Jesse Jones Award for Fiction from the Texas Institute of Letters. He's taken home a Bram Stoker Award and a Ray Bradbury Prize for Science Fiction, Fantasy & Speculative Fiction. Publisher's Weekly promises, "horror fans will be blown away" by Jones' prose, and my beloved Grady Hendrix said Jones "makes (him) feel like an amateur."
Honestly, I can't believe I haven't read one of Jones' works before now. So, home I go with My Heart is a Chainsaw.
The story revolves around goth teenager Jade Daniels (so far so good). She's an outcast in her high school and community in general, being the product of a good-for-nothing father and an absent mother. She's poor, she smokes and is generally the antithesis of everything her small American town of Proofrock, thinks it stands for. Jade takes solace in an unusual place: she is a walking catalog of 80's horror movies. She sees everything around her through the lens of these films, especially when a real corpse turns up in the local lake. Jade believes she is witnessing the first event in the "slasher cycle," the plot arch nearly all her favorite movies follow, and only she and her encyclopedic knowledge can help save the Proofrock from the coming blood bath.
What I loved about Chainsaw was Jones' knowledge of 80's horror and how he uses it to build the complex character of Jade. I appreciated how he mixed Jade's homework in with the narrative, in which Jade doggedly turns every one of her history teacher's assignments into a discussion of horror. I loved the building tension in which nearly everyone in town is suspect, and guilty of something in any case. In fact, I sincerely loved this story right up until the almost-end.
I won't lay down any spoilers, or even tell you Chainsaw isn't worth your time, because it is. However, I did feel Jones led the reader down a very specific path that pointed toward a thrilling conclusion, before taking a hard left turn right at the last, leaving me gaping down at the pages – and not in a good way. Maybe I was just super disappointed that the conclusion of my long-overdue immersion between the covers of an honest-to-goodness hardcover book, was not a fabulous story I could gush about here.
Full disclosure, Amazon reviews gives Chainsaw a nearly perfect score, so I'm definitely in the minority. I dug through the 104 reviews to find two people who gave it 2 stars and 1 who gave it 3. One of the 2-star people said, "When everything should finally come together, the book takes a turn, mixing genres in a way that just plain doesn't work."
I have to agree.