Frontguard Sword and Sorcery: John Shirley's A Sorcerer of Atlantis
Frontguard Sword and Sorcery: John Shirley's A Sorcerer of Atlantis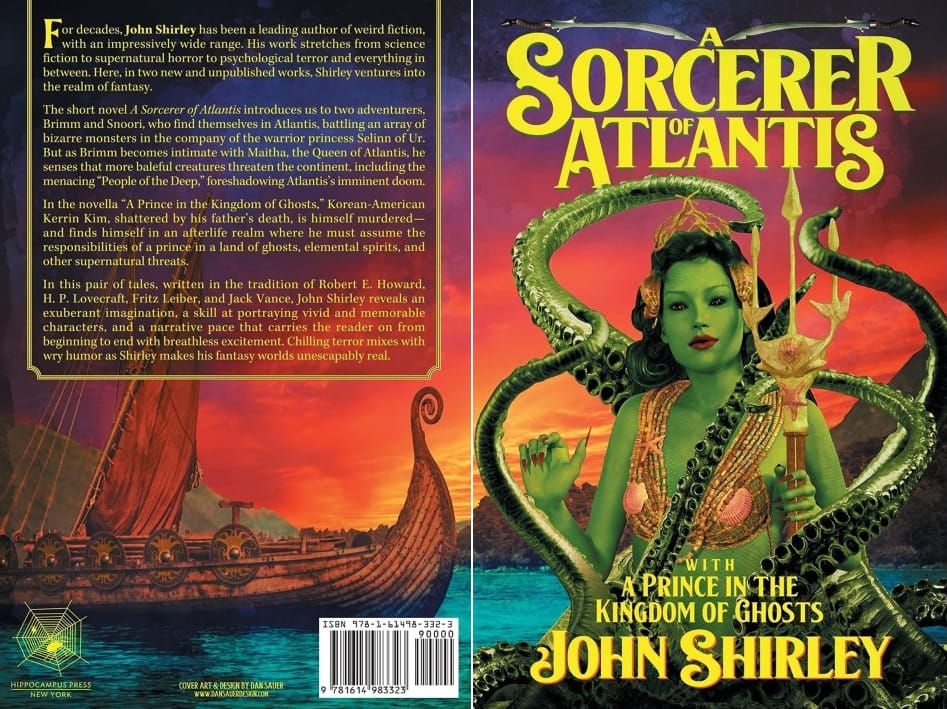 A Sorcerer of Atlantis (Hippocampus Press, 2021). Cover by Daniel V. Sauer
A Sorcerer of Atlantis: W
ith A Prince in the Kingdom of Ghosts
John Shirley's A Sorcerer of Atlantis: With A Prince in the Kingdom of Ghosts, published by Hippocampus Press (2021), includes two autonomous works: the novel A Sorcerer of Atlantis, which relates the hack-and-slash and demon-haunted adventures of Brimm the Half-Savant and Snoori, his mischievous, short-statured, mustachioed sidekick; and the novella, "A Prince in the Kingdom of Ghosts," a haunting gateway fantasy that evokes the trans-dimensional tales of Roger Zelazny's Chronicles of Amber and the psycho-cartographic tradition of Dante's Inferno.
Although bound together, both works are distinct, excellent reading experiences. Nevertheless, both works might be equally labeled "sword and sorcery," the pulp fantasy literary tradition of Robert E. Howard. Indeed, one of the joys of this book is how it showcases the dramatic range of that pulp tradition as it evolved after Howard. Put simply, Shirley's book is no mere pastiche, the re-hashing of a passé sword and sorcery formula, although A Sorcerer of Atlantis does engage Weird Tales and Henry Kuttner nostalgia. Instead, Shirley's unique work reminds us that the purview of sword and sorcery is a wide, unfolding, and dynamic literary conversation that is heating up today.

A Sorcerer of Atlantis evokes the fun, light-hearted picaresque literary tradition uniting works as disparate as Voltaire's Candide, Defoe's Moll Flanders, with L. Sprague de Camp's Tritonian Ring. De Camp's work is a uniquely useful touchstone because like A Sorcerer of Atlantis, de Camp's comical sword and sorcery rogue's novel deploys Greco-Roman atmospherics and literary allusion (something Shirley does skillfully in Sorcerer but with levity). Indeed, A Sorcerer of Atlantis is wonderfully puerile and clownish yet unapologetically brutal and violent, not unlike the eclectic work of Jack Vance, specifically his Cugel the Clever saga.
"A Prince in the Kingdom of Ghosts," however, is very different. Although there is some levity in this tale of "modernity encounters pre-modernity" (c.f. de Camp's Lest Darkness Fall (1941)), it is philosophically rich and occasionally pensive and serious. "A Prince in the Kingdom of Ghosts" could generally be described as a modern literary attempt to grapple with the deepest of human mysteries: life after death, an imaginative and intriguing exploration of what the Prince of Denmark famously refers to as "the undiscovered country from whose bourn no traveller returns."
One could not but notice that A Sorcerer of Atlantis evinces historicity and profanity with its ecstatic sexual encounters, blood-soaked battles, and slimy tentacle monsters, and this gushing materiality threw into focus the comparably abstract and airy nature of "A Prince in the Kingdom of Ghosts" in its metaphysical emphasis on souls, spirituality, the afterlife, and the frontiers of physics. There are other interesting symmetries at play. A Sorcerer of Atlantis draws upon a European cultural stream for imagery and tropes: Poseidon, Atlantis, the legacy of Rome, and more influences the imagery and aesthetic of this novel. Conversely, "A Prince in the Kingdom of Ghosts" emphasizes Taoist, Korean, and Chinese themes. Dare I generalize and say it is more Asian to A Sorcerer of Atlantis' European bent?
Although I loved Shirley's A Sorcerer of Atlantis battles with fishy, cannibalistic mermen, scheming demon-priests, and wine-soaked romps into adventure, if pressed, I must admit "A Prince in the Kingdom of Ghost" was a favorite. The novella succeeds in rendering the sublime alterity of a non-material world after physical life ends. Consider this beautiful evocative description of dying. Kerrin, a gem-cutter, is polishing a diamond when he is murdered:
Keerin reached for the polishing cloth–and froze, feeling a piercing iceness enter deeply in the back of his skull. He tried to call out, to move — and couldn't. And then darkness swarmed around him. All that was left was the diamond fixed in the light. Then even that was gone. There was only darkness. "Awaken, and reign over your people, my prince." It was a man's hoarse voice, resonant with age.
Although modest pulp writers might disavow the highbrow association, passages like this participate in a great human tradition described by theologian Paul Tillich as self-affirmation in the face of non-being. Faced we death, we deploy narrative. It's what humans do.
This excellent book is recommended to all lovers of sword and sorcery hoping for a continuation of its development, the advance of its front guard. With this eclectic double dose of S&S, Shirley electrifies our imaginations, entertains us with pure story, and delicately lifts the veil concealing death… just so. By visiting Shirley's literary dreamscape, a little bit of wonder is restored to waking.
Book Cover Blurb
For decades, John Shirley has been a leading author of weird fiction, with an impressively wide range. His work stretches from science fiction to supernatural horror to psychological terror and everything in between. Here, in two new and unpublished works, Shirley ventures into the realm of fantasy.

The short novel A Sorcerer of Atlantis introduces us to two adventurers, Brimm and Snoori, who find themselves in Atlantis, battling an array of bizarre monsters in the company of the warrior princess Selinn of Ur. But as Brinn becomes intimate with Maitha, the Queen of Atlantis, he senses that more baleful creatures threaten the continent, including the menacing "People of the Deep," foreshadowing Atlantis's imminent doom.

In the novella "A Prince in the Kingdom of Ghosts," Korean-American Kerrin Kim, shattered by his father's death, is himself murdered-and finds himself in an afterlife realm where he must assume the responsibilities of a prince in a land of ghosts, elemental spirits, and other supernatural threats.

In this pair of tales, written in the tradition of Robert E. Howard, H. P. Lovecraft, Fritz Leiber, and Jack Vance, John Shirley reveals an exuberant imagination, a skill at portraying vivid and memorable characters, and a narrative pace that carries the reader on from beginning to end with breathless excitement. Chilling terror mixes with wry humor as Shirley makes his fantasy worlds inescapably real.
A Sorcerer of Atlantis was published by Hippocampus Press on June 15, 2021. It is 306 pages, priced at $20 in paperback and $6.00 for the digital version. The cover art and design is by Daniel V. Sauer. Get all the details at the Hippocampus Press website here.
---
Jason Ray Carney is a Lecturer in Popular Literature at Christopher Newport University. He is the author of the academic book, Weird Tales of Modernity (McFarland), and the fantasy anthology, Rakefire and Other Stories (Pulp Hero Press). He recently edited Savage Scrolls: Thrilling Tales of Sword and Sorcery for Pulp Hero Press and is an editor at The Dark Man: Journal of Robert E. Howard and Pulp Studies and Whetstone: Amateur Magazine of Sword and Sorcery.