New Treasures: The Best of World SF edited by Lavie Tidhar
New Treasures: The Best of World SF edited by Lavie Tidhar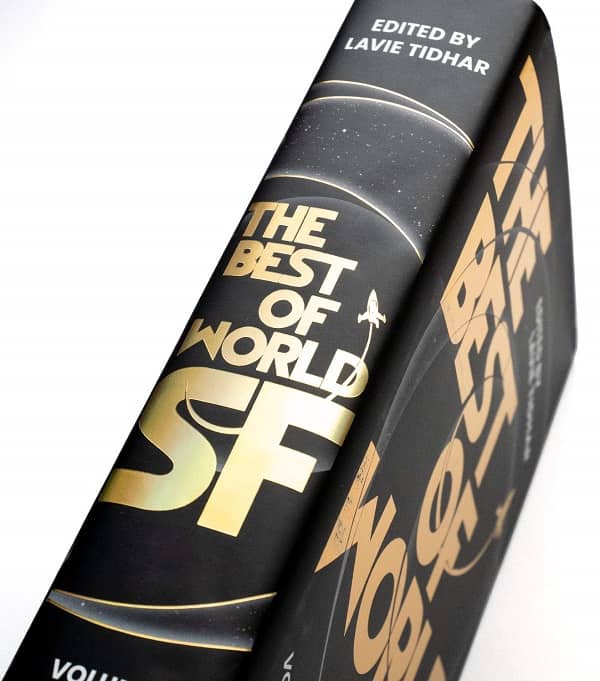 The Best of World SF (Head of Zeus, June 2021). Cover design by Ben Prior
You lot know how much I enjoy a good anthology. One of the most acclaimed to appear so far this year is The Best of World SF: Volume 1, edited by Lavie Tidhar. It's a substantial collection of science fiction from all across the globe, featuring highly regarded writers such as Aliette de Bodard, Chen Qiufan, Vandana Singh, Tade Thompson, Hannu Rajaniemi, Ekaterina Sedia, Lauren Beukes, Karin Tidbeck, Silvia Moreno-Garcia, Zen Cho, and dozens of others. The Philadelphia Inquirer said:
Inside this 26-story, 575-page cinder block of a collection… We're talking spaceships and nanobots, creeping horrors and astral wonders, cyberpunk dystopias and cold, empty places where no one can hear you scream… Embrace the unknown.
That seems like great advice to me. Here's the lowdown on some of the more interesting tales within, according to Gary Wolfe at Locus Online.
Asteroid min­ing is hardly a new thing, but the workers in Chen Qiufan's "Debtless" are caught in a nightmare, indenture even coded into their genes, and undergo memory erasure to make them more pliable. The time-traveler from the future is an even older con­vention, but in Tade Thompson's "Bootblack" he arrives during the race riots in post-WWI Cardiff (something I learned about for the first time here). Uplifted animals have seldom had as sophisticated a treatment as Hannu Rajaniemi offers in "His Master's Voice." The idea of the living spaceship is given a rather lovely romantic turn in Karin Tidbeck's "The Last Voyage of Skidbladnir," while Lauren Beukes turns the classic setting of the fecund jungle planet into a horror tale – both corporate and visceral – in "The Green."

Prob­ably the closest approach to space opera shows up in R.S.A. Garcia's "The Sun from Both Sides," though you'd never guess it from the modest, fable-like setting at the beginning of the story; structurally, it's the boldest narrative gesture of all the stories here…. Kofi Nyameye's "The Old Man with the Third Hand" is a moving tale that explores the liminal space between material fan­tasy and mental illness, with a brief nod to Cthulhu along the way. The protagonist of Silvia Moreno-Garcia's novella "Prime Meridian," adrift in an unstable gig economy in a near-future Mexico City, balances her dreams of becoming a botanist on Mars with her day job as a paid companion to a faded B-movie actress, a sort of low-rent Norma Desmond, whose career had been largely defined by tacky SF flicks.

Stories like these are the ones you sometimes want to foist upon readers who claim not to like SF, and The Best of World SF: Volume 1 reminds us that such stories can come from anywhere these days.
Here's the complete Table of Contents.
'Immersion' by Aliette de Bodard
'Debtless' by Chen Qiufan
'Fandom for Robots' by Vina Jie-Min Prasad
'Virtual Snapshots' by Tlotlo Tsamaase
'What The Dead Man Said' by Chinelo Onwualu
'Delhi' by Vandana Singh
'The Wheel of Samsara' by Han Song
'Xingzhou' by Yi-Sheng Ng
'Prayer' by Taiyo Fujii
'The Green Ship' by Francesco Verso
'Eyes of the Crocodile' by Malena Salazar Macia
'Bootblack' by Tade Thompson
'The Emptiness in the Heart of all Things' by Fabio Fernandes
'The Sun From Both Sides' by R.S.A. Garcia
'Dump' by Cristina Jurado
'Rue Chair' by Gerardo Horacio Porcayo
'His Master's Voice' by Hannu Rajaniemi
'Benjamin Schneider's Little Greys' by Nir Yaniv
'The Cryptid' by Emil H. Petersen
'The Bank of Burkina Faso' by Ekaterina Sedia
'An Incomplete Guide…' by Kuzhali Manickavel
'The Old Man with The Third Hand' by Kofi Nyameye
'The Green' by Lauren Beukes
'The Last Voyage of Skidbladnir' by Karin Tidbeck
'Prime Meridian' by Silvia Moreno-Garcia
'If At First You Don't Succeed' by Zen Cho
The Best of World SF was published by Head of Zeus on June 1, 2021. It is 588 pages, priced at $35.95 in hardcover and $15.49 in digital formats. The cover was designed by Ben Prior. See all the details at the Head of Zeus website here.
See all our recent New Treasures here.