Fringe Grimdark: Crimson Crown by BJ Swann, and Beyond Barlow by Jason R. Koivu
Fringe Grimdark: Crimson Crown by BJ Swann, and Beyond Barlow by Jason R. Koivu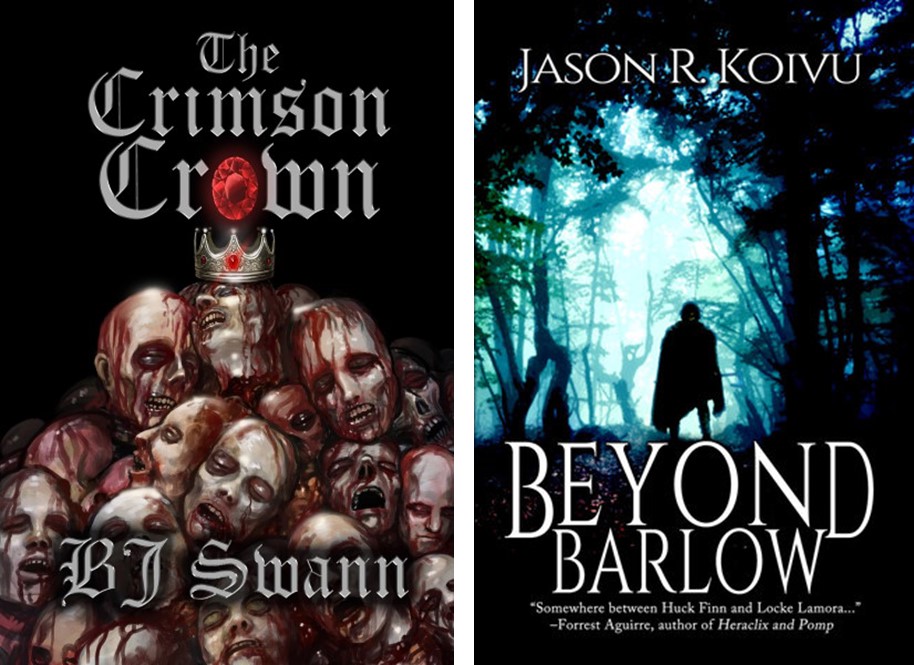 Readers typically differentiate stereotypical High Fantasy (elves, dwarves, wizards-with-pointy-hats with a slant toward happy adventuring) vs. Low Fantasy (more "realism" & "earthier" milieu, with a focus on humans defending trenches at a battlefront or crawling through crypts to save a maiden or rob a god). The latter encompasses sub-genres like Sword & Sorcery and the contemporary-named Grimdark.
Why stop at regular Grimdark when you can go further? This post highlights two New Treasures that are arguably Grimdark, but still push the boundaries of what is expected. At the very least, they should appeal to dark fantasy readers who desire something fresh (whatever label the books deserve). To learn if these are right for you, read on:
Crimson Crown – A "Punk AF" Fairy Tale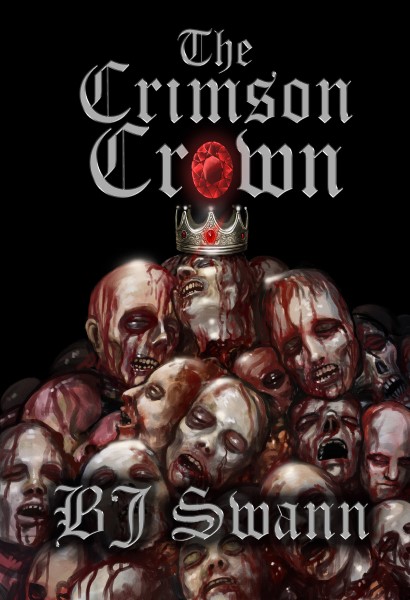 Like to read familiar, cozy mysteries or adventures? BJ Swann's The Crimson Crown is not for you. As the blurb on the back warns: "The Crimson Crown is a Punk AF…contains graphic sex, violence, and disturbing material, and is not intended for the squeamish or the easily offended."
The Crimson Crown is for readers looking for a fresh and emotive experience that is well-crafted, but discomforting. This is extreme Dark Fantasy. The beginning radiates an insane-fairytale vibe which evolves into a climactic battle that is wholeheartedly Grimdark melee. Here's an excerpt of some of its early, passive brutality:
[Barbus] grabbed the serving girl by the neck and forced her to kneel, so that her chin rested on the tabletop and its edge pressed into her throat. She coughed and choked, and at first Honey thought the poor girl's windpipe might be broken, but then she began crying and begging for her life … Blood trickled down her face and mingled with her tears. Honey wanted to say something, tell him to stop, but she was paralysed with terror. She watched as Barbus grabbed the girl's hair and peeled back her scalp like a rind, laying bare her naked skull. Honey felt sick from the sight, but the horror was only beginning.
And that scene really is just the beginning. It continues to dish out the serving girl's brains. Submissive Honeydew witnesses it all. This book is literally full of scenes like this. Whereas the initial chapters are grotesquely calm, they ramp up toward action-oriented warfare:
She clapped her hands on either side of an enemy's head. His helm collapsed and his skull cracked like an egg, forcing blood and brain to go shooting through the holes in his visor. The gore splattered afresh all over her face. She stopped, blinded, senses cocooned by the hot wetness clogging her nostrils, coating her lips, overwhelming her with its scent and its taste. She tried to wipe it away but her blood-covered gauntlets weren't suited to the task. Even when she managed to scoop it out of her eyes so she could see, it was still on her lips and in her nose, preventing her from breathing, lest she breathe it in too. A part of her was sickened, repulsed by the thick, cloying film; another part wanted to let it in, to bathe in it both inside and out.
Enjoy the Atrocity
There were instances of violent eroticism that made me uncomfortable. I kept reading since none of the madness was gratuitous, the delivery was smooth, and the horror was interrupted with (a) grim humor and (b) contrasting scenes of peace & serenity. All the scenes, no matter how vividly terrible, amplified the themes and story arcs. Ashleigh the painter is a character whose task in life is to document the carnage following the crown, and he seems to echo the author's muse by maintaining an Atrocity Exhibit. There is cruelty that he must document and share.
The Crimson Crown is intentionally edgy. As "Punk AF" as it is, it strikes great balances. The story arcs were simple, conflicts stark, and characterizations extreme. This clarity made for a fast read. The fun uncertainty lies in the journey. You will be flipping pages anxious to know how the journey unfolds, even though you know it ends terribly. I found both Honeydew and Oda to be strangely relatable even though they are almost cartoonishly unreal characterizations. I got attached to them anyway. As Honey and Oda transform, you may ask yourself, "Do I have inner cruelty to feed?" No? Then why are you enjoying the book? Questioning your own glee while reading this Atrocity Exhibit is, in itself, disturbing.
The blood was disgusting, with a hint of deliciousness thrown in, like any other type of acquired taste. She swallowed it down, sucked in a blood-tainted breath, then licked her lips. She told herself it was only to clean her mouth, because her gauntlets were too clumsy to do so, but a part of her was howling with joy at the texture and taste. What's happening to me? she wondered, though she already knew.

The complex of feelings was always the same – a sense of great power that gloried in itself; a bestial hunger for agony and blood; the pleasure of selfishness unbound; and, last but not least, the delicious frisson of doing the forbidden. In other words, it was cruelty, pure and simple. It had always been inside of her – she was simply just letting it out.
Title, Cover, and Summary
The cover art by Anton Rosovsky is engaging and represents the story well. The title and design deliver exactly what they should: the promise of a brutal story about an artifact called the Crimson Crown. It raises mysteries too: is the head wearing the crown a protagonist? Is the crimson referring to blood or the highlighted gem? The synopsis on the back summarizes the conflict:
Inverted Dreams. Excoriated Hearts. Terror and Horror Sublime. The twin princesses Oda and Honey are as different as night and day. Oda is a child of the dark, obsessed with cruelty and death. Honey is as sweet as her name, filled with goodwill and compassion. It is therefore a remarkably revolting twist of fate when the royal astrologer orders Oda to be married to the mild-mannered King Armand, while Honey is betrothed to King Barbus of Gutgirt, the most brutal man in the world, who tears peasants apart with his bare hands and keeps his murdered brides' bodies on display in his own bloody chamber. As the twins strive to wrest back their lives from the cruel hand of fate, they embark on a journey of self discovery that will twist them in unimaginable ways – and perhaps bare the secrets of their innermost selves. At the centre of their struggles, shining balefully over all, is the Crimson Crown of Gutgirt, a relic of terrible mystery and demonic power, whose secrets hold the key to salvation – and everlasting doom.
Aeon of Chaos:
The Crimson Crown is associated with the Aeon of Chaos (AoC) universe produced by BJ Swann. The series all share the disclaimer: "contains graphic sex, violence, and potentially disturbing material. It is not intended for children or the easily offended." I have not read these yet, yet the introductory pages provide some context:
It is the Aeon of Chaos, a time of terror, wonder, and pleasures undreamed of. The gods are dead and the great demons gnaw at their bones. From the cannibal kingdom of Kaszanka to the sordid pornocracy of Thune life is frenzied and cheap. Fortunes and kingdoms are bartered at the swing of a blade. Lawlessness and lust rule the day, while magic and mayhem take charge of the night. Slavery and massacre swarm across the land like ants at a picnic, while notes of demon laughter dance over all like shadows of flames from the deific pyre. It is the Aeon of Chaos, and only Chaos reigns!
Other Aeon of Chaos books: The Unwithering Flower, The Court of the Mushroom King, and Our Lady of the Scythe: Demon Academy.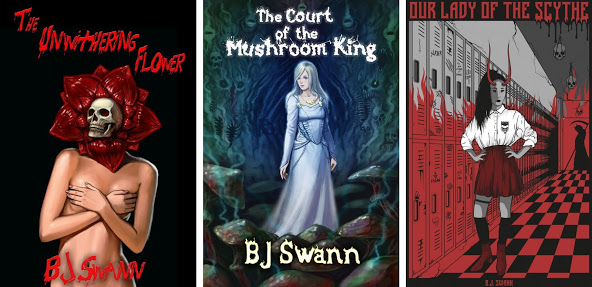 Beyond Barlow – Intellectual Grimdark
This book blurb attracted me to Jason R. Koivu's Beyond Barlow since I am a fan of Forrest Aguirre's Heraclix & Pomp. Turns out his summary is spot on.
"Somewhere between Huck Finn and Locke Lamora" — Forrest Aguirre
Beyond Barlow has no explicit sorcery, and lies somewhere between medieval fiction and today's Grimdark. Yet it feels different, and this difference can be a plus or a detraction for readers. It all boils down to the conflict. Most adventures of Dark Fantasy tap into simple conflicts of Hero(ine) protagonists vs evil villains/creatures. Beyond Barlow works the more obtuse Hero vs. Self (or arguable Hero vs. Nature) conflict; this development can be slower to develop and more obtuse than the former.
The book follows Ford Barlow who is an impulsive, violent teenager who struggles to fit in with his family in a comfortable way. The story tracks his coming of age as he learns to kill in battle; he causes several brutal accidents leading to his departure from Barlow (his family's hamlet). He joins the Wayward Boys, and his teambuilding with the gang has all the hallmarks of Golding's Lord of the Flies.
Themes of "family matters" persist across every chapter; i.e., what does it means to belong to one? What is your role as a member? The opening chapter, for instance, has Ford going to battle with his dad, step-brother, and dog Stinky. At first, I thought this was a foundation for a Ford-vs-other-clan narrative, but subsequent chapters amplified Ford's feelings of mis-belonging.
Ford is continually haunted by visions of his father, a woodcutter. The following chapters focus on his bonding with a band of thieves. Plenty of drama unfolds as the wanderlust boys survive by thieving food, braving cold winters, and looting crypts. The characters Runt and Ham echo Ford's relationship with his step-brother Leo; they were my favorite of the bunch.
Its uniqueness may also make this less accessible. Ford isn't really honorable (though he does mature a bit)… the situations he experiences are very grim, and without a clear villain, it leans toward intellectual fiction. The series continues with the sequel The Rue of Hope, which interestingly calls out magic. So we can speculate that the tone shifts towards dark Sword & Sorcery in the next installment.
Blurb for The Rue of Hope:
Murder in the streets. Murder in the houses of the holy. The violent deaths of prominent figures have the populous on edge. Now, amid fire and flood, the revolt is on. The castle is taken, the lord is on the run, and the city is crumbling. With society on the verge of collapse, impulsive street-fighter Ford Barlow finds himself in just as much turmoil. Not only is he juggling his own problems, but his slippery rogue friend is embroiled in a string of high-profile assassinations. Mercenary work for a mage meant to distance him from his troubles only highlights his selfish ways and drives him back into a crumbling world of scandal and betrayal. Magic, adventure and murder combine in this fantasy-mystery!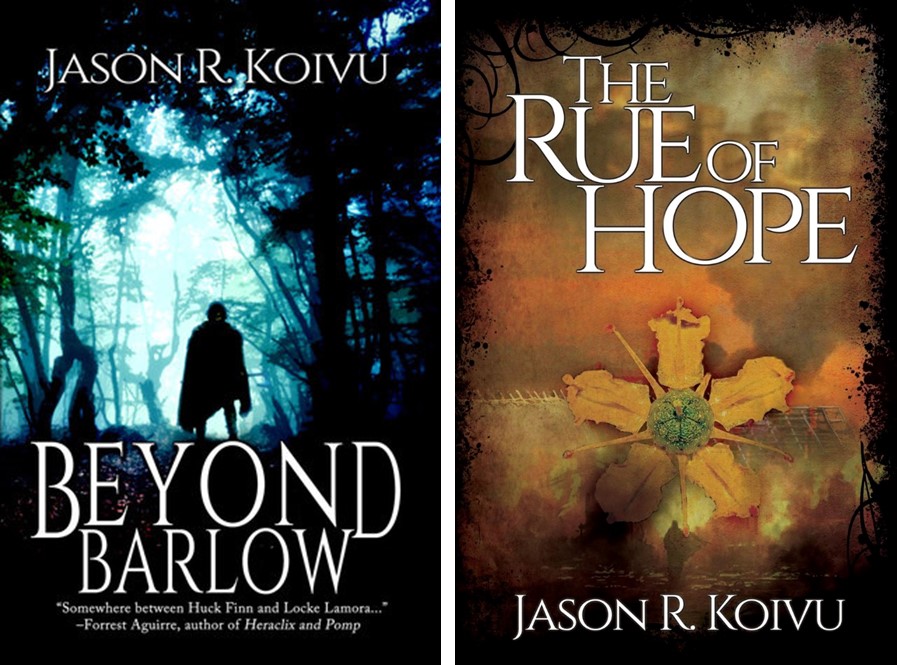 ---
S.E. Lindberg resides near Cincinnati, Ohio working as a microscopist by day. Two decades of practicing chemistry, combined with a passion for the Sword & Sorcery genre, spurs him to write adventure fictionalizing the alchemical humors (under the banner Dyscrasia Fiction). With Perseid Press, he writes weird tales in the same bloody vein (Heroika and Heroes in Hell series). He co-moderates the Sword & Sorcery group on Goodreads, and invites all to participate. He enjoys studying Aikido and creates all sorts of fine art in the family workshop.