Vintage Treasures: Judgment Night by C.L. Moore
Vintage Treasures: Judgment Night by C.L. Moore
Judgment Night (Dell, 1979). Cover uncredited
Every new generation of SF readers has to put up with old timers lecturing them about how much better science fiction was decades ago. I had to endure it when I was growing up, my kids sure as hell did, and I expect twenty years from now my grandkids will have to cope with the same annoyance, as they try to peacefully enjoy their favorite manga by the pool while grandad angrily shouts at them to read a damn book once in a while. I hope they ignore him.
From time to time some curious young reader will ask me for a recommendation from the pulp era of science fiction I'm always going on about, "You know, something actually good." It's a fair enough request. Sometimes I point them towards Charles Tanner's Tumithak stories, or Robert E. Howard, or Clark Ashton Smith. But recently I've been suggesting C.L. Moore. And especially her 1979 paperback Judgment Night, which collects five tales from the pulp era of Astounding. Here's Paul Di Filippo's review of the title story, published here at Black Gate a decade ago,
A primal space opera, it concerns the star empire of the Lyonese, whose central world is Ericon, where ancient patron gods live, remote from day-to-day affairs of the empire.

But now the vast holdings of the Lyonese are crumbling under the assault of a younger race, the H'vani. The Emperor's heir is Juille, a daughter, and she's determined her dynasty will continue. She wages a one-woman campaign against the wishes of her doddering father to save all that her ancestors built.

But she doesn't count on falling in love with the H'vani ruler — or the machinations of Ericon's living deities.
"Judgment Night," published in the August 1943 issue of Astounding, is a complete short novel in itself, but that lovely paperback also contains the novella "Paradise Street" and three long novelettes. It's a delightful introduction to what pulp science was all about — and one of its finest practitioners.
[Click the images for astounding-sized versions.]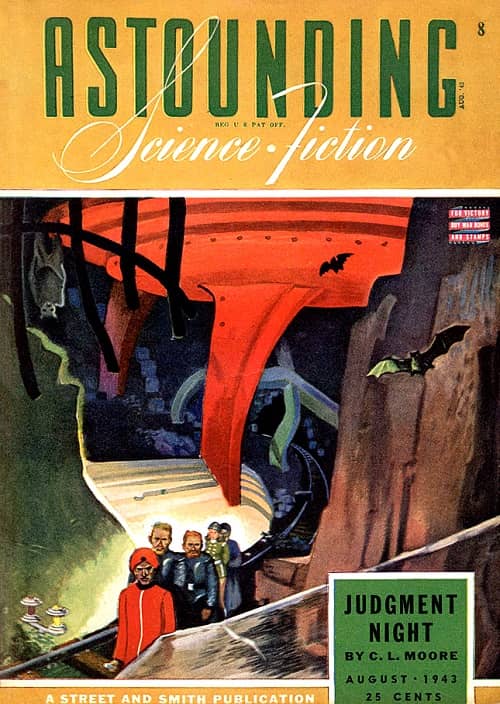 Astounding Science Fiction August 1943,
containing the complete short novel Judgment Night by C.L. Moore
Here's Paul on the other stories in the collection.
"Paradise Street" finds Jaime Morgan, a grizzled pioneer, failing to fit in on the changing planet he helped explore, Loki. Settlers — drudging farmers! — have followed in his wake, and are threatening to domesticate Loki. Will Morgan agree gracefully to the changes, or will he fight to preserve a dying wilderness? And can he bring himself to form an alliance with the slimy Venusian criminal named Shining Valley just to further his own selfish ends?

In "Promised Land," Ben Fenton is heir to a monstrous man named Torren, who broods over the world of Ganymede like a poisonous spider. Not content with reaping the current riches of the satellite via the bioengineered humans who can tolerate Ganymede's alien environment, Torren wants to terraform the little world, even if it means killing off the Ganymedeans. Fenton is expected to go quietly along with these plans—and he would have, if he hadn't fallen in love with a "native."

For a break, we switch to a contemporary terrestrial venue, and check in on Rufus Westerfield in "The Code." Westerfield is the first subject of an experimental procedure to restore youth to the human body. At first, the experiment seems a success. But then Rufus keeps on getting younger, and younger — and stranger too. What awaits the end of his devolution?

Finally, in "Heir Apparent," we return to the future history of "Promised Land," but not to the same characters. This time we view events from Earth, where Integration Teams run the colonizing program. Ed Harding has been booted from one of these Teams, and now longs to get back to the unique status and perks they offer. There's rumors of a rogue team he could join. He only has to convince his mortal enemy to let him onboard — or kill the man before he kills Harding.

Powerful anti-heroes and a sense of melancholy unique in SF. C. L. Moore's virtues were manifold. She had a powerful, propulsive prose style and plotting abilities. She favored doomed characters that would allow her to express her melancholy, twilit view of humanity and its affairs.

And she was no slouch when it came to genuine speculative conceits.
The Dell paperback is a reprint of a rare (and highly collectible) Gnome Press hardcover from 1952, originally published with a marvelously dark cover by the great Frank Kelly Freas.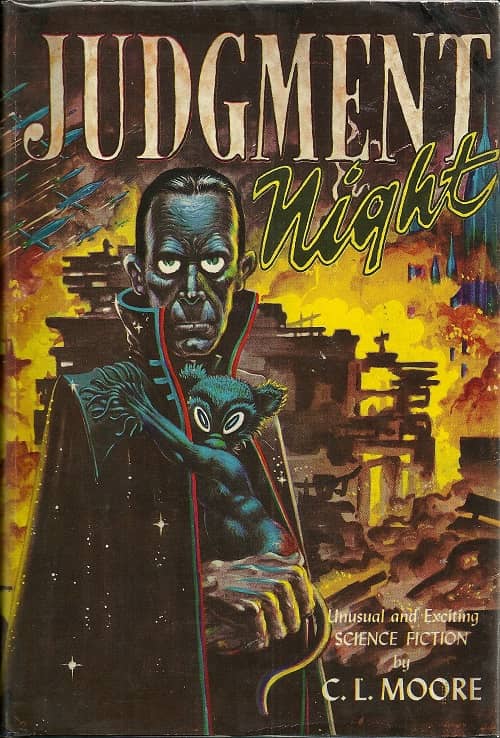 Judgment Night (Gnome Press, 1952). Cover by Frank Kelly Freas.
Red Jacket Press reprinted the original Gnome Press edition in a deluxe slipcased volume in 2004.
Here's the complete table of contents for both the Gnome Press and Dell versions.
Judgment Night (Astounding Science-Fiction, August 1943)
"Paradise Street" (Astounding Science Fiction, September 1950)
"Promised Land" (Astounding Science Fiction, February 1950)
"The Code" (Astounding Science Fiction, July 1945)
"Heir Apparent" (Astounding Science Fiction, July 1950)
If the name C.L. Moore is at all familiar to you — and it should be — perhaps it's because she's a favorite topic here at Black Gate. Ryan Harvey, C.S.E. Cooney, Rich Horton, Steven Silver, James McGlothlin, and others have all discussed her here at some length.
Her most popular tales include the fantasy adventures of Jirel of Joiry in medieval France, and the SF adventures of the smuggler and rogue Northwest Smith.
Northwest Smith (Ace Books, 1985). Cover by Jim Burns
Our previous coverage of C.L. Moore includes:
Black God's Kiss by C. L. Moore by Ryan Harvey
"Jirel, Ma Joie!" (In Which I Encounter My First C.L. Moore) by C.S.E. Cooney
Happy 100th Birthday, C. L. Moore!
Earth's Last Citadel by C.L. Moore and Henry Kuttner
Smugglers, Alien Vampires, and Dark Dimensions: The Best of C. L. Moore by James McGlothlin
Birthday Reviews: C.L. Moore's "Lost Paradise" by Steven H Silver
Horrors, Marvels, Gods and Demons: C.L. Moore's Tales of Northwest Smith
Doomsday Morning by C.L. Moore
The Golden Age Of Science Fiction: The 1973 Forry Award: C. L. Moore by Rich Horton
Judgment Night was published by Dell Books in August 1979. It is 380 pages, priced at $2.25. The cover art is uncredited. Other than the limited edition slipcase volume from Red Jacket in 2004, it has been out of print in the US since the 70s. It was released in digital format in the UK by Gateway/Orion in 2011, and reprinted as part of the SF Gateway Omnibus library (together with the Northwest of Earth and Jirel of Joiry tales) in 2014, and as part of the Golden Age Masterworks library in 2019.
See all our recent Vintage Treasures here.