Vintage Treasures: Doomsday Morning by C.L. Moore
Vintage Treasures: Doomsday Morning by C.L. Moore
Art by Vincent DiFate
C.L. Moore is a name to conjure with. One of the finest early contributors to Weird Tales, she helped define and create the sword-&-sorcery genre alongside Robert E. Howard, with her tales of Jirel of Joiry. Her other great pulp hero was Northwest Smith, whose adventures have remained in print for the greater part of the past eight decades.
Perhaps best remembered today for her nearly career-long collaboration with her husband Henry Kuttner, Moore nonetheless made numerous major solo contributions to the genre, including the groundbreaking collections Judgment Night (1952) and Shambleau and Others (1953). Her last novel, Doomsday Morning (1957), would be called dystopian science fiction today. Something of a departure for Moore, it's a more thoughtful and mature work that still reads well. Here's an excerpt from Sandy Ferber's review at the Fantasy Literature blog.
[Moore] capped off a glorious writing career with a solo SF novel, her last, Doomsday Morning.

A companion piece in title only to Moore's 1943 novel Judgment Night, this is a very fine tale indeed. It is a bit unusual for the author in that its setting is not Venus, or deep space, or the distant future, or some unusually named fantasy world, but rather America — New York City and rural California, to be precise — of only 50 years in the future; in other words, around 2007, or right now! The America of Moore's early 21st century has become a quasi-totalitarian regime run by a far-reaching entity known as Comus (short for Communications of the United States). This government department in essence controls not only all the communications in the country, but also the schools, transportation network, the hospitals, the entertainment industry, the military divisions, et al. Howard Rohan, a washed-up alcoholic wreck who had once been one of Broadway's greatest stars, is pressured by Comus into putting on a traveling, open-air play called "Crossroads," along with a troupe of five other actors, to entertain in California. That state, it seems, had been rebelling openly against Comus, and activists there had been purportedly hard at work perfecting some kind of "Anti-Com" device that might miraculously bring about Comus' downfall. The story of how Rohan becomes a whole man again, after three years of grieving for his late wife, and how he becomes involved in nothing less than a second Revolutionary War of sorts, is the story of Doomsday Morning.
Read Sandy's complete review here.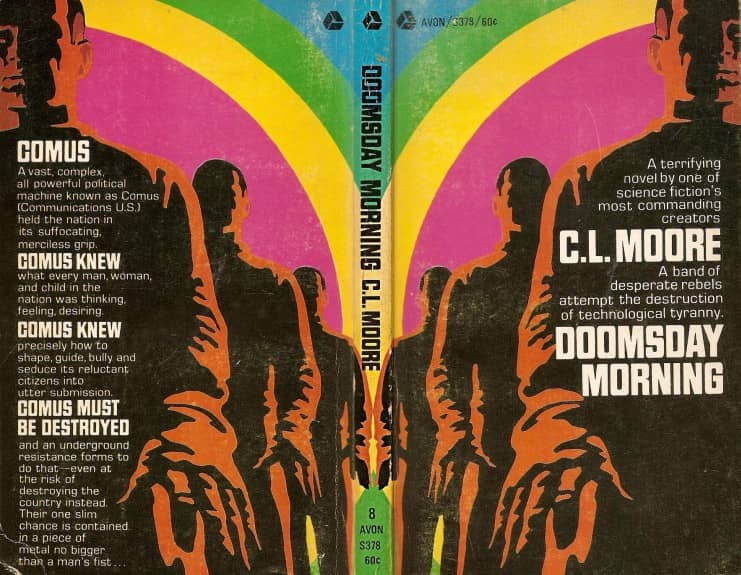 Avon paperback edition (1968); cover by Douglas Rosa
Doomsday Morning was originally published in hardcover by Doubleday in 1957. It appeared in paperback from Avon a year later, and again in 1968 with a wraparound cover by Douglas Rosa (see above). Its last US printing was from Questar / Popular Library in 1987, with a new cover by Vincent DiFate (see top). The Questar edition is 236 pages, priced at $3.50.
I bought my copy on eBay last year as part of a collection of 40 vintage science fiction paperbacks in excellent shape for $30, or 75 cents per book.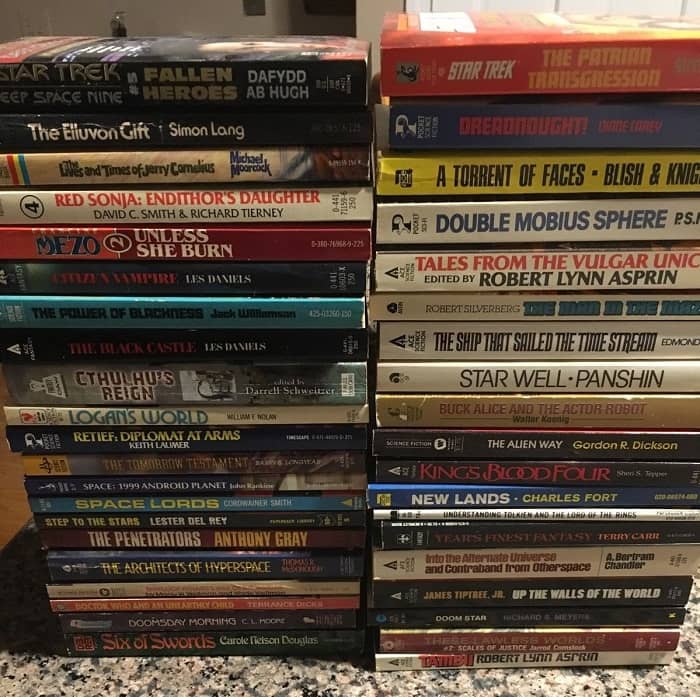 Since I usually get asked, here's a closer look at the whole set (click for bigger versions.)
Our previous coverage of C.L. Moore includes:
Black God's Kiss by C. L. Moore, by Ryan Harvey
"Jirel, Ma Joie!" (In Which I Encounter My First C.L. Moore) by C.S.E. Cooney Jirel of Joiry tales.
Happy 100th Birthday, C. L. Moore!
Earth's Last Citadel by C.L. Moore and Henry Kuttner
Smugglers, Alien Vampires, and Dark Dimensions: The Best of C. L. Moore, by James McGlothlin
Birthday Reviews: C.L. Moore's "Lost Paradise" by Steven H Silver
Horrors, Marvels, Gods and Demons: C.L. Moore's Tales of Northwest Smith
See all of our recent Vintage Treasures here.