The Golden Age of Science Fiction: The 1973 Forry Award: C. L. Moore
The Golden Age of Science Fiction: The 1973 Forry Award: C. L. Moore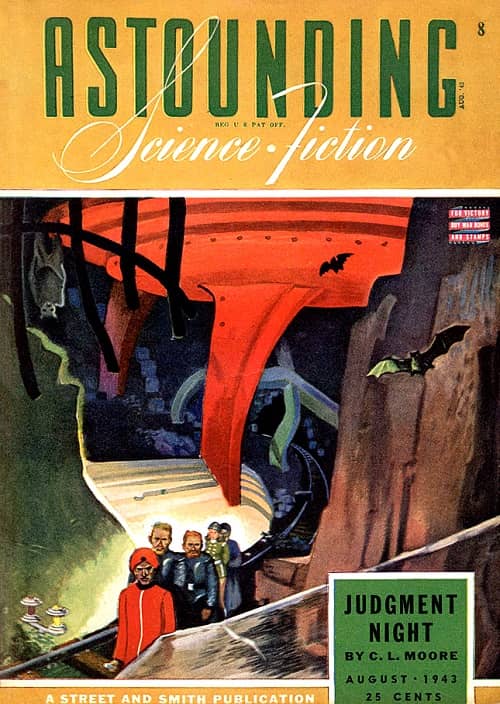 Astounding Science Fiction August 1943,
containing "Judgment Night" by C.L. Moore
The Los Angeles Science Fiction Society (LASFS) began presenting the Forry Award in 1966 for Lifetime Achievement in Science Fiction. The first award went to Ray Bradbury, who, besides his towering achievements in SF, was a prominent member of LASFS. Over the years, the list of Forry Award winners is a curious mix of the obvious (Bradbury, Harlan Ellison, Fritz Leiber, Larry Niven, Arthur C. Clarke, A. E. Van Vogt, Ursula K. Le Guin, Lois McMaster Bujold, etc.), with those whose accomplishments are not as writers but still seem significant (Mike Glyer, Chuck Jones, Fred Patten, Ray Harryhausen), and with those whose importance I have probably unforgivably missed (Charles Lee Jackson II, Len Moffat, John de Chancie.)
The 2002 award went to the award's namesake, Forrest J. Ackerman. Here I will confess a personal bias… If awards like the Campbell and the Tiptree are going to have their names changed, can the Forry Award retain its name for long? Some of my bias is undoubtedly unfair: I think Ackerman's taste in science fiction was appalling. But that's just "taste", and surely he can be forgiven that, and his enthusiasm for the type of SF he loved was no doubt real. But his ethics as an agent, for one, were distressing. But much more seriously, there are credible accusations of sexual harassment and abuse of women fans, and indeed very young women, at least as young as 13. I can't but feel icky about the worship some express towards him, and while I'm opposed to changing the name of the Tiptree Award, and ambivalent about changing the names of the Campbell Awards, it seems to me that the Forry Award (justified as it may be by Ackerman's strong association with LASFS) is right out.
But that doesn't mean the Forry Award winners (Ackerman himself excepted) should be thrown out with the bathwater. And the 1973 winner, C. L. Moore, qualifies as one of the "obviously worthy" winners.
[Click the images for pulp-scale versions.]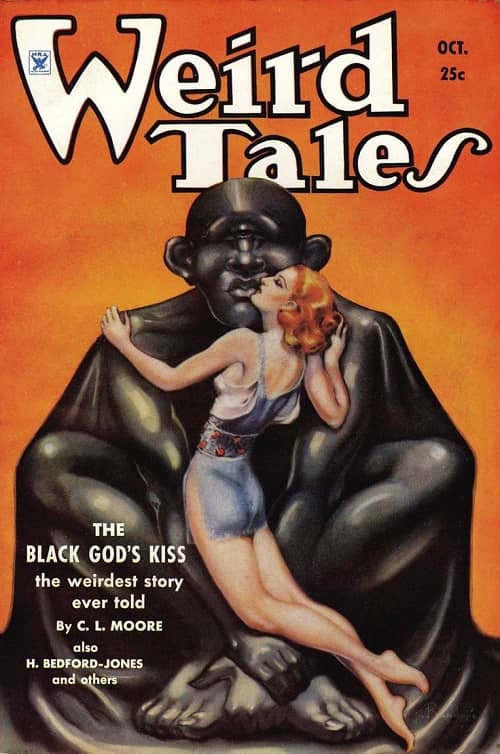 Weird Tales October 1934,
with "The Black God's Kiss" by C.L. Moore
Catherine Lucille Moore was born in Indianapolis in 1911. She began publishing in the pulps, especially Weird Tales, in 1933 (after a few stories in a student publication at Indiana University), and her first lasting work appeared in two series: the Jirel of Joiry stories, and the Northwest Smith stories. In 1937 she began to collaborate with Henry Kuttner, and they married in 1940. Much of their fiction after that point was published under various pseudonyms, the most prominent being "Lewis Padgett" and "Lawrence O'Donnell." They used to say that either writer would take up a story the other had started at any point and continue it, and that they didn't remember who wrote what. That said, I was told last month at Windycon that a letter from Moore exists detailing which parts of certain stories she wrote, and which parts Kuttner wrote. Broadly speaking, the Padgett stories are felt to be mostly by Kuttner, and the O'Donnell stories mostly by Moore.
Moore's best remembered stories (keeping in mind that Kuttner may have had a part in these) are "No Woman Born" (under her own name) and "Vintage Season" (as by Lawrence O'Donnell). Other major work includes the "Keeps" stories, set on Venus, written as by Lawrence O'Donnell, including "Fury" and "Clash by Night"; the Science Fiction Hall of Fame story "Mimsy Were the Borogoves" (as by Lewis Padgett); and the remarkable and bleak novel Judgment Night (under her own name.)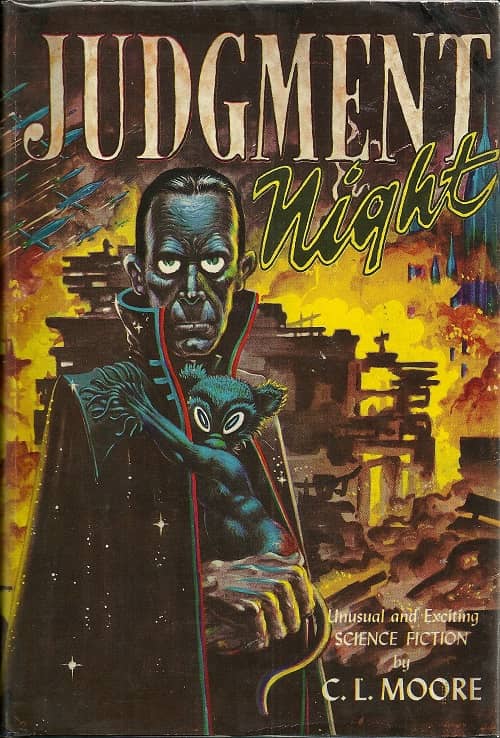 Judgment Night (Gnome Press, 1952).
Cover by Frank Kelly Freas
Both Moore and Kuttner turned to television writing in the late 1950s, but Kuttner died, only 43 years old, in 1958. Moore published no more fiction after that year, but wrote for TV, as by "Catherine Kuttner," until 1962. She remarried in 1963, and wrote nothing further. She was awarded the World Fantasy Award for Lifetime Achievement in 1981, and was apparently tapped for the SFWA Grand Master Award, but by that time she had Alzheimer's, and her new family declined the award in her name, saying that the experience would be confusing and distressing for her.
As with many, I deeply regret Moore's fairly early retirement from writing. It has been asserted that this was partly because her second husband was hostile to science fiction, but we should be wary of making such judgements without direct knowledge. After all, Moore and Kuttner both drifted away from SF by the mid 50s, and surely Kuttner's death further affected her productivity and goals. It may be that Moore had said all she had to say in the SF idiom.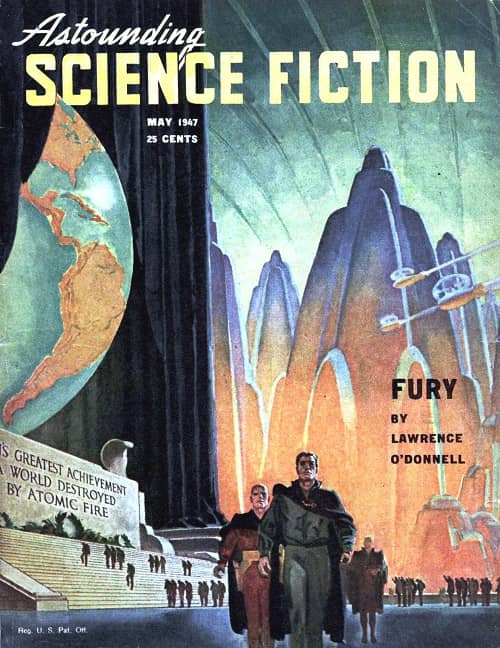 Astounding Science Fiction May 1947, containing
"Fury" by Lawrence O'Donnell (CL Moore and Henry Kuttner)
All that said, what she did produce, for mostly the two decades from 1933 to about 1953, was exceptional, and still seems to me underappreciated. Certainly the 1973 Forry Award was richly deserved.
---
Rich Horton's last article for us was The 1973 First Fandom Award: Clifford D. Simak. His website is Strange at Ecbatan. See all of Rich's Black Gate articles here.