A Delightful Discovery Inside an Old Book
A Delightful Discovery Inside an Old Book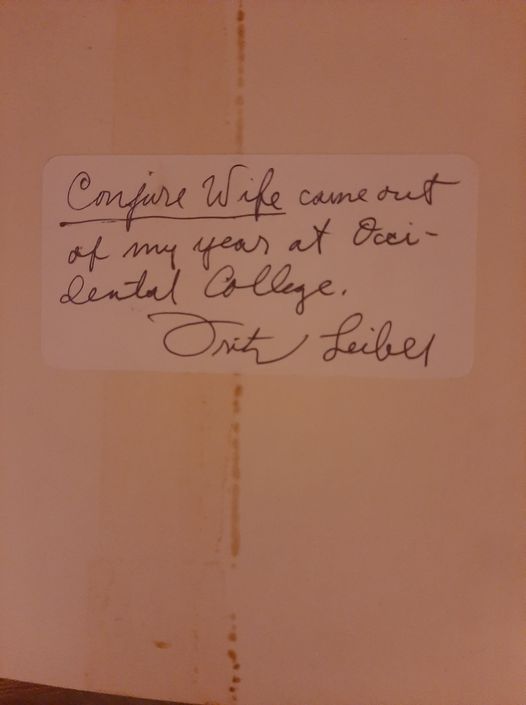 You never know what you might find inside an old used book. I just made a wonderful discovery inside my copy of Witches Three. This is a "Twayne Triplet," featuring three long stories (two novels and a novella) on the same subject — witchcraft. The novels are Conjure Wife, by Fritz Leiber; and The Blue Star, by Fletcher Pratt. The novella is "There Shall Be No Darkness" by James Blish. It's a strong book – Conjure Wife, Leiber's first novel, is an established classic of horror-tinged contemporary fantasy, and The Blue Star, which became the first entry in the classic Ballantine Adult Fantasy series, is widely regarded as Pratt's best novel.
I have an ongoing interest in Twayne Triplets*, even though only two were ever published, so I grabbed my used copy of Witches Three eagerly many years ago. But while I've leafed through it before, I haven't read it, partly because I already had copies of the other stories. (That said, I haven't read my separate copy of The Blue Star, nor, I suspect, this version of "There Shall Be No Darkness." (It was collected in The Best of James Blish but I believe that's an earlier, shorter, version of the story.)
So yesterday the subject of Witches Three came up. I grabbed my copy, and opened it, and to my surprise I found, on the page facing the inside front cover, a pasted in label signed by Fritz Leiber! The label reads: "Conjure Wife came out of my year at Occidental College — Fritz Leiber." It's always a delight to come across something so unexpected!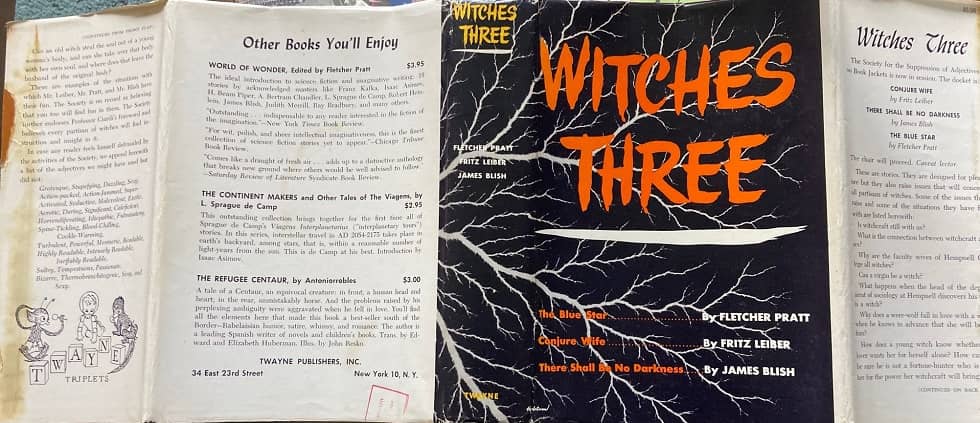 *In the early 50s a company called Twayne planned several volumes of short novels linked in a curious way. A scientist would write a precis of the background — designing the planets and alien races, for example. Then three different writers would create short novels based on the background. These would be called Twayne Triplets. Several such volumes were planned — stories written for Twayne Triplets include "A Case of Conscience" and "Get Out of My Sky" by James Blish, "Second Landing" by Murray Leinster, "Sucker Bait" by Isaac Asimov, "Question and Answer" (aka No World of Their Own) by Poul Anderson, and "First Cycle" by H. Beam Piper (later completed by Michael Kurland). Brian Kunde suggests that The Great Fetish (1978), by L. Sprague de Camp (first published as two novellas in Isaac Asimov's Science Fiction Magazine: "Heretic in a Balloon" and "The Witches of Manhattan") was also originally intended to be part of a Twayne Triplet.) The only Science Fiction Twayne Triplet to actually see publication was The Petrified Planet (1952), which included "The Long View" by Fletcher Pratt, "Daughter of Earth" by Judith Merril, and "Uller Uprising", by Piper. The scientific precis was by Dr. John Clark. Witches Three (1952) was a Fantasy Twayne Triplet, though no "precis" advancing the idea of witchcraft was written. Instead, I suspect that Pratt, who had conceived the "Twayne Triplets" idea, realized that his novel The Blue Star and Leiber's novel Conjure Wife would fit well together, and asked Blish to revise his story "There Shall Be No Darkness" to fit as well.
---
Rich Horton's last article for us was a review of "Underneath The Oversea" by Marc Laidlaw. His website is Strange at Ecbatan. Rich has written over a hundred articles for Black Gate, see them all here.