New Treasures: City of the Uncommon Thief by Lynne Bertrand
New Treasures: City of the Uncommon Thief by Lynne Bertrand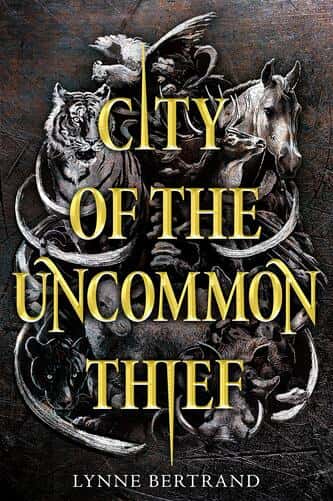 You lot know how much I enjoy a good fantasy debut. The only thing that changes is how I go about finding them.
I use to browse bookstores, like a normal person. Then came the internet, and this blog. Gradually I grew to rely on review copies and contacts with publicists. Then came the pandemic, and I turned to the professional review sites I knew I could trust, like Locus Online, Tor.com, and Publishers Weekly.
But lately I find that I'm being guided successfully by reader reviews, at places like Goodreads and Amazon. For example, the best review I've found for Lynne Bertrand's debut YA novel City of the Uncommon Thief — and the one that made me want to track down a copy immediately — was this one by Melissa Mitchell at Amazon. Check it out:
In a quarantined city of mile-high buildings, the streets are full of monsters, and people pass their entire lives indoors. No one has ever seen this city on a map. There are no animals within the wall shielding it. And an entire year passes between supply deliveries from the outside world. In the prime of their lives, teenagers are chosen from each guild building as runners, where they dwell on the rooftops, zipping from roof to roof among the clouds, playing pranks on each other, delivering supplies between guilds. They are the only form of connection in a city that may as well consist of a hundred ships on the water. When Errol Thebes, well known hero among runners of all guilds, steals a powerful weapon, uncommon in ever way, he learns exactly what kind of darkness lurks beneath the city…

We all have tales to tell, especially Odd Thebes, and what a tale he weaves! The world building is fascinating, centered around the runners who fly from roof to roof, carrying messages, supplies, and bridging the connection between each building…

There's something dark happening in the city. What starts as a very tight scope, broadens. Everyone who lives in the city accepts things for the way they are… They live in mystery. But Errol Thebes rips everything apart when he finds himself on the streets below. He becomes the hero the city needs.
City of the Uncommon Thief was published by Dutton Books on February 9, 2021. It is 400 pages, priced at $19.99 in hardcover, $10.99 digital, and $34.99 for the audio edition. Read a 2-page excerpt at The Nerd Daily. See all our recent New Treasures here.