Vintage Treasures: Fungi From Yuggoth & Other Poems by H.P. Lovecraft
Vintage Treasures: Fungi From Yuggoth & Other Poems by H.P. Lovecraft
Fungi From Yuggoth & Other Poems (Ballantine, 1971). Cover by Gervasio Gallardo
I'm a little embarrassed to admit I haven't read much Lovecraft poetry. Well, I read his marvelous "Drinking Song," from his first published story "The Tomb," which reads exactly like the ballads belted out by drunken revelers in every Scottish tavern I've ever been in. Here's the first stanza.
Come hither, my lads, with your tankards of ale,
And drink to the present before it shall fail;
Pile each on your platter a mountain of beef,
For 'tis eating and drinking that bring us relief:
So fill up your glass,
For life will soon pass;
When you're dead ye'll ne'er drink to your king or your lass!
Read the whole thing at the link above.
Lovecraft didn't get much respect as a poet until long after his first fiction collection, The Outsider and Others, appeared in 1939. His Collected Poems was first published by Arkham House in a tiny print run in 1963, and then retitled Fungi From Yuggoth & Other Poems for its Ballantine paperback reprint eight years later.
[Click the images for unearthly versions.]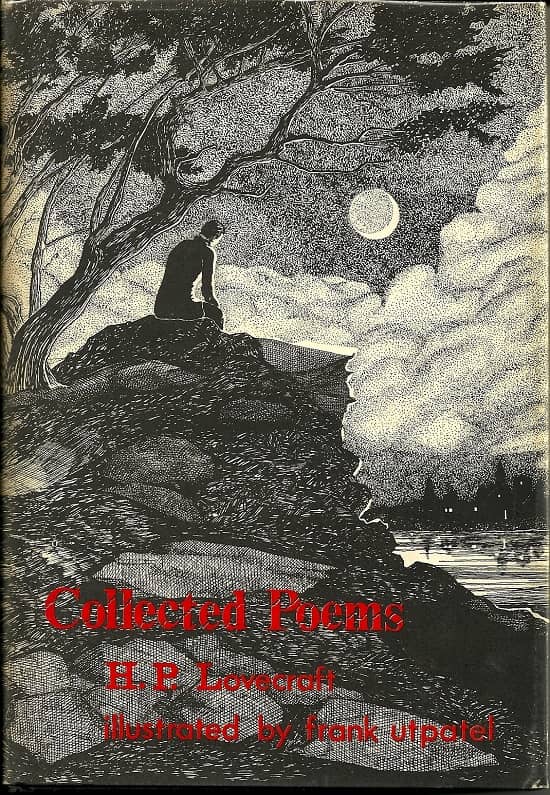 Collected Poems by H.P Lovecraft (Arkham House, 1963). Cover by Frank Utpatel
Fungi From Yuggoth & Other Poems is a fine book to dip into during long winter evenings, and it's started the work of turning me into a fan of Lovercraft verse. I found the paperback edition in a small collection of anthologies I bought on eBay, and I was delighted to discover that it has all eighteen of Frank Utpatel's delightful woodcut illustrations from the Arkham House edition.
It also has August Derleth's foreword — and even the Arkham House colophon in the front of the book! Now that's a faithful reproduction.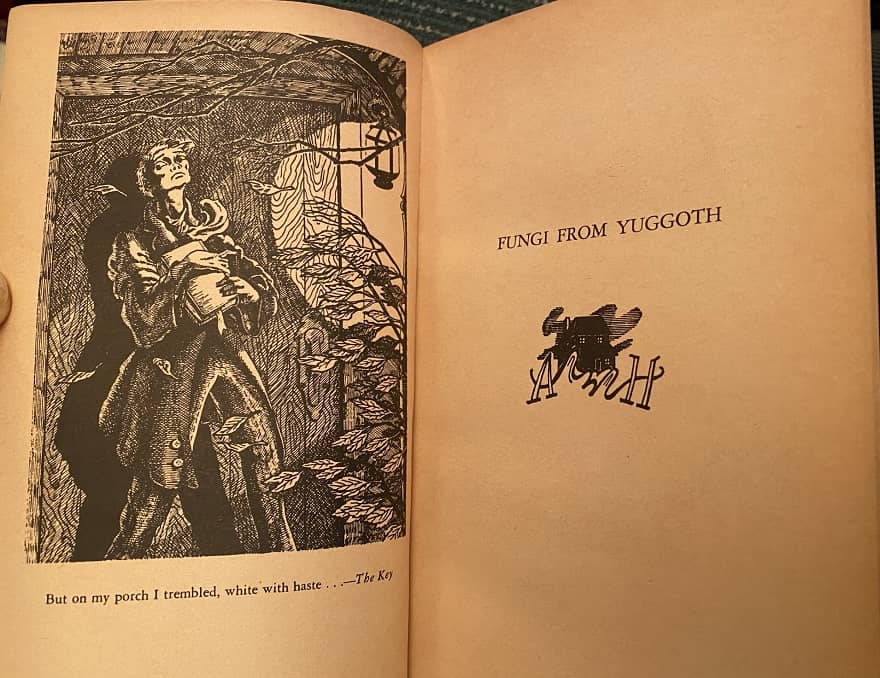 Frank Utpatel's woodcut frontispiece for Fungi From Yuggoth
The Ballantine paperback is a slender volume — 138 pages — but it contains most of Lovecraft's most beloved poems. At least the ones I'm familiar with anyway, including his famous tribute to Clark Ashton Smith ("To Klarkash-Ton, Lord of Averoigne"), "The Messenger" and "Where Once Poe Walked," the 11-page epic "Psychopompus," and of course the 26-page sonnet form "Fungi From Yuggoth."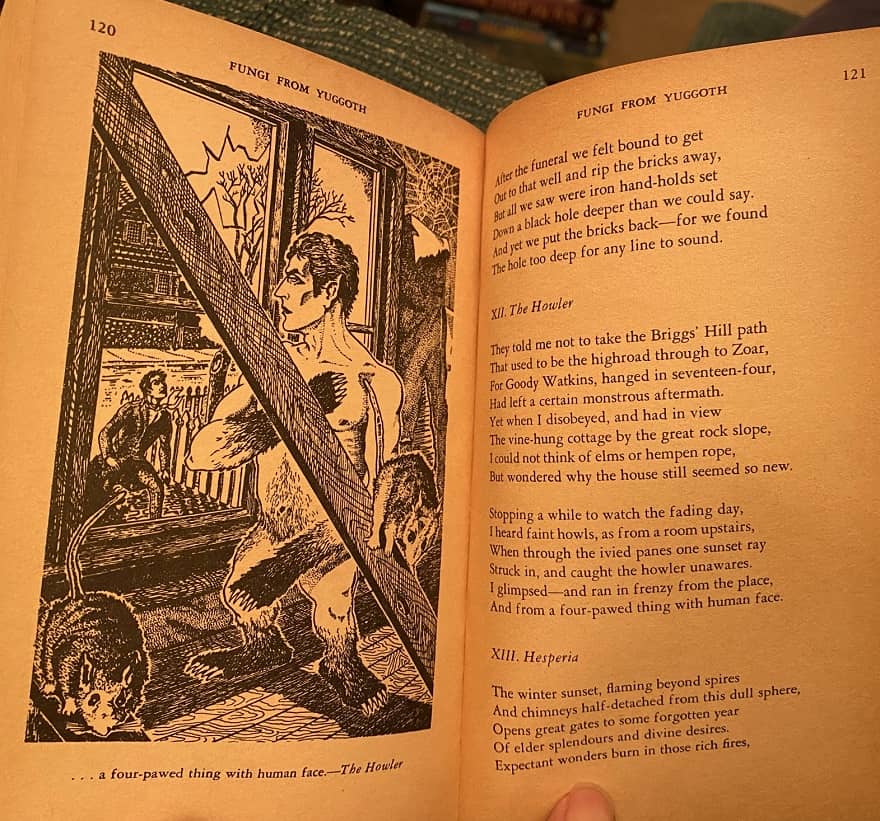 Woodcut for "The Howler" by Frank Utpatel
The editorial summation on the inside front cover calls Lovecraft's poems "little masterpieces of weird narrative, capsuled in sonnet form," which is a fine description.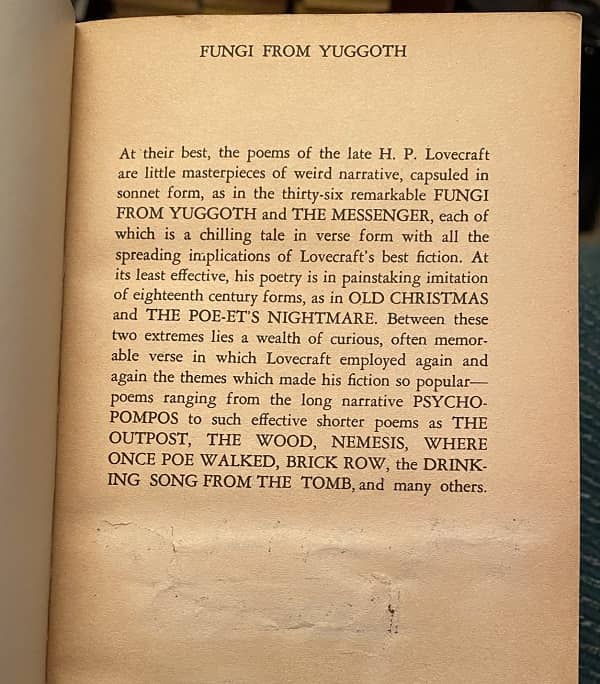 Inside cover of The Fungi From Yuggoth & Other Poems
In his Foreword however, Derleth is frankly more critical of the bulk of Lovecraft's poetry, saying:
The best is here, and some of the second-best, and some examples of that very early work — which represents, in fact, the bulk of Lovecraft's verse, a bulk that is not collected here because, as Winfield Townley Scott observed in a brief essay on Lovecraft as a poet, it is "eighteenth-century rubbish." It may be quaint at first reading, it may amuse, but in the mass it is indeed painfully dull, and one can only wonder that anyone, even if only to entertain himself, should have devoted so many pages to this kind of imitative verse when he might much more fruitfully have been setting down more of those macabre stories for which Lovecraft did ultimately achieve the small fame which is rightfully his.
Ouch.
Of course, Lovecraft's complete poems — some 500 of them, including hundreds of Christmas greetings, fragments, and verse dashed off in his unpublished letters — have been compiled and printed in multiple editions for decades now. Perhaps the best is the 604-page The Ancient Track: The Complete Poetical Works of H. P. Lovecraft from Hippocampus Press, but there are more compact collections as well.
Opinions of Lovecraft's poetry — like his prose — have improved dramatically over the years. When Jeremy Lassen proudly pressed a copy of the original Night Shade Books edition of The Ancient Track in my hands at the World Fantasy Convention in 2002, he told me "Lovecraft wasn't a good poet…. he was a great poet."
Was he right? I'll let you know when I get further into the book. But my money's on Jeremy.
Fungi From Yuggoth & Other Poems was published by Ballantine Books in February 1971. It is 138 pages, priced at $0.95. The wraparound cover is by Gervasio Gallardo.
See all our recent Vintage Treasures here.