In 500 Words or Less: Glitter + Ashes, edited by dave ring
In 500 Words or Less: Glitter + Ashes, edited by dave ring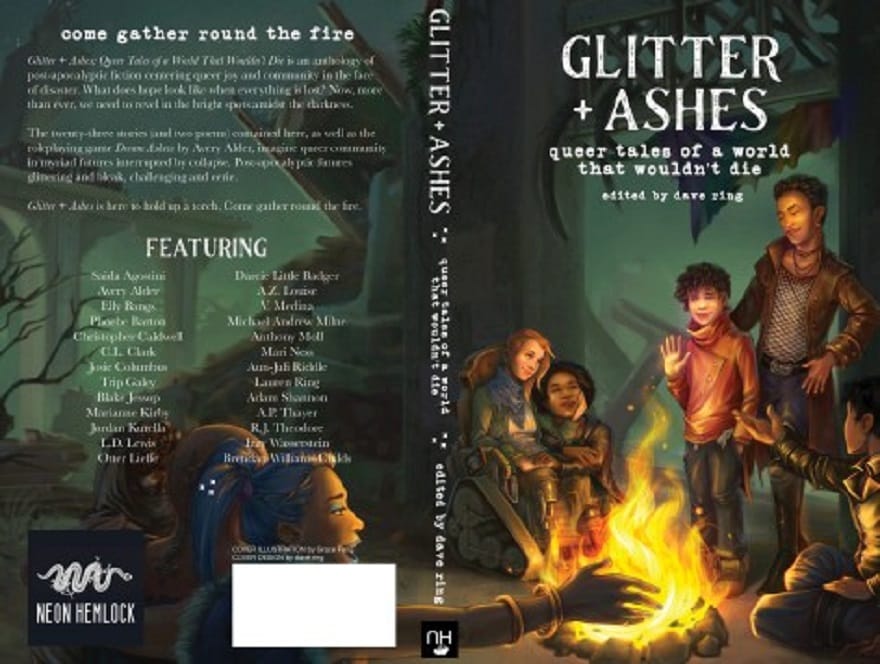 Cover by Grace P. Fong
Glitter + Ashes: Queer Tales of a World That Wouldn't Die
Edited by dave ring
Neon Hemlock Press (256 pages, $17.99 paperback, Sept 15, 2020)
I've said it before and I'll say it again – there have been a lot of horrible and stressful things about 2020, but one thing getting me through is the sheer amount of awesome SFF that's being published right now. Particularly in short fiction, and particularly by smaller presses outside the Big Five (or Big Four, now).
Case in point, Glitter + Ashes: Queer Tales of a World That Wouldn't Die. Like the editors of the Disabled People Destroy series and New Suns, dave ring has put together an anthology that's pretty straightforward: queer writers and post-apocalyptic stories. What resonated with me, unsurprisingly, is how inherently optimistic and sometimes funny these stories are. I think I expected most to be dark or depressing, but instead the opening story, "Wrath of a Queer God" by Anthony Moll, takes the "queer agenda" and makes it a literal monster rampaging through town like Godzilla, carrying all the straight people away in their wake.
The root of that story shares something with the rest of Glitter: a depth of soul, combining vivid characters who just happen to occupy post-apocalyptic worlds. L.D. Lewis's "The Current Dumas" gives us an aspiring food writer boarding her country's only trans-continental train, but really, it's about her working up the courage to hang out with the attractive witch who defends it. Similarly, Darcie Little Badger's "Venom and Bite" centers on two kind-hearted bikers helping people on a dark highway, but the real focus is that fear about bringing your new partner home to meet your mom.
I think it's the fact that the personal challenges for these characters are so real that makes this anthology so cohesive. Grace, our giant queer lady in "The Dreadnought and the Stars" by Phoebe Barton, hopes her powers will help find her lost partner. Trip Galey's "The Last Dawn of Targadrides" is about a drag queen determined to show their mother they can handle their powerful House's responsibilities – using scavenged pieces of dead worlds that pop into existence around them.
Even the more surreal stories offer a clear focus. In C.L. Clark's "When the Last of the Birds and the Bees Have Gone," I have no idea whether this society is intelligent corvids post-apocalypse, or humans turned avian, or something else, but frankly I don't need to know because the stream-of-consciousness list of do's and don'ts is so wonderfully constructed (I read it multiple times just for fun). Similarly, in Mari Ness's "Note Left on a Coffee Table" you can feel the narrator's pain as you piece together their history with the mysterious Alicia, between compelling gaps that never get filled.
I keep picking anthologies to review where I could on and on, so suffice to say that Glitter + Ashes is what reviewers mean when we describe a new Golden Age of SFF. Check this one out as soon as you can, while I wait to see what dave ring and Neon Hemlock release next.
---
An Ottawa teacher by day, Brandon has been published in On Spec, Pulp Literature, THIS Magazine, and elsewhere. His latest publications include his first comic, "True Balance," in the anthology FLIP: VOLUME 2, and a reprint of his short story "Rainclouds," in A Dying Planet from Flame Tree Press. You can follow Brandon at brandoncrilly.wordpress.com or on Twitter: @B_Crilly.