New Treasures: Dead Man in a Ditch by Luke Arnold
New Treasures: Dead Man in a Ditch by Luke Arnold
The Last Smile in Sunder City and Dead Man in a Ditch by Luke Arnold (Orbit, 2020). Covers by Emily Courdelle
Luke Arnold is an Australian actor and star of the pirate saga Black Sails. He played Silver John, a younger version of Long John Silver, the antagonist of Robert Louis Stevenson's Treasure Island and one of the greatest characters in English literature.
Arnold is also an author, and earlier this year his fantasy debut The Last Smile in Sunder City (Orbit, February 2020) was selected by io9 as one of the SF & fantasy titles You Need to Know About. Kirkus gave it a warm review, saying:
The debut novel from Australian actor Arnold is a fusion of paranormal fantasy and mystery set in a world where magic has been effectively destroyed by humans, forcing the supernatural population to live a radically diminished existence. Fetch Phillips is a "Man for Hire," which is another way of saying the down-on-his-luck, hard-drinking former Soldier–turned-detective will do just about anything to pay the bills. When a principal from a cross-species school enlists him to find a missing professor — a 300-year-old Vampire named Edmund Rye — Phillips quickly agrees. Without magic, the Vampires — and all other supernatural beings — are slowly dying. So how difficult could it be to find a withered bloodsucker who is so weak he can hardly move around?… The first installment of an effortlessly readable series that could be the illegitimate love child of Terry Pratchett and Dashiell Hammett.
Orbit promised the second volume would arrive in the Fall, and low and behold Dead Man in a Ditch arrived right on time last month. Here's an excerpt from Annie Deo's enthusiastic review at Nerd Daily.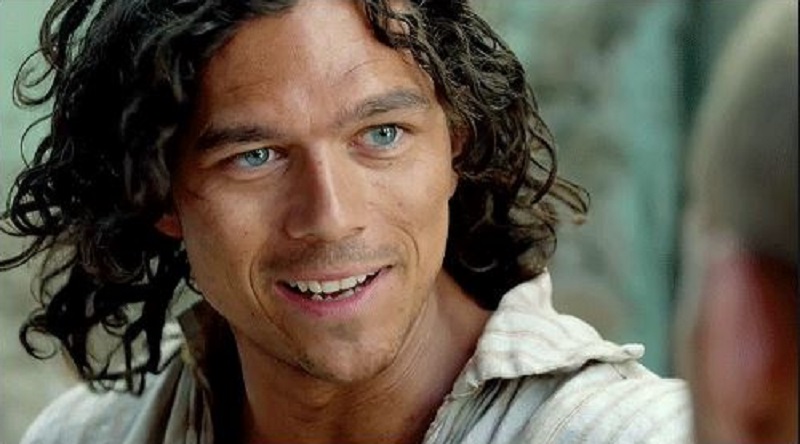 Luke Arnold in Black Sails
Fetch Phillips is back and just as morose, guilt-ridden, and a glutton for punishment as ever. After the events of the first novel, some of the locals hope that magic may return to this fractured world, but Fetch remains unconvinced, even as the cops ask him to weigh in on their latest case where the victim appears to have been killed through magical means. As he works to unravel the confusing, contradictory elements of this murder, Fetch is drawn into a power struggle beyond imagining and the choices he makes will have grave consequences for the future of Sunder City….

Once again, the world-building is phenomenal… The writing style is as raw and grotesquely lyrical as before, capturing every grungy, tawdry detail of Sunder City and perfectly representing the cynical flawed anti-hero…

With a bleak noir setting and a trainwreck of a protagonist who means well yet puts his foot wrong every single time, this is a unique, captivating, and thrilling read. The author has a talent for wringing every last drop of dread and angst from the audience, which makes the story very rough on one's heart, but it's impossible to read this book without being moved. A melancholy and imaginative tale that will linger with you long after you turn the last page.
Read the complete review here.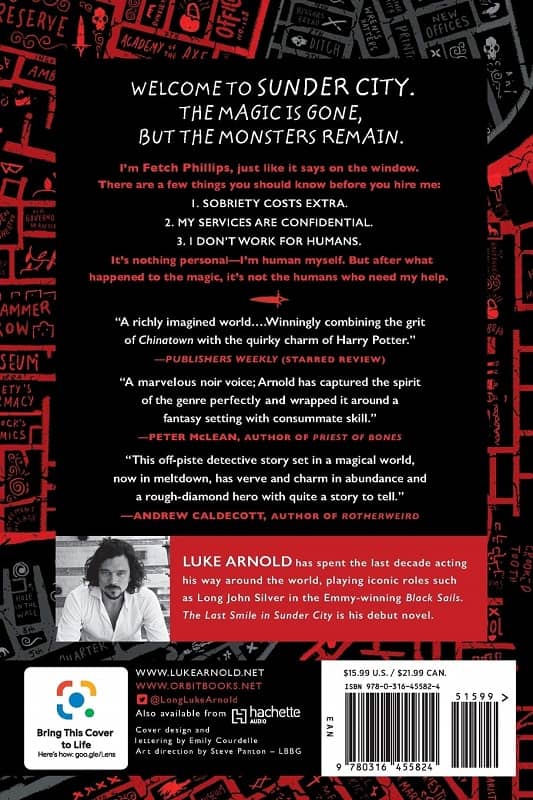 Back cover of The Last Smile in Sunder City
Here's the deets for both books in The Fetch Phillips Archives.
The Last Smile in Sunder City (Orbit, 368 pages, $15.99 trade paperback/$2.99 digital, February 25, 2020) — cover by Emily Courdelle
Dead Man in a Ditch (Orbit, 464 pages, $16.99 trade paperback/$9.99 digital, September 22, 2020)
See all of our recent coverage of the best new fantasy and SF series here.