Goth Chick News: Revisiting Hemlock Grove for Halloween
Goth Chick News: Revisiting Hemlock Grove for Halloween
Hemlock Grove by Brian McGreevy (FSG Originals, April 16, 2013)
When Netflix first premiered Hemlock Grove back in April 2013, it was originally aimed at an audience of teenage horror fans. The cast was ridiculously good-looking, twenty-somethings playing high schoolers living in an insanely quaint and beautiful New England town. It might have been The Addams Family meets 90210, or at the time, a darker alternative to the anxiety-ridden vampires du jour of the Twilight series.
What we got instead, at least in Season 1, was an intricate and blood-soaked modern retelling of pretty much every classic monster imaginable. Hemlock Grove is a tale well worth you visiting (or revisiting) this Halloween season.
An American horror/thriller from executive producer Eli Roth (Grindhouse and Hostel) and developed by Brian McGreevy and Lee Shipman, Hemlock Grove is based on McGreevy's 2012 novel of the same name. It examines the strange happenings in a fictional town in Pennsylvania where a teenage girl is brutally murdered, sparking a hunt for her killer. Roman Godfrey, heir to the town's wealthy Godfrey family, befriends the town's newcomer and gypsy outcast, Peter Rumancek and the two work together to shed light on the case while also concealing their own dark secrets.
I managed to find Hemlock Grove's one and only red band trailer which should make you at least a little curious to check it out.
When it originally aired, reviews of Hemlock Grove were mixed to say the least. Critics panned it as a sad, horror-themed rip off of Twin Peaks with so much obtuse information that viewers were apt to give up trying to understand the plot. Admittedly, had I read the reviews before I came across the series, I might have been tempted to give it miss. But thankfully I waded into the first two installments unawares and stayed glued to my TV until I had devoured all 13 episodes of the first season in one marathon sitting.
I did have a tense moment toward episodes 11 and 12 when I worried that like a David Lynch creation, Hemlock Grove would leave the majority of its weirdness unexplained, causing me to consider violence against my television. As it was, enough questions remained to set up another season of episodes while sufficiently tying up the story to be sustaining if not 100% satisfying. Though I stuck with it for all three seasons, I can safely say seven years later, that Season 1 is where you want to put your time. You'll be very satisfied by the end of the thirteenth episode and you'll be just fine stopping there. I can also report that having immediately purchased McGreevy's novel following my first season binge, you can give that a miss as well. Roth clearly saw what was possible in the source material, and he went about fixing everything that was wrong when translating it for Netflix.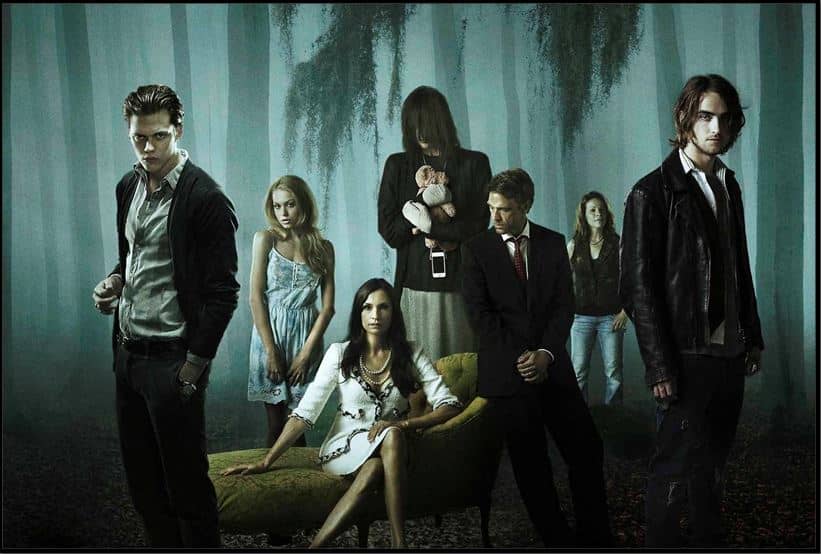 Like the world of HBO's True Blood, Hemlock Grove contains a lot of residents who are more than what they appear, but that is not to say they aren't still boiling in a pot of the worst of human vices. Part murder mystery, part supernatural horror, part gothic brain torture in the vein of HBO's Carnivale, Hemlock Grove is just plain addictive fun, splattered with just the right amount of grossness.
Oh, and episode 3 contains what might be THE best werewolf transformation that has ever appeared on film. Trust me.
Hemlock Grove stars Famke Jannson (X-Men) and Dougray Scott (Desperate Housewives) Bill Skarsgard (yes, the youngest of the Skarsgard clan, now starring in The Stand remake) and Landon Liboiron (Truth or Dare). In addition to Netflix, the entire series is also available on DVD and BluRay.