New Treasures: The Sin in the Steel by Ryan Van Loan
New Treasures: The Sin in the Steel by Ryan Van Loan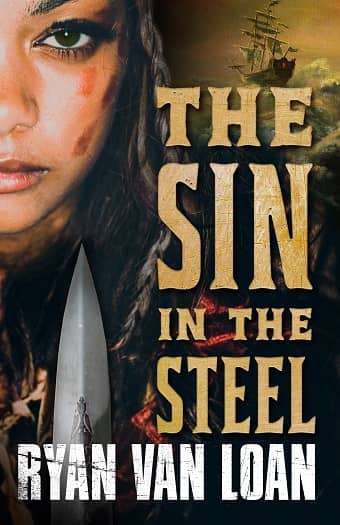 I have a foreboding TBR (to-be-read) pile by my big green chair, and I'm not the kind of guy who just turns my back on something like that…. except for a really promising fantasy debut, maybe. One with pirates. And a rave review from Tor.com. One like Aidan Moher's July 23 piece on The Sin in the Steel by Ryan Van Loan, which reads something like this:
Like the best buddy pictures, Ryan Van Loan's debut, The Sin in the Steel, finds all its heart in the space shared by its two wildly divergent protagonists, Buc and Eld. Brought together under unlikely circumstances, Buc is a young street kid with a mind and a mouth that race faster than anyone can keep up, and Eld is an ex-soldier that doesn't say much. They're known for getting the job done no matter the circumstances.

When this unlikely pair is bring their practice to the Shattered Coast — a Caribbean-esque archipelago newly settled, but once wracked by centuries of violent hurricanes — they're soon hired (err, well… blackmailed) by the Kanados Trading Company to track down the infamous Widowmaker, who has been sinking ships along a popular sailing route, threatening the import and export of sugar, a vital element in the Shattered Coast's economy. Buc and Eld depart on an adventure that will take them to the Shattered Coast's farthest reaches to discover a secret that has the potential to challenge the fate of the gods themselves…

The Sin in the Steel is a rip-roaring epic fantasy that mixes a genuinely unique world with an equally standout magic system. It's full of characters you'll root for and despise, who'll make your skin crawl, and who you'll cheer on from the sidelines. Packed full of action, tempered by genuinely thoughtful themes about mental health and trust. The Sin in the Steel tells a good self-contained narrative… If Scott Lynch wrote Pirates of the Caribbean, it'd be a lot like The Sin in the Steel.
The Sin in the Steel features a pirate queen, dead gods, shape-shifting sorcerers, and a Sherlock-like teenage sleuth… that's a compelling mix in my book. It's advertised as the opening novel in The Fall of the Gods.
The Sin in the Steel was published by Tor Books on July 21, 2020. It is 431 pages, priced at $27.99 in hardcover and $14.99 in digital formats. Read the complete first chapter at the Tor/Forge Blog.
See all our recent coverage of the best new fantasy and SF releases here.