Vintage Treasures: It's a Mad, Mad, Mad Galaxy by Keith Laumer
Vintage Treasures: It's a Mad, Mad, Mad Galaxy by Keith Laumer
It's a Mad, Mad, Mad Galaxy (Berkley Medallion, 1968). Cover by Richard Powers
Science Fiction comedy isn't much of a subgenre these days. Well, it never really was, to be truthful. But a few brave souls — Douglas Adams, Terry Pratchett, Harry Harrison, Robert Asprin — made a career of it over the years.
Keith Laumer is one of those who occasionally dabbled in SF comedy, or at least light-hearted fare, with fine results. His satirical tales of Retief the galactic diplomat ran to more than 15 volumes during his lifetime, and many of his short stories showed a humorous bent. His 1968 collection It's a Mad, Mad, Mad Galaxy — a riff on the zany and wildly popular United Artists film It's a Mad, Mad, Mad, Mad World (1963), a stable in Saturday afternoon reruns even in the early 70s when I was growing up — collects four long novelettes from Galaxy and Worlds of Tomorrow, all written between 1963-67, and one tale original to this collection.
Unlike Laumer's Retief collections, which remained in print for decades, It's a Mad, Mad, Mad Galaxy came and went without leaving much of a ripple. It has been out of print for over five decades. It still finds favor among modern readers, however. In a fairly typical 4-star review at Goodreads from 2016. Mike S wrote:
A collection of Laumer short stories, typically fast paced, imaginative, witty, gritty, funny… classic Laumer. I liked them all, a couple were really good, one was outstanding.
Although copies are cheap (I acquired mine very inexpensively on eBay), they can be a little tricky to find. A better option may be Eric Flint's generous 2002 collection from Baen, Keith Laumer: The Lighter Side, which contains three of the stories, and much more, packed into a generous 500-page volume.
The Lighter Side is a nice snapshot of Laumer's work in the 60s and 70s. In addition to several short stories it also contains two complete novels, Time Trap (1970) and The Great Time Machine Hoax (1964).
Sadly, is also out of print. But copies are generally very easy to find in the usual places. It's worth tracking down.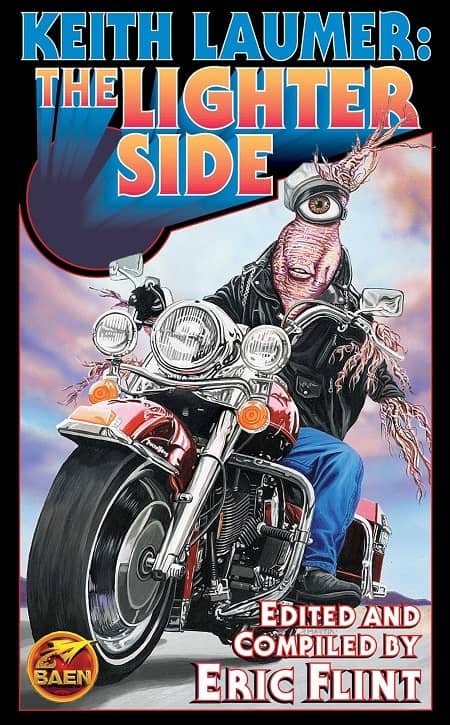 Keith Laumer: The Lighter Side,
edited by Eric Flint (Baen, 2002). Cover by Richard Martin
Here's the complete Table of Contents for It's a Mad, Mad, Mad Galaxy.
"The Body Builders" (Galaxy Magazine, August 1966)
"The Planet Wreckers" (Worlds of Tomorrow, February 1967)
"The Star-Sent Knaves" (Worlds of Tomorrow, June 1963)
"The War Against the Yukks" (Galaxy Magazine, April 1965)
"Goobereality"
Our previous Vintage Treasures dedicated to Laumer include:
It's a Mad, Mad, Mad Galaxy was published by Berkley Medallion in December 1968. It is 160 pages, priced at 60 cents. The cover is by Richard Powers. A hardcover appeared in 1969 from Dennis Dobson, and it has not been reprinted since. There is no digital edition.
See all our recent Vintage Treasures here.