Future Treasures: Dragon Age: Tevinter Nights edited by Chris Bain, Patrick Weekes, Matthew Goldman, and Christopher Morgan
Future Treasures: Dragon Age: Tevinter Nights edited by Chris Bain, Patrick Weekes, Matthew Goldman, and Christopher Morgan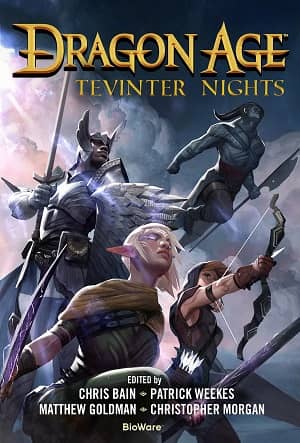 Dragon Age is one of my favorite computer role playing games. It was the 11th title released by legendary Canadian development house Bioware, creator of Baldur's Gate, Star Wars: Knights of the Old Republic, and Mass Effect.
Dragon Age was a major hit, and was nurtured into a multi-million dollar cross-platform property, with half a dozen novels, a tabletop RPG, comics and graphic novels, action figures, and even an anime film, Dragon Age: Dawn of the Seeker. Properties like that don't die easily, and even though Dragon Age was released over a decade ago, in 2009, it continues to live on. Two sequels, Dragon Age II and Dragon Age: Inquisition (which Elizabeth Cady reviewed for us here), were released in 2011 and 2014, and a fourth installment, Dragon Age: The Dread Wolf Rises, was announced on December 6, 2018.
There's plenty of excitement and speculation about that latter release, of course. First, players want to know when it will be released (2022… maybe?), and whether it will directly follow the events of Inquisition. A major clue arrives this month in the form of Dragon Age: Tevinter Nights, a collection of short stories co-edited by Dragon Age 4's lead writer Patrick Weekes, which — no surprise — has triggered healthy speculation that the Tevinter Imperium will be the setting for the next installment.
We received a review copy last week, and I admit my first question is a little more mundane: how does it hold up as an anthology? Is it a worthy introduction to one of the cornerstones of modern computer role playing, or is strictly for fans only?
I'll have to dig into it to find out, but on the surface it looks pretty promising. It's certainly beautifully produced, with a fold out color map of the world of Thedas in the front (see below), and no less than fifteen stories by a Who's Who of Bioware staff writers, including Sylvia Feketekuty (Lair of the Shadow Broker DLC, Mass Effect 3), John Epler (Narrative Director for the Dragon Age series), Lukas Kristjanson (lead writer of Baldur's Gate), and Patrick Weekes (Lead Writer for the Dragon Age series).
This is a rare opportunity to sample the writing of the senior creative talents at one of the most successful gaming companies on the planet, the folks who've curated some of the most enduring fantasy properties of the last twenty years. As an added bonus, you'll get clues to the storyline of one of the industry's big new releases…. and what's more cool than being in the know ahead of all your friends?
Here's the publisher's description for the book.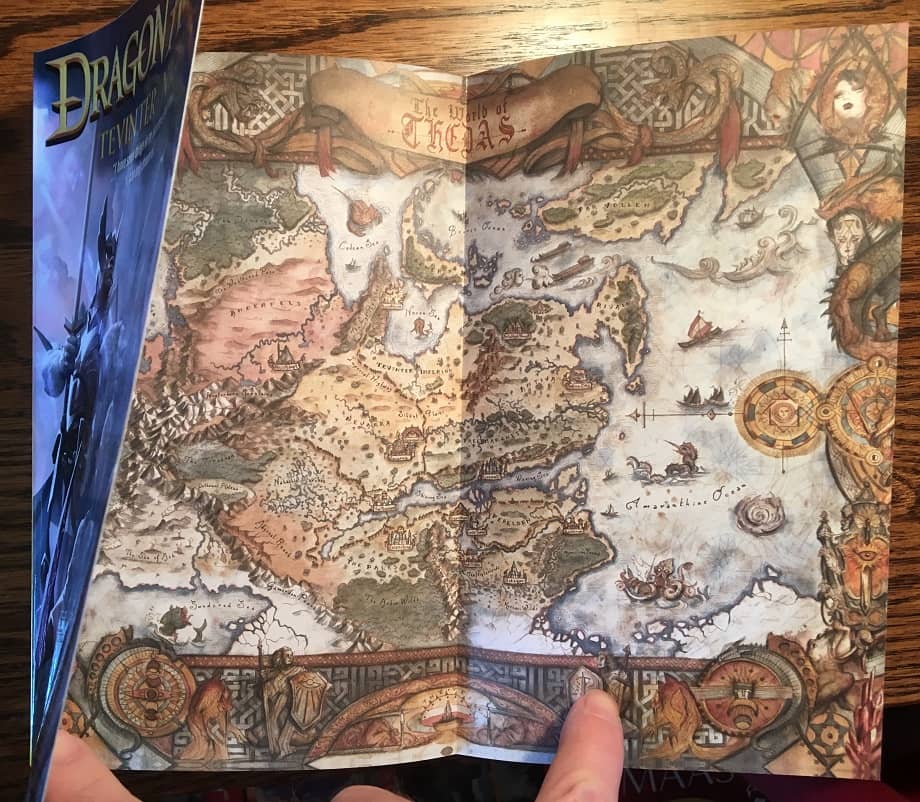 Fold out map the World of Thedas inside Dragon Age Tevinter Nights (click for bigger version)
Dragon Age: Tevinter Nights is an anthology of original stories based on the dark fantasy role-playing video game series from Bioware. It will be released in trade paperback from Tor in 10 days.
Ancient horrors. Marauding invaders. Powerful mages. And a world that refuses to stay fixed…

Welcome to Thedas.

A world of stories, whether it be a tale of the stoic Grey Wardens or the otherworldly Mortalitasi necromancers, from proud Dalish elves to the underhanded Antivan Crow assassins, these stories are filled with monsters, magic, and memorable characters making their way through a lethal world whose only constant is change.

Experience fifteen original tales that span every corner of Thedas, and discover what dangers and monsters lurk there on the edge of the map.
Here's the complete Table of Contents.
"Three Trees to Midnight" by Patrick Weekes
"Down Among the Dead Men" by Sylvia Feketekuty
"The Horror of Hormak" by John Epler
"Callback" by Lukas Kristjanson
"Luck in the Gardens" by Sylvia Feketekuty
"Hunger" by Brianne Battye
"Murder by Death Mages" by Caitlin Sullivan Kelly
"The Streets of Minrathous" by Brianne Battye
"The Wigmaker" by Courtney Woods
"Genitivi Dies in the End" by Lukas Kristjanson
"Herold Had the Plan" by Ryan Cormier
"An Old Crow's Old Tricks" by Arone Le Bray
"Eight Little Talons" by Courtney Woods
"Half Up Front" by John Epler
"Dread Wolf Take You" by Patrick Weekes
Dragon Age: Tevinter Nights will be published by Tor Books on March 10, 2020. It is 494 pages, priced at $18.99 in trade paperback and $9.99 in digital formats. The cover art is by Ramil Sunga.
See all our coverage of the best in upcoming fantasy here.