Future Treasures: Cursed, edited by Marie O'Regan and Paul Kane
Future Treasures: Cursed, edited by Marie O'Regan and Paul Kane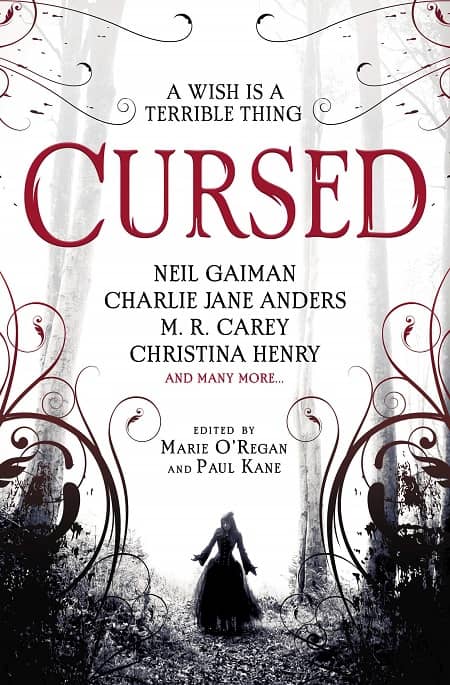 You lot know how much I love anthologies by now. Titan Books has been home base for several excellent anthologies over the past few years, including Christopher Golden's Dark Cities, Mark Morris's New Fears, and three volumes of John Joseph Adams' Wastelands. They also published Wonderland, an anthology of tales inspired by Alice's Adventures in Wonderland, edited by Marie O'Regan and Paul Kane.
O'Regan and Kane return next month with Cursed, a collection of new and reprint fantasy tales dealing with curses of all shapes and sizes, with original tales by M.R. Carey, Tim Lebbon, Margo Lanagan, Alison Littlewood, Angela Slatter, Lilith Saintcrow, Jen Williams, and others, and reprints by Neil Gaiman, Karen Joy Fowler, Christopher Golden, Charlie Jane Anders, Michael Marshall Smith, Christopher Fowler, and others. Here's an excerpt from the Publishers Weekly review.
Karen Joy Fowler's "The Black Fairy's Curse" is a dreamy, disorienting rendition of "Sleeping Beauty"; Neil Gaiman's lovely, tragic "Troll Bridge" draws from "Three Billy Goats Gruff"; and Angela Slatter's standout "New Wine" is a truly chilling modernization of "Bluebeard." While most of these stories transpose fairy tale elements into contemporary England, Lilith Saintcrow conjures a fully realized fantasy world with "Hanza and Ghana."… These stories are by turns eerie, grotesque, and delightful, ranging in tone from the broadly humorous fantasy of Charlie Jane Anders's "Fairy Werewolf vs. Vampire Zombie" to the visceral body horror of James Brogden's "Skin." Readers won't have to be Brothers Grimm fans to appreciate this dark mélange.
Cursed will be published by Titan Books on March 3, 2020. It is 384 pages, priced at $14.95 in trade paperback and $7.99 in digital formats. The cover artist is uncredited. See all the details at the Titan website, and see all our coverage of the best in upcoming fantasy and science fiction here.