The Golden Age of Science Fiction: Gerald W. Page
The Golden Age of Science Fiction: Gerald W. Page
DeepSouthCon has presented the Rebel Award annually since 1965. The first Rebel Award was presented to Al Andrews. The 1980 award was presented on August 23 at DeepSouthCon 18/ASFICon in Atlanta, Georgia, which was chaired by Cliff Biggers.
Gerald W. Page joined the Atlanta Science Fiction Organization in 1954. He was a member of the Southern Fandom Group during its three years of existence from 1960 through 1963.  In 1963, he began publishing short fiction with the story "The Happy Man," which appeared in Analog. He has continued to publish short stories, occasionally using pseudonyms such as Carleton Grindle or Leo Tifton.
He began working as a consulting editor for Amazing and Fantastic in 1967 when the magazines were being edited by Joseph Ross. In 1973, he took over the magazine Coven 13 from Arthur Landis and began editing the renamed magazine Witchcraft & Sorcery, beginning with issue 5 and continuing through its tenth and final issue, published in 1974. He edited the anthology Nameless Places for Arkham House in 1975 and in 1976 took over editing The Year's Best Horror Stories for DAW Books from Richard Davis.  Page edited the fourth through seventh volumes before turning the duties over to Karl Edward Wagner, who edited the series from its eighth volume until its final, twenty-second volume. In 1979, Page also edited the anthology Heroic Fantasy with Hank Reinhardt, which received a Balrog nomination for Best Collection/Anthology.
In the 1980s, Page published the zines Better Watch Out, Blazing Armadillo Stories, and Pulp Countdown. Blazing Armadillo Stories collected his neo-pulp stories about the Armadillo, a character that was based on the Shadow and similar characters. Page had been writing about the character since the 1950s. He has continued to write about the Armadillo.
The 1980s and 90s also saw him serve as guest of honor at Chattacon IX and Kubla 1991 Albuk, as well as toastmaster for Istacon 2.
Not only did Page win the 1980 Rebel Award, but in 1988, he would win the Phoenix Award as well. Along with Toni Weiskopf and Wilson Tucker, he is one of only three individuals who have won both awards, the Rebel for fannish activity, the Phoenix for professional.
DeepSouthCon does not release a list of the names who were considered for the Rebel Award.
---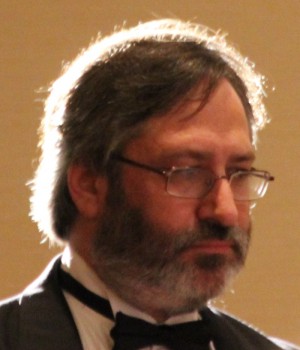 Steven H Silver is a sixteen-time Hugo Award nominee and was the publisher of the Hugo-nominated fanzine Argentus as well as the editor and publisher of ISFiC Press for 8 years. He has also edited books for DAW, NESFA Press, and ZNB. He began publishing short fiction in 2008 and his most recently published story is "Webinar: Web Sites" in The Tangled Web. His most recent anthology, Alternate Peace was published in June. Steven has chaired the first Midwest Construction, Windycon three times, and the SFWA Nebula Conference 6 times, as well as serving as the Event Coordinator for SFWA. He was programming chair for Chicon 2000 and Vice Chair of Chicon 7.