Future Treasures: The Shadow Saint, Book 2 of The Black Iron Legacy by Gareth Hanrahan
Future Treasures: The Shadow Saint, Book 2 of The Black Iron Legacy by Gareth Hanrahan
Covers by Richard Anderson
We've covered a surprising number of titles by Gareth Hanrahan here at Black Gate… but most of them haven't been novels. He made a name for himself first in the gaming industry, with many releases that greatly impressed me for Ashen Stars, 13th Age, Trail of Cthulhu, and Traveller.
But his breakout book was definitely his debut novel The Gutter Prayer, the opening title in The Black Iron Legacy series. Publishers Weekly praised its "thrilling action sequences and imaginative worldbuilding," and Holly at GrimDark Magazine wrote:
To say that the hype surrounding this book is intense would be an understatement. Anticipation levels have been through the goddamn roof… Briefly, it features three friends, thieves, who get caught up in an ongoing magical battle. Shenanigans abound….

It's evident that Hanrahan writes role-playing games, because he took all of the best things from RPG's & made it into something even more mesmerizing within this fantasy epic. The world building is just wondrous. The characters are intriguing (I loved Aleena. She is such a badass!). The storytelling is phantasmal. It's a book that I had to stop and turn around in my head for a bit once it had ended.

The Gutter Prayer is incredibly original… Within, there is a smorgasbord of imaginative beings littering the universe. Monsters, humans, sorcerers, Lovecraftian ghouls, Gods, saints, Tallowmen (warriors made from wax), AND… WORM CREATURES THAT FEAST ON THE DEAD.
There's a lot about this book that caught my attention, and I'm delighted to see the sequel, The Shadow Saint, scheduled for release next month. Here's the description.
Thieves, dangerous magic, and a weapon built with the power to destroy a god clash in this second novel of Gareth Hanrahan's acclaimed epic fantasy series, The Black Iron Legacy.

Enter a city of spires and shadows . . .

The Gutter Miracle changed the landscape of Guerdon forever. Six months after it was conjured into being, the labyrinthine New City has become a haven for criminals and refugees.

Rumors have spread of a devastating new weapon buried beneath the streets — a weapon with the power to destroy a god. As Guerdon strives to remain neutral, two of the most powerful factions in the godswar send agents into the city to find it.

As tensions escalate and armies gather at the borders, how long will Guerdon be able to keep its enemies at bay?

The Shadow Saint continues the gripping tale of dark gods and dangerous magic that began with Hanrahan's acclaimed debut The Gutter Prayer.
The Shadow Saint will be published by Orbit on January 7, 2020. It is 608 pages, priced at $16.99 in trade paperback and $11.99 in digital formats. The cover is by Richard Anderson.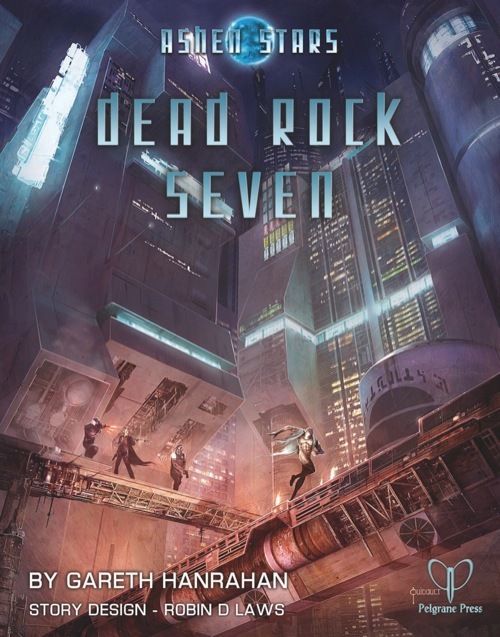 Our previous coverage of novels and games by Gareth Hanrahan includes:
The Gutter Prayer, Book 1 of The Black Iron Legacy
13th Age: Eyes of the Stone Thief
Ashen Stars: Dead Rock Seven
Ashen Stars: Accretion Disk
Traveller: Alien Module 1: Aslan
Cthulhu Britannica: Folklore
Cthulhu Apocalypse: Slaves of the Mother
See all our recent coverage of the best in upcoming fantasy here.