Goth Chick News: Finishing Out "The Season" at the Holiday Horror Con
Goth Chick News: Finishing Out "The Season" at the Holiday Horror Con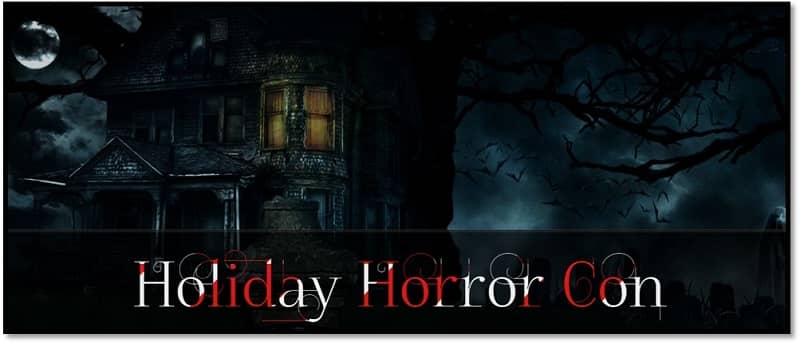 Last week I told you about how BG reader R.K. Robinson gave me a bit of grief for writing about Halloween in March. The fact this column is entitled Goth Chick News aside, I couldn't help but drag him into the coverage of what is normally the last show of "the season." Days of the Dead used to be where our road-tripping to various horror-related events ended for the year, and we settled into a long winter of Netflicking and reading before picking it all up again at the Halloween Attractions Association show in March; which is where RK came in.
However, this year BG photog Chris Z and I got an offer we could not refuse; not the least of which because it provided a perfect opportunity to offer RK a further extension of the Halloween season. That and because covering a show of this type the weekend after Thanksgiving when the Christmas décor is dripping from everywhere was just too appealing.
Enter the Holiday Horror Con.
This local horror and pop culture fan convention hosted outside Chicago in St. Charles, IL, gathers together merchandise, cosplayers and enthusiasts of various forms of horror including cinema, goth lifestyle, and occasionally science fiction and fantasy. Show organizers Zurko Promotions extended an invitation to GCN to come have a look. So, for Chris and I, it was one final 2019 excursion into the horror subculture, listening to Christmas music the whole way.
What we found was a show not unlike the much larger events we attend, only smaller and more intimate. There was a convention hall lined with vendor booths, roughly seventy or so, but as this was a suburban event, we met some new artists offering pieces we had not seen before. Here's a few we particularly liked.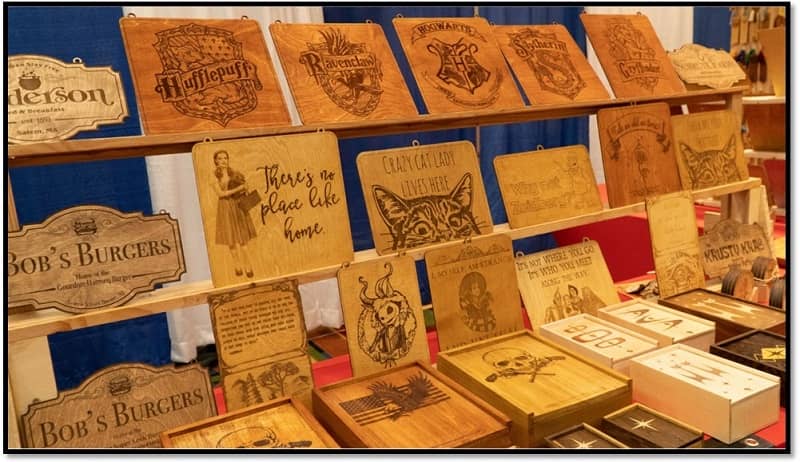 Dash Ten Works
Dash Ten Works – Purveyors of extraordinary wooden signs and boxes, Dash Ten has some very intricate horror-themed pieces. But these wooden works of art have enough themes to cater to any fan from movies to sports. Everything is handmade and most of their pieces use reclaimed wood making each one unique.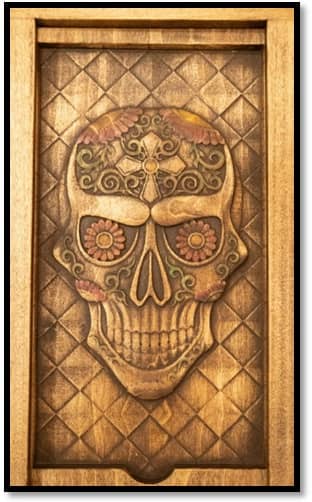 Even most of the stains and paints they use are made in house so their color choices make each piece one-of-a-kind. Don't see a design suited to your taste? Contact Dash Ten for custom pieces or check out their website for what's in stock. And a huge thank you to owner Chris, for his military service.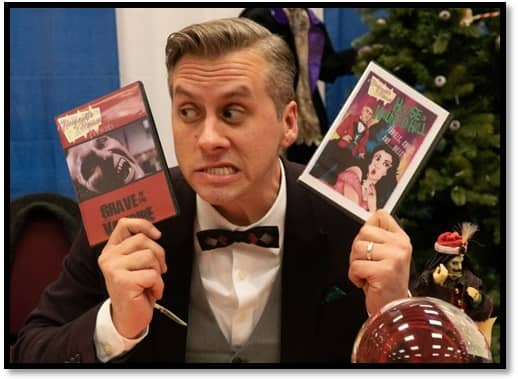 The charming "Mister of Horror"
Housewife and Mister of Horror – There really nothing more fun than a locally hosted horror movie show and the Housewife of Horror is our new obsession. Filmed in the far west Chicago suburb of Aurora, Illinois it airs on local station. but you can catch it literally everywhere streaming on The Monster Channel.
Housewife of Horror features the ghoulishly glamorous Housewife, and her soulmate The Mister of Horror. Both are lifelong lovers of all things that give you that special thrill, go bump in the night, and make a different kind of person finally feel right at home. Housewife of Horror breathes new life and adventure to the genre of horror hosting with their unique glamour and real-life retro charm. We loved the premise and the classic, drive-in-movie horror they present on their show is an entertaining way to spend a snowy afternoon.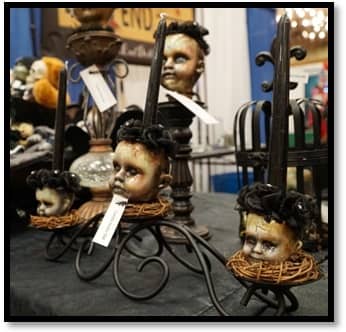 Dead End Doll Factory
Dead End Doll Factory – Amber Whitaker gets her 'raw' materials mostly from garage sales and flea markets. The dolls she works with must be porcelain for the aging process to work, so no cheap plastic dolls here. Each one is a resurrected antique which she repairs and treats with loving care to create her magnificent art.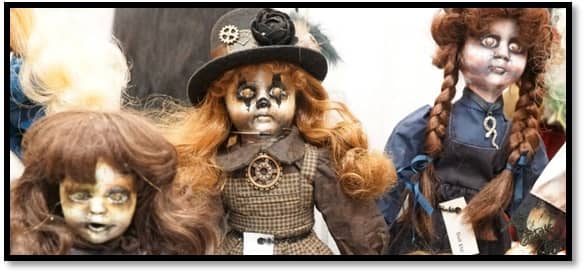 Doll heads too broken to repair? No worries, they become part of her doll head collection of candle holders. We couldn't help but think that a couple of Amber's pieces, strategically placed in your guest room this holiday could ensure no one overstays their welcome.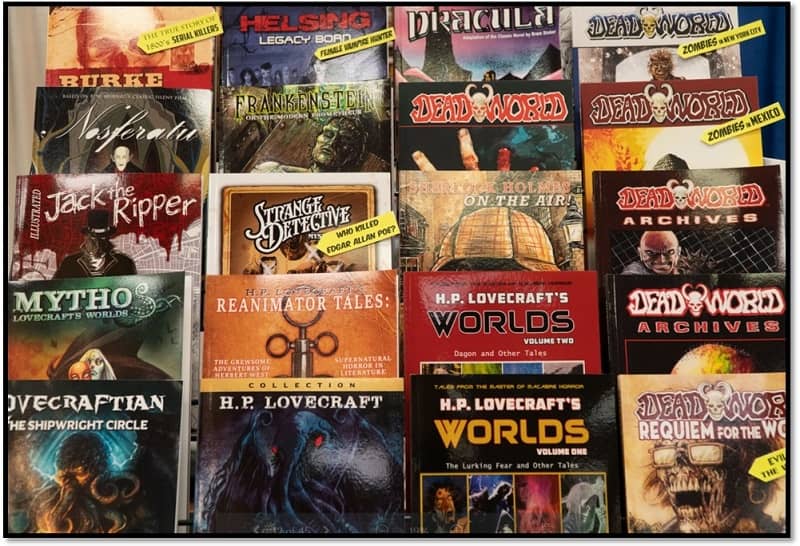 Caliber Comics
Caliber Comics – Have an idea for a graphic novel or comic? Then you've come to the right place. Caliber Comics has been one of leading American comic book publishers since 1989. They have published over 1300 comics and helped launched the careers of some of the leading comic book writers and artists in the industry today. A thumb through some of their titles made it clear they're onto something. For instance, I've not only never seen Rocky Horror Picture Show done as a graphic novel, but the illustrations were fantastic. I went ahead and added Nosferatu and Frankenstein to my collection as well. Their website has an online store plus guidelines for submitting your original work for publication.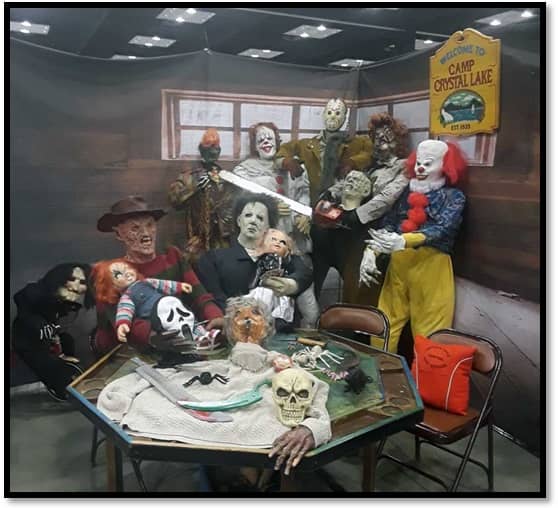 The Killer Thriller Experience
In addition to all this, a couple of things we saw at the con were as amusing as they were interesting. Chief among them was The Killer Thriller Experience. These creative folks pulled together representations from multiple horror movies to pose with you. Their advert read, "We do family photos with our handcrafted monsters." Family photos, just in time for your holiday cards.
Imagine it…
Last, as with all conventions, Holiday Horror Con had celebrities. In this case we're talking about the stars of the OG Land of the Lost series. Not that cringe-worthy Will Ferrell movie from 2009, nor the 1991 TV series, but the 1974 version by Sid and Marty Krofft that spanned 43 episodes and 3 seasons, something like forever for the Krofft brothers who cranked out and killed TV series by the dozens in the 70's and 80's.
Kathy Coleman and Wesley Eure
Present at the event were none other than the two child stars of Land of the Lost, Kathy Coleman (Holly) and Wesley Eure (Will). We had fun chatting with them about growing up on the set of a show whose premise was a family lost in a Jurassic world long before CGI. Ms. Coleman retired to ranching after the show ended in 1976 and she has captured her experiences in a book based on an oft-repeated line from the show; Run, Holly Run. Mr. Eure went on to act in several other TV shows, including a long stint as Dr. Mike Horton on the soap Days of Our Lives.
So now comes the long hibernation that is winter in Chicago, where many hours are spent watching movies, catching up on books and playing video games while counting down the days to the start of the next season. It begins with the Halloween Attractions Association show on March 21, 2020.
Only 107 days to go…
Have a question or comment? Post it here or drop a line to sue@blackgate.com.