Goth Chick News: It's Not Over Yet! Days of the Dead Lurches into Chicago
Goth Chick News: It's Not Over Yet! Days of the Dead Lurches into Chicago

I will start this week's article with a shout out to Black Gate reader R.K. Robinson who posted "It's only March!" on my coverage of the Haunted Association and Attractions show. Apparently, he is genuinely unaware that "the season" begins with the HAA which often happens in February (it was late this year) and generally goes all the way into November, ending with Days of the Dead. However, in honor of R.K., Black Gate photog Chris Z and I have accepted an invitation to cover the Holiday Horror Con taking place this weekend outside of Chicago, officially extending "the season" into December.
Next week our Holiday Horror Con coverage will be dedicated to R.K.
But this week we're talking Days of the Dead (or DotD for you cool kids) and the fabulous event that it was last weekend.
DotD is a horror and pop culture convention with annual stops in Atlanta, Las Vegas, Indianapolis, Charlotte, wrapping up its tour in Chicago. Due to its increasing popularity, the 2019 event here was moved to a bigger hotel venue then in the past, and from the looks of it, probably needs to upsize again next year. As always, DotD attracted an impressive list of celebrity guests including Richard Dreyfuss (Close Encounters of the Third Kind, Jaws), Steve Guttenberg (Cocoon, Police Academy) and Michael Biehn (Aliens, Terminator) among many others. Additionally, there were over 100, horror-themed vendors selling everything from jewelry to movie memorabilia. What is especially wonderful about DotD in Chicago is the amount of material we always get from meeting indie filmmakers, new artists and aspiring writers.
That, and the opportunity to do a bit of holiday shopping…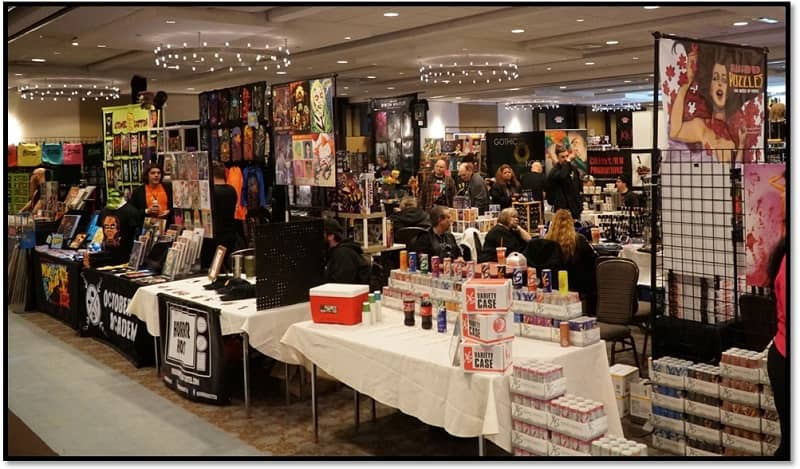 Though it's hard to choose, here is the rundown of our DotD highlights, some of which will turn into feature articles in the future.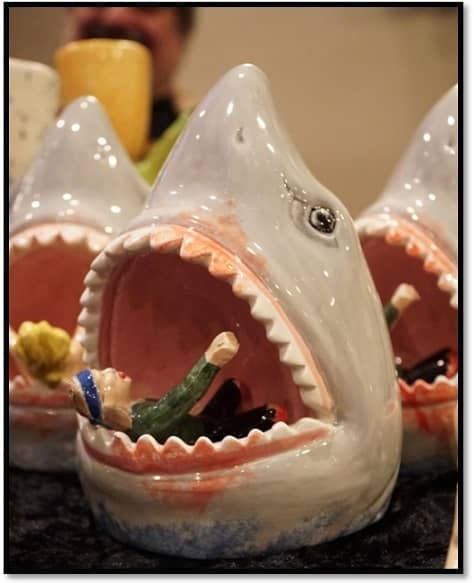 Angel's You're Kiln Me
Angel's You're Kiln Me by ceramic artist Angyla is a collection of some very creative and unusual pieces. Though I was first drawn to the 'baby head egg cups,' thinking they'd look perfect on my Mom's Thanksgiving table filled with red M&M's, I simply could not say no to the Jaws head complete with either Crissy or fisherman Quint in its mouth.
Priceless.
Actually, you can buy all Angyla's creations at her Etsy store ranging from $25 to $40.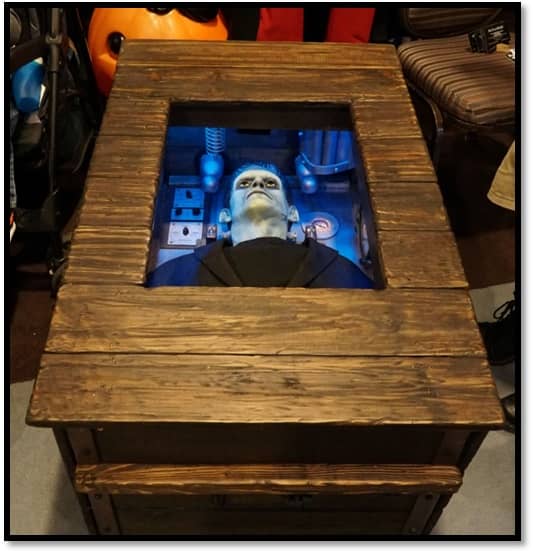 Plot 13 Studios
Plot 13 Studio appeared in our coverage last year but are definitely worth telling you about again. Artists Michael and K.C. Etherton not only create replica of iconic movie signs such as the Slaughtered Lamb Pub sign from American Werewolf in London, but also produce some of the most incredible coffee tables we've ever encountered. This year's Frankenstein table was mind-blowing, complete with sound and lighting effects. The Etherton team have also produced a Dracula table and a Friday the 13th table, each taking several months from design to finished product. If you're looking for a truly unique conversation piece for the classic horror movie fan in your life, this is definitely it.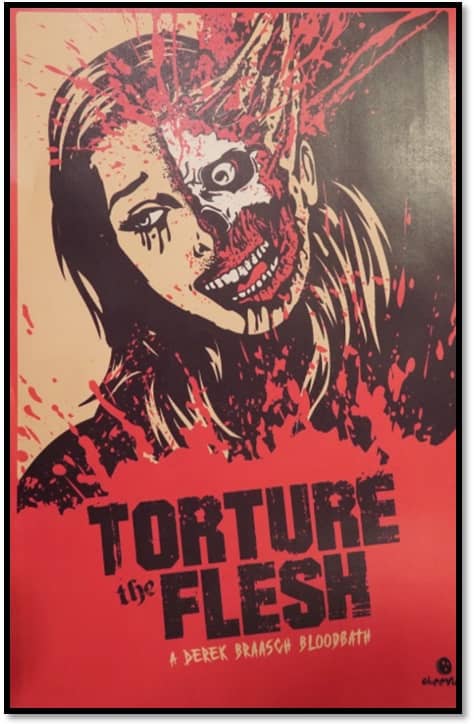 Cheevies Films
Cheevies Films are an independent film production company located right here in Chicagoland, and the producers of several, award-winning indie film shorts and two feature films. As you know, we here at Black Gate love indie film makers for their passion, persistence and creativity in pursuing the medium they love.
Filmmaker Derek Braasch is currently raising money for his upcoming third feature film project Torture the Flesh. We're going to speak to Derek and team in depth about what it takes to make a feature-length indie film, but for now, head over to their GoFundMe page and get in on the action.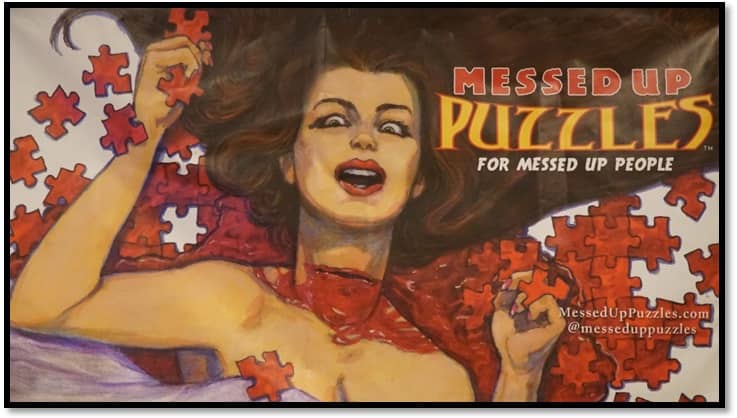 Messed Up Puzzles
Messed Up Puzzles is our new favorite thing. I mean, first, who doesn't love a good puzzle and second, what not to love about puzzles of your favorite horror movie posters? Creator Matt is just our kind of wrong, creating 1000-piece puzzles of grindhouse classics such as Cannibal Holocaust and Zombie. Messed Up Puzzles are not only high-quality art pieces when complete, but very reasonable at $29 each. And as if you needed more reasons to love Matt, check out the FAQ's on his website.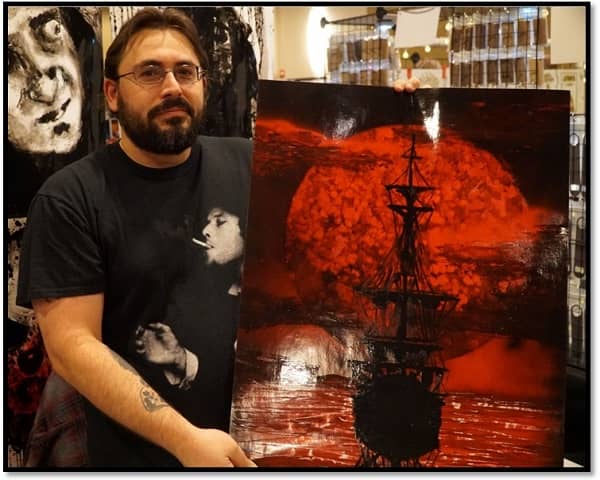 Artist Michael Kulick
Artist Michael Kulick continues to amaze us with his 'splatter' paintings. Covering a variety of horror icons, our favorites are his classic movie monster series and I have a Kulick original of Bela Lugosi as Dracula hanging in my office. This year we were particularly impressed with his series depicting sailing ships in silhouette, which seemed to scream for a short story to be written about each one. Michael's website depicts his more museum art pieces, but you can contact him about his ship and horror series.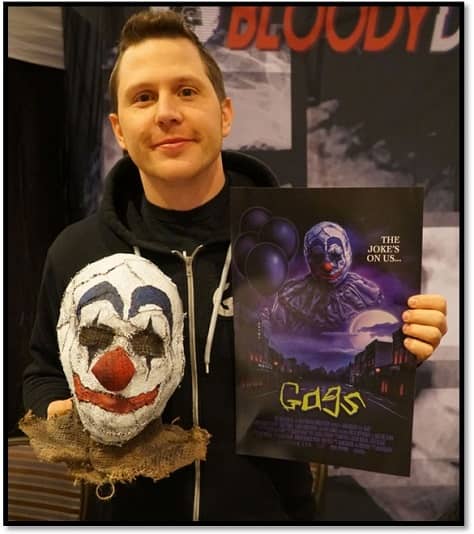 John Pata, producer of Gags the Clown
Gags the Clown Remember a couple years ago when there was news of a mysterious person dressed in a clown suit and creeping around Green Bay, WI at night? Well, believe it or not the story that went national was a very clever marketing stunt perpetuated by indie film director Adam Krause for his short film Gags, in which a demonic clown stalks and kills random people around town. Now, Krause along with producer John Pata, have developed his short film into a feature Gags the Clown. We definitely needed to learn more about this so we'll be sitting down with John and Adam to understand how a local marketing campaign went viral. But you can top off your Thanksgiving weekend by watching their film on Amazon streaming. Check out the trailer…
Watch this space for cover of Holiday Horror Con coming next week and a Happy Thanksgiving from Goth Chick News to R.K. Robinson and the rest of our Black Gate family.