Check Out Angry Robot's 2020 Catalog
Check Out Angry Robot's 2020 Catalog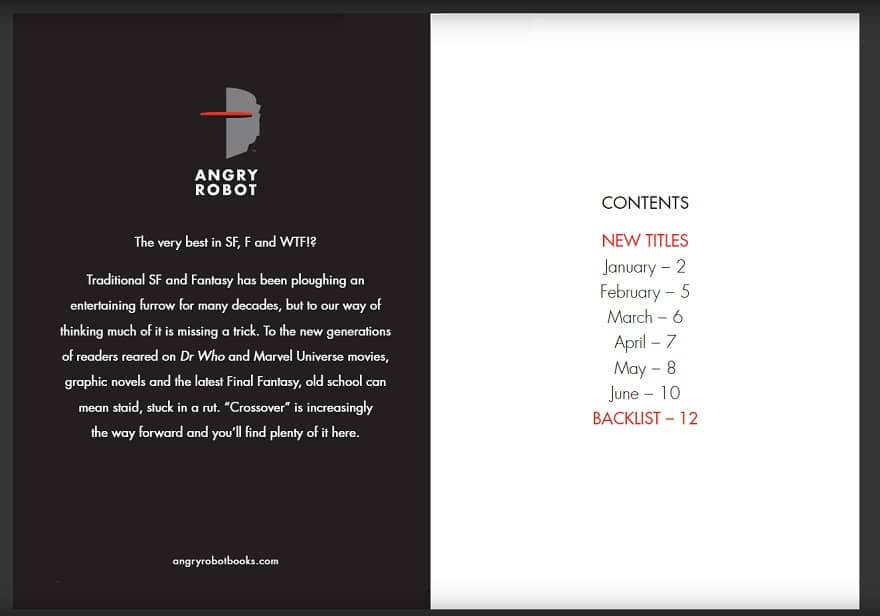 I miss the days when publishers mailed out catalogs. Yes, it was, like, a hundred years ago. And yes, it means I'm old. But paging through through slick color brochures and discovering a favorite writer had a new title coming out in three months? That was cool. Old school, maybe. But still cool.
Those days are over, of course. Nobody mails physical catalogs any more. But catalogs haven't actually vanished. Like everything else, they've just migrated online. And they're still fun to page through, and they can still surprise you.
Have a look at the Angry Robot January-June 2020 catalog, for example. Angry Robot is one of the most exciting and innovative publishers active today — and one of the few still publishing mass mass market paperbacks. We've covered a whole lot of exciting releases from them recently, including Starship Alchemon by Christopher Hinz, The Axiom series by Tim Pratt, and The Traitor God and its sequel by Cameron Johnston, among others.
Their 2020 catalog showcases upcoming books by Myke Cole, Jeff Noon, Kameron Hurley, Rod Duncan, Asaf Ashery, and lots more. It's well worth a look, especially if you're not familiar with their back catalog, which is top notch. Check out out here, and support one of the most exciting publishers in the industry.