New Treasures: Waste Tide by Chen Qiufan, translated by Ken Liu
New Treasures: Waste Tide by Chen Qiufan, translated by Ken Liu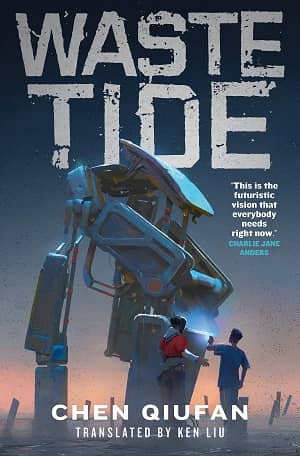 This is definitely the era of the Chinese invasion. Chinese writers like Cixin Liu and Hao Jingfang are winning Hugo Awards, and Western readers are paying attention to Chinese SF like never before. Chen Qiufan is one of the stars of the Chinese invasion; his short fiction has appeared in Clarkesworld, Lightspeed, and the anthologies Invisible Planets and Broken Stars.
His debut novel was published in the spring, and at Locus Online Gary K. Wolfe says "Waste Tide moves along at a terrific pace… with enough buzzy ideas to power a couple of novels." And in a starred review Kirkus Reviews calls it "Cutting-edge, near-future science fiction… Chinese science fiction, once an unknown quantity in the U.S., is making its way to the forefront through sheer excellence." Here's the description.
Mimi is drowning in the world's trash.

She's a waste worker on Silicon Isle, where electronics — from cell phones and laptops to bots and bionic limbs — are sent to be recycled. These amass in towering heaps, polluting every spare inch of land. On this island off the coast of China, the fruits of capitalism and consumer culture come to a toxic end.

Mimi and thousands of migrant waste workers like her are lured to Silicon Isle with the promise of steady work and a better life. They're the lifeblood of the island's economy, but are at the mercy of those in power.

A storm is brewing, between ruthless local gangs, warring for control. Ecoterrorists, set on toppling the status quo. American investors, hungry for profit. And a Chinese-American interpreter, searching for his roots.

As these forces collide, a war erupts — between the rich and the poor; between tradition and modern ambition; between humanity's past and its future.

Mimi, and others like her, must decide if they will remain pawns in this war or change the rules of the game altogether.
Waste Tide was published by Tor on April 30, 2019. It is 340 pages, priced at $26.99 in hardcover and $13.99 in digital formats. The cover is by Victor Mosquera. Read the complete first chapter at Tor.com.