Vintage Treasures: Heroes and Horrors by Fritz Leiber
Vintage Treasures: Heroes and Horrors by Fritz Leiber
Cover by Michael Whelan
If you want to get permanent editions of the brilliant short fiction of Fritz Leiber, these days your best bet may be the Centipede Press hardcovers like Swords in the Mist. These are gorgeous books, but they're also a little out of my price range ($75 for the unsigned editions). Still, if there's someone who deserves editions this beautiful, it's Leiber.
Or you could do what I do: happily buy one of Leiber's many vintage paperback collections. Many of these are also gorgeous and beautifully made, like Heroes and Horrors, a 1980 Pocket paperback with a cover by Michael Whelan. It contains two Fafhrd and the Gray Mouser tales, one from an early issue of Dragon magazine and the other original to this book, plus a Cthulhu Mythos tale ("The Terror from the Depths"), and many others. Copies are readily available in the online market at prices ranging from $3.50 – $10, less than the price of a modern paperback.
Heroes and Horrors also contains a 1-page preface by the book's editor, Stuart David Schiff, and a 5-page introduction by John Jakes, neither of which has ever been reprinted. It's a fine introduction to one of the greatest fantasists of the 20th Century, especially if you enjoy dark fantasy and horror. Here's the Table of Contents.
Preface by Stuart David Schiff
Fritz Leiber: An Appreciation by John Jakes
"Sea Magic" (The Dragon Magazine, #11, December 1977)
"The Mer She" (original)
"A Bit of the Dark World" (Fantastic Stories of Imagination, February 1962)
"Belsen Express" (The Second Book of Fritz Leiber, 1975)
"Midnight in the Mirror World" (Fantastic Stories of Imagination, October 1964)
"Richmond, Late September, 1849" (Fantastic, February 1969)
"Midnight by the Morphy Watch" (Worlds of If, July-August 1974)
"The Terror from the Depths" (The Disciples of Cthulhu, 1976)
"Dark Wings" (Superhorror, 1976)
Heroes and Horrors was published in hardcover by Whispers Press in 1978, and reprinted in paperback by Pocket Books in August 1980. It is 240 pages, priced at $2.25 in paperback. The cover is by Michael Whelan. It has not been reprinted since, and there is no digital edition.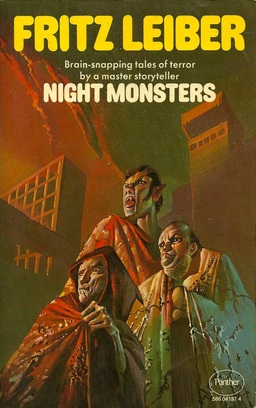 Our previous coverage of Leiber includes:
Birthday Reviews: Fritz Leiber's "The Cloud of Hate" by Steven H Silver
Danger in Every Dark Alley: 40 Years of Adventuring in Lankhmar, Fritz Leiber's Great Fantasy Metropolis
The Silver Eggheads by Steve Carper
Vampires, Frozen Worlds, and Gambling With the Devil: The Best of Fritz Leiber by James McGlothlin
Dual Structures in Fritz Leiber's Fafhrd and the Gray Mouser Stories and Robin Wayne Bailey's Swords against the Shadowland by Gabe Dybing
Lust, Women, and the Devil: Seven Decades of Fritz Leiber's Conjure Wife
Night Monsters
The Best of Fritz Leiber
Fritz Leiber, Edgar Rice Burroughs, and Appendix N: Advanced Readings in D&D
Tarzan and the Valley of Gold, Part 2: The Fritz Leiber Novelization by Ryan Harvey
Art of the Genre: Looking Back at Old Readings with Neil and Fritz Leiber by Scott Taylor
Vintage Treasures: The Girl With the Hungry Eyes
See all our recent Vintage Treasures here.