The Golden Age of Science Fiction: A Swiftly Tilting Planet by Madeleine L'Engle
The Golden Age of Science Fiction: A Swiftly Tilting Planet by Madeleine L'Engle
The National Book Awards were established in 1936 by the American Booksellers Association. Although the Awards were not given out between 1942 and 1949 because of World War II and its aftermath, the awards were reestablished in 1950 and given out annually since then. Since 1950, only US authors are eligible for the award, which is designed to celebrate the best of American literature, expand its audience, and enhance the value of good writing in America. From 1980 through 1983, the American Book Awards were announced as a variation of the National Book Awards, run by the Academy of the American Book Awards.
The first Children's Book award was presented to Meinhardt DeJong for Journey from Peppermint Street. In 1980, the award rebranded as the American Book Awards (TABA) and increased the number of awards given, including creating both a hardcover and paperback award for Children's Books. The winner of the first Paperback Children's Book Award was Madeleine L'Engle's A Swiftly Tilting Planet.
A Swiftly Tilting Planet was the third book published in Madeleine L'Engle's Time Quintet (although it is the fourth volume viewed by internal chronology). It follows the established character of Charles Wallace Murry who must save the world from an impending nuclear disaster. Charles Wallace has demonstrated the ability to read other people's minds and thought and connect to his older sister, Meg, through a process called kything.
The story opens with the Murry family, trying to enjoy a Thanksgiving meal, despite the presence of Meg's mother-in-law who seems to hate having to be with them and the absence of Meg's husband. When a call comes in to seek their advice from the President, who warns them that a nuclear war may start the next day, Meg's mother-in-law begins to repeat a poem of power that Charles Wallace will eventually use to summon a unicorn named Gaudior and travel through time to possess various people, all of whom are ancestors to "Mad Dog" Branzillo, the South American despot who is threatening the world, almost like Samuel Beckett would travel a decade later in Quantum Leap.
While Charles Wallace and Gaudior are traveling through time, he is able to keep Meg apprised of his situation his kything ability, which is also the way he is able to enter other people's bodies. Although Gaudior explains that he essentially has to become the people he is possessing, giving up his own identity, he also must influence them. While L'Engle makes it clear that he is influencing them, she rarely shows how Charles Wallace is able to change individual's actions while he is in them. The viewpoint during the possession scenes tends to be from the possessed with little input from Charles Wallace.
L'Engle's novel suffers from several drawbacks. Being the third volume written, of course L'Engle assumes a familiarity with the characters. Those characters all belong to a family of tremendously high achievers who manage to make names for themselves in the sciences and politics despite sequestering themselves in a country farmhouse in rural Connecticut. Furthermore, there are times that L'Engle allows her writing to become downright preachy, not necessarily in terms of morality, although there is some of that, but in pushing her own religious beliefs through the book, which also has a tendency to insert tedium in those sections. Interestingly, for an author of strong Christian conviction, Charles Wallace's activities are designed to remove any potential free will of those with whom he comes into contact.
Although Charles Wallace's defining characteristics are his intelligence and his ability to kyth, this is little evidence of the former and when he does show intelligence, it is questionable whether it is his own intelligence or the intelligence of the people who he is possessing. The time travel aspects are not particularly riveting, nor do the places he travels feel real, rather than simply set pieces.
A Swiftly Tilting Planet, which was originally published in 1978, was nominated in a first which included books published over an eleven year span, including Maurice Sendak's Higglety Pigglty Pop! (1967), Arnold Lobel's Frog and Toad Are Friends (1970), Myron Levoy's Alan and Naomi (1977), and Katherine Patterson's The Great Gilly Hopkins (1978). Patterson's book won the children's award the previous year.
---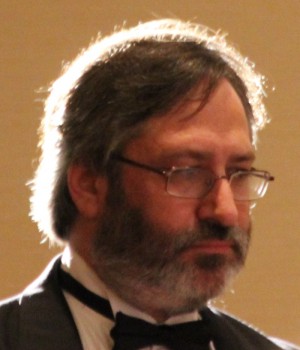 Steven H Silver is a sixteen-time Hugo Award nominee and was the publisher of the Hugo-nominated fanzine Argentus as well as the editor and publisher of ISFiC Press for 8 years. He has also edited books for DAW, NESFA Press, and ZNB. He began publishing short fiction in 2008 and his most recently published story is "Webinar: Web Sites" in The Tangled Web. His most recent anthology, Alternate Peace was published in June. Steven has chaired the first Midwest Construction, Windycon three times, and the SFWA Nebula Conference 6 times, as well as serving as the Event Coordinator for SFWA. He was programming chair for Chicon 2000 and Vice Chair of Chicon 7.