Low-rate Mining Gigs, Warships, and the Power of Song: Tor.com on 7 Space Operas and Adventures
Low-rate Mining Gigs, Warships, and the Power of Song: Tor.com on 7 Space Operas and Adventures
I've been saying for a while now that we're in a space opera renaissance, and I'm not the only one to have noticed. There's been plenty of discussion of some of the best new titles at many of our favorite sites.
Back in March I bought a copy of Arkady Martine's Tor debut A Memory Called Empire, the tale of an independent mining station's efforts to avoid being absorbed by the encroaching Teixcalaanli Empire, and as part of their promotional efforts at Tor.com Natalie Zutter assembled an interesting piece comparing the book to seven other recent space operas. Her list included books by Martha Wells, Ann Leckie, and Catherynne M. Valente, and I've found myself recommending it to people interested in modern tales of solar empires, intergalactic dynasties, and plucky space crews.
Any list that useful deserves to be shared. Here's three of Natalie's recommendations.
[Click the images for space empire-sized versions.]
All Systems Red by Martha Wells
After hacking its governor module and gaining autonomy, Murderbot technically could have lived up to its name and massacred the humans with which it worked on a low-rate mining gig. But then it discovered 35,000 hours of books and serials like the space soap opera Rise and Fall of Sanctuary Moon — and why rush when it could wind up killing humans and being stuck with a groanworthy cliffhanger? (This is especially ironic, considering that Wells describes Rise and Fall of Sanctuary Moon as "the future version of How to Get Away with Murder.")
Ancillary Justice by Ann Leckie
Once a warship that housed an artificial intelligence that in turn controlled hundreds of human "ancillaries," Justice of Toren was the inverse of a Lsel Stationer: one mind spanning across countless bodies, instead of a dozen-plus generations of heritage councilors/miners/ambassadors combined in an imago, sharing a single body with their successor's mind. However, due to forces operating beyond the ship's awareness, Justice of Toren was destroyed, the AI abruptly cut off from all of its ancillaries except for a single body, One Esk Nineteen. Nearly twenty years later, Breq (as she has renamed herself) has still not grown accustomed to being constrained to one body, not least its complete lack of a singing voice for the song-loving former AI…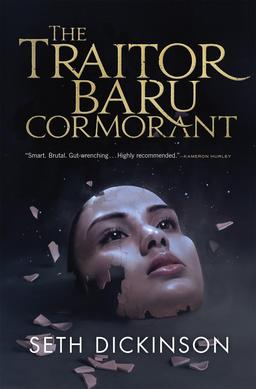 Space Opera by Cat Valente
When the universe comes knocking on their door, Earthlings — the seemingly primitive, naïve, backwater planet inhabitants within a larger sentient framework they've only just become aware of — must assert their right to existence through the power and poetry of song. "Barbaric" ambassador Mahit and semi-pro poet slash cultural liaison Three Seagrass (or, as her friends call her, Reed) might know a thing or two about that; and their relationship carries the same notes of desire and regret as former bandmates Decibel Jones and Oort St. Ultraviolet. Better collaborators than these duos we haven't seen in a long while.
Not too surprisingly, we've covered most of Natalie's suggestions here at Black Gate over the last few months. Here's the list.
All Systems Red by Martha Wells
Ancillary Justice by Ann Leckie
The Traitor Baru Cormorant by Seth Dickinson
The Long Way to a Small, Angry Planet by Becky Chambers
Empress of Forever by Max Gladstone
Ninefox Gambit by Yoon Ha Lee
A Memory Called Empire by Arkady Martine
Read the complete article at Tor.com, 7 Space Operas and Adventures to Read If You Loved A Memory Called Empire.