Future Treasures: Empress of Forever by Max Gladstone
Future Treasures: Empress of Forever by Max Gladstone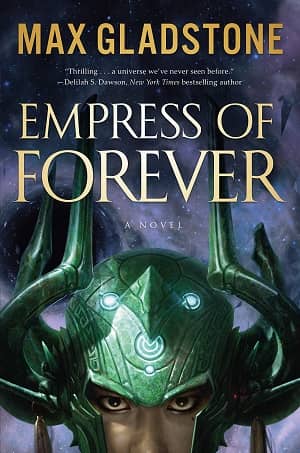 The six novels in Max Gladstone's Craft Sequence have earned him a reputation as a modern master of urban fantasy (not to mention a Hugo nomination.) His latest novel, Empress of Forever, is something very different. Delilah S. Dawson calls it "A classic space opera that impossibly becomes a thrilling dungeon crawl fantasy," and if that's not a perfect book blurb, I don't know what is. In her feature review at The Barnes & Noble Sci-Fi & Fantasy Blog yesterday, Nicole Hill wrote:
The comparisons this novel has drawn to Guardians of the Galaxy are understandable and well-earned — you won't soon read a book more overloaded with outlandishly imaginative and downright fun set-pieces, including a battle involving space vessels made of stained glass… It's a chess game played out across the stars, with a fearsome matched set of queens and a collection of pawns who are unforgettable.
Empress of Forever arrives in trade paperback from Tor next week. Here's the description.
From Hugo Award finalist Max Gladstone comes a smart, swashbuckling, wildly imaginative adventure; the saga of a rag-tag team of brilliant misfits, dangerous renegades, and enhanced outlaws in a war-torn future.

A wildly successful innovator to rival Steve Jobs or Elon Musk, Vivian Liao is prone to radical thinking, quick decision-making, and reckless action. On the eve of her greatest achievement, she tries to outrun people who are trying to steal her success.

In the chilly darkness of a Boston server farm, Viv sets her ultimate plan into motion. A terrifying instant later, Vivian Liao is catapulted through space and time to a far future where she confronts a destiny stranger and more deadly than she could ever imagine.

The end of time is ruled by an ancient, powerful Empress who blesses or blasts entire planets with a single thought. Rebellion is literally impossible to consider — until Vivian Liao arrives. Trapped between the Pride ― a ravening horde of sentient machines ― and a fanatical sect of warrior monks who call themselves the Mirrorfaith, Viv must rally a strange group of allies to confront the Empress and find a way back to the world and life she left behind.
Empress of Forever will be published by Tor Books on June 18, 2019. It is 480 pages, priced at $18.99 in paperback and $9.99 for the digital edition. The cover is by Tommy Arnold. Read an excerpt at Tor.com.