The Golden Age of Science Fiction: Heavy Metal
The Golden Age of Science Fiction: Heavy Metal
In 1972, the British Fantasy Society began giving out the August Derleth Fantasy Awards for best novel as voted on by their members. In 1973, they began presenting additional British Fantasy Awards in 4 categories, including Best Comic. The first four years, that award was won by Roy Thomas and John Buscema for Conan the Barbarian and Savage Sword of Conan. The award was only presented until 1980, but in 2010 a new Best Graphic Novel award was introduced. A re-alignment in 2012 means the awards are now selected by a jury rather than the full membership of the British Fantasy Society. In 1980, the awards were presented at Fantasycon VI in Birmingham.
Heavy Metal was founded in 1977 based on and licensing materials from the French magazine Métal Hurlant.  Early issues used translations of the French magazine's stories, which helped keep the cost down and allowed the publisher, Leonard Mogel, to print the graphic stories on glossy pages, often with full color.  From 1977 through 1986, the magazine was published on a monthly schedule.
For most of 1979, Sean Kelly and Valerie Marchant served as the editors of Heavy Metal, but eventually, Ted White was hired to take over as the editor, although his title is given as "Guest Editor" on the December issue.
Heavy Metal described itself as "The adult illustrated fantasy magazine," and prided itself on pushing boundaries, although most of that looks rather tame from a perspective forty years on.  Nudity, both male and female, and often gratuitous, featured in many of the stories (and even some of the advertisements). Generally, the contents of the magazine ran the gamut from science fiction to fantasy to more experimental fiction. In keeping with their self-description, the magazine also published some erotica, which featured nudity, but was never overly explicit in nature.
From the April through the June issue, Heavy Metal included a graphic adaptation of a portion of the film Alien. This was an excerpt of a full length graphic novel of the film that HM Communications, Heavy Metal's parent corporation, would be publishing following the film's release on June 22. Other adaptations included in the magazine in 1979 were an Elric story by Michael Moorcock and a Buck Rogers story in the September issue. Moorcock's Jerry Cornelius appeared in the August issue, along with an illustrated version of the Rolling Stones' "Sympathy for the Devil."
The October issue of the magazine was devoted to H.P. Lovecraft, with articles about him and most of the graphic stories based on or inspired by his works, one of the strangest being Druillet's excerpts from The Necronomicon.
Alien wasn't the only serial featured in Heavy Metal, with many authors and artists collaborating on stories which would run through multiple issues of the magazine.  Sometimes these serials were described as such on the table of contents page, sometimes only on the title page for the story. Serials also did not necessarily have an installment in sequential issues, but occasionally would skip issues and be published on an indeterminate schedule.
In addition to a range of artists that included Moebius, Karl Kofoed, J.K. Potter, Clyde Caldwell, and Wayne Barlowe Heavy Metal also drew on a broad group of authors, many of whom are not particularly associated with the graphic field.  These authors included Harlan Ellison, Gray Morrow, Alfred Bester, Nicholas Yermakov (better known now as Simon Hawke), Byron Preiss, Norman Spinrad, Arthur Byron Cover, and Al Sarrantonio. Names associated with comics, like Len Wein, were also featured in the magazine.
The wide variety of artists featured in Heavy Metal meant that each issue of the magazine offered a vast assortment of artistic styles from basic line drawings to fully shaded illustrations, providing each story with an immediate and differentiating identity.
Heavy Metal beat out Wendy and Richard Pini's Elfquest and Roy Thomas and John Buscema's Savage Sword of Conan to win the British Fantasy Award for Best Comic in 1980.
---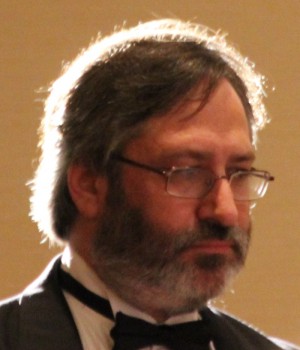 Steven H Silver is a sixteen-time Hugo Award nominee and was the publisher of the Hugo-nominated fanzine Argentus as well as the editor and publisher of ISFiC Press for 8 years. He has also edited books for DAW and NESFA Press. He began publishing short fiction in 2008 and his most recently published story is "Webinar: Web Sites" in The Tangled Web. Steven has chaired the first Midwest Construction, Windycon three times, and the SFWA Nebula Conference 6 times, as well as serving as the Event Coordinator for SFWA. He was programming chair for Chicon 2000 and Vice Chair of Chicon 7.