B&N Sci-Fi & Fantasy Blog on the Best Science Fiction & Fantasy Books of 2017 So Far
B&N Sci-Fi & Fantasy Blog on the Best Science Fiction & Fantasy Books of 2017 So Far
Over at the Barnes & Noble Sci-Fi & Fantasy Blog, Joel Cunningham has taken on the big job of cataloging the best books of the year so far. His list includes a whopping 25 titles… which may be more books than I've read this year. There's some terrific stuff on his list, so let's get to it.
All Systems Red: The Murderbot Diaries, by Martha Wells
Veteran fantasist Wells proves her sure hand at sci-fi as she imagines a future dominated by corporations, in which the twin imperatives of bureaucratic adherence to policies and the need to award all contracts to the lowest bidder result in every planetary mission being required to be accompanied by a company-supplied SecUnit, an artificially intelligent android built from cheap parts, and as likely to malfunction as all of the other shoddy equipment the expeditions are counting on to, oh, keep them breathing. The SecUnit narrating the story has hacked its own Governor Module, attaining sentience and free will; it would despise the humans it protects if it didn't find them so boring, but it nevertheless refers to itself as Murderbot. When its humans are attacked by something outside of the experience provided by its data banks, however, Murderbot must turn its prickly, near-omniscient mind towards not just the survival of its humans, but itself. This slim read is both surprisingly funny and packed with intriguing future worldbuilding — all the more reason to celebrate the three planned sequels that will continue Murderbot's adventures. Read our review.
All Systems Red was published by Tor.com on May 2, 2017. It is 160 pages, priced at $14.99 in trade paperback and $3.99 for the digital edition. The cover is by Jamie Jones. Read an excerpt at Tor.com.
[Click the images for bigger versions.]
Here's the back covers for the first two books.
And here's the description for The Last Good Man by Linda Nagata.
Scarred by war. In pursuit of truth. Army veteran True Brighton left the service when the development of robotic helicopters made her training as a pilot obsolete. Now she works at Requisite Operations, a private military company established by friend and former Special Ops soldier Lincoln Han. ReqOp has embraced the new technologies. Robotics, big data, and artificial intelligence are all tools used to augment the skills of veteran warfighters-for-hire. But the tragedy of war is still measured in human casualties, and when True makes a chance discovery during a rescue mission, old wounds are ripped open. She's left questioning what she knows of the past, and resolves to pursue the truth, whatever the cost. The Last Good Man is a powerful, complex, and very human tale.
The Last Good Man was published by Mythic Island Press on June 17, 2017. It is 464 pages, priced at $18 in trade paperback and $7.99 for the digital edition. The cover is by Philippe McNally. Read an excerpt here.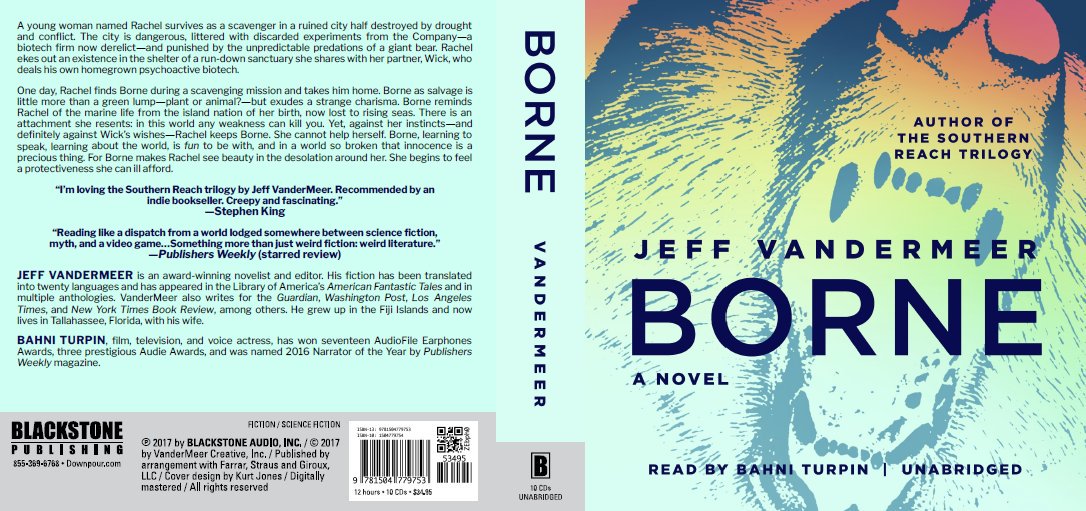 Borne, by Jeff VanderMeer.
Nebula Award-winner Jeff VanderMeer returns with his first new novel since he released all three books of the Southern Reach trilogy throughout 2014, and it's another heady dose of unsettling weirdness: Rachel, a refugee from a drowned island, lives off of the bones of a ruined city of the future. On one of her scavenging trips, she encounters a giant, genetically engineered bear, a remnant of cruel experimentation by the corrupt Company—and nestled in its fur, a small, strange living lump she takes home and names "Borne." He is a creature who will change her entire world. The author's imagination is as wild as ever—Rachel is involved with a drug dealer named Wick, who processes creatures like Borne into living drugs users can put into their bodies to recall others' lost memories of a pre-collapse world—and the slow-burning plot is propelled along by uneasy mysteries (what is Wick's history with the company, and what secrets is he hiding from Rachel?). It's another triumph from one of the weirdest authors in the genre, operating at the height of his powers. Read our review.
Borne was published by MCD on April 25, 2017. It is 336 pages, priced at $26 in hardcover and $12.99 for the digital edition. The cover is by Rodrigo Corral and Tyler Comrie. Read excerpts at Granta, EW, and Weird Fiction Review.
Read the complete list of the Best Science Fiction & Fantasy Books of 2017 So Far at B&N.
See all of our recent New Treasures here.