New Treasures: The Winter Road by Adrian Selby
New Treasures: The Winter Road by Adrian Selby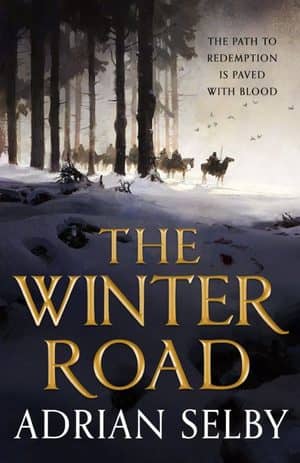 I've been intrigued by many of Orbit's recent releases, including Splintered Suns by Michael Cobley, John Gwynne's A Time of Blood, Jamie Sawyer's Eternity War, and especially Tade Thompson's Wormwood Trilogy. Orbit has more than exceeded the post-expansion success we predicted for them two years ago, and I'm very glad to see it.
Best of all, they're still taking chances on new authors, and they appear to be paying off nicely. Adrian Selby is a fine example. His second novel The Winter Road was released in November, and it seems to be nicely positioned to attract Game of Thrones fans. In his review James Latimer at The Fantasy Hive says "Selby's books… are different, dark, uncompromising, ambitious, but brilliant." Here's the description.
The brutally powerful story of a daring warrior traveling a path that might bring salvation to her people… or lead her to ruin. For fans of Mark Lawrence, Andrzej Sapkowski, and Joe Abercrombie.

The Circle — a thousand miles of perilous forests and warring clans. No one has ever tamed such treacherous territory before, but ex-soldier Teyr Amondsen, veteran of a hundred battles, is determined to try.

With a merchant caravan protected by a crew of skilled mercenaries, Teyr embarks on a dangerous mission to forge a road across the untamed wilderness that was once her home. But a warlord has risen in the wilds of the Circle, uniting its clans and terrorizing its people. Teyr's battles are far from over…
Adrian has a fondness for tales of mercenary companies, and for that reason Black Gate readers have compared him to Glen Cook. His debut novel Snakewood (2017) was the story of a legendary band of mercenaries, now retired, who are being hunted down and killed one by one; The Winter Road is a loose prequel, set about a hundred years earlier.
The Winter Road was published by Orbit on November 13, 2018. It is 496 pages, priced at $16.99 in trade paperback and $11.99 in digital formats. The cover is by Jaime Jones, whose previous credits include Peter Newman's Vagrant trilogy. Read the complete first chapter of The Winter Road at the Orbit website.