Support Songs of Giants: The Poetry of Pulp, Illustrated by Mark Wheatley
Support Songs of Giants: The Poetry of Pulp, Illustrated by Mark Wheatley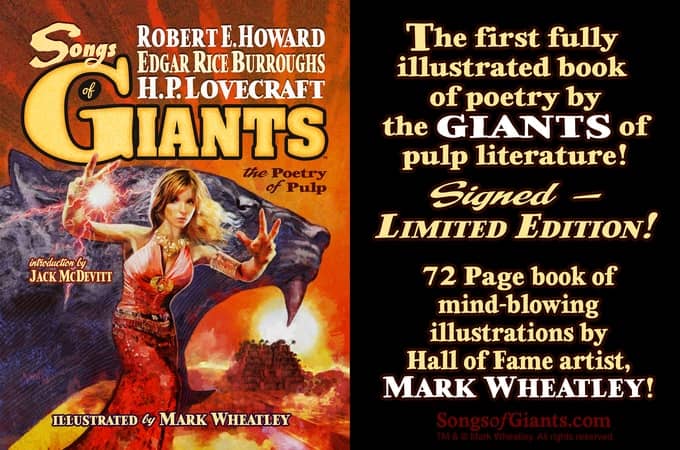 I spent this weekend at the Windy City Pulp & Paper Show and, as usual, I met a lot of great folks and discovered plenty of fabulous books and artwork. One of my most intriguing discoveries came when Christopher Paul Carey introduced me to Mark Wheatley, the renowned comic writer and artist behind Mars, Breathtaker, and Comico's Jonny Quest. Mark had launched a Kickstarter for an ambitious project titled Songs of Giants: The Poetry of Pulp, an illustrated book featuring some of the greatest pulp writers of all time. Here's what Mark told me about it.
It's really gratifying to see how poetry in general is popular these days. When we launched Songs of Giants about a month ago on Kickstarter we had no expectation that the Poetry of Pulp would be so popular. But we are now at 200% of our goal. This means that everyone is getting great extras with stretch goals and we expect to add a few more before we're done. My personal favorites are the audiobook and the signed limited-edition prints. And I'm very much looking forward to adding the three portrait set of our masters of Pulp poetry, Robert E. Howard, Edgar Rice Burroughs, and H. P. Lovecraft.

Having Jack McDevitt, one of our very best current writers of science fiction, write the introduction to Songs of Giants is a huge personal perk for me. I have loved Jack's books for many years. And he actually evokes that sense of wonder that was so prevalent in the Pulps in his own writing today. Ultimately though it's obvious from his introduction that he truly understands pulp and poetry and I think he gives us some good insights.
Songs of Giants is a terrific project, and the unlocked stretch goals already include a complete audio book, exclusive bookmark, a Robert E. Howard music video, multiple signed art prints, and much more. It wraps up in three days, but there's still time to get on board. Here's a closer look at that gorgeous cover art.
[Click the images for pulp-sized versions.]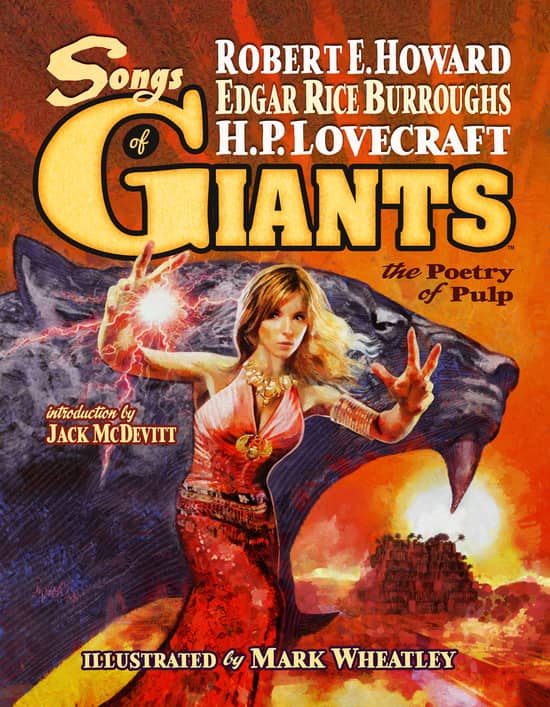 The Kickstarter page has several sample interiors that give you a sense of just how beautiful this book is. Here's an example, with Mark's art illustrating "The Cats" by H.P. Lovecraft.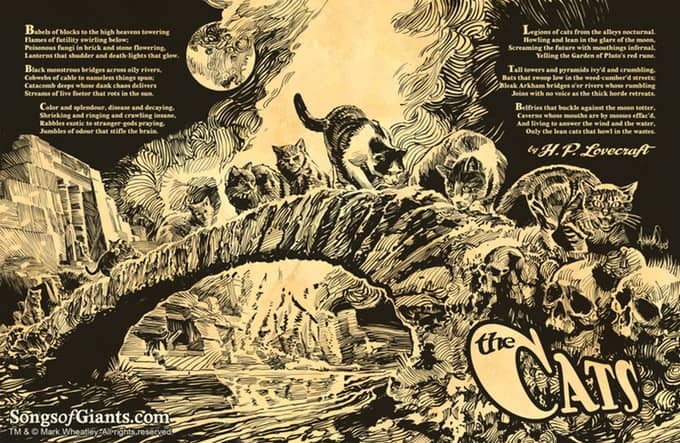 A sample page from Song of Giants: The Poetry of Pulp
Here's a more detailed description of the project from the Kickstarter page.
Songs of Giants is a collection of some of the very best poetry written by three giants of pulp literature; Robert E. Howard, Edgar Rice Burroughs and H. P. Lovecraft.

Each of these authors is known for the incredible range of their visual imaginations. Worlds and characters came to colorful life in every one of their stories and poems, lingering in the wild imaginations of illustrators and readers alike. There is a long tradition of lovely illustrated books. Often these books are largely text with just a smattering of beautiful illustrations. Songs of Giants goes beyond that and is a feast for the eyes, with illustrations covering every page and featuring artfully placed text.
Check out all the details, and pledge to support this worthwhile project here. Tell 'em Black Gate sent you!