Deadly Tech, Terrifying Aliens and Huge Explosions: The Lazarus War by Jamie Sawyer
Deadly Tech, Terrifying Aliens and Huge Explosions: The Lazarus War by Jamie Sawyer
I tend to grade space opera on a curve — especially military space opera. That's not to say I don't have standards. I'm just more forgiving of my space-faring, laser-blasting, alien-artifact-explodin' interstellar sagas than I am when I read, say, contemporary fiction, or even fantasy. I'm in the market for a different kind of book when I reach for space opera.
That probably means I'm not the best person to be recommending this sort of stuff. But you knew that already… and you're still here, bless your generous little heart. With that out of the way, I want to continue my space opera obsession of the last few weeks, and tell you about another series, this one from new author Jamie Sawyer. Since he burst on the scene with his first novel The Lazarus War: Artefect in 2015, about an elite military unit who mind-swap between cloned bodies to survive the deadliest kill-zones in the galaxy, Sawyer has gradually been accumulating readers and recognition. Neal Asher summed up the first book in the series as follows:
A hostile race of alien biomechs somewhat in the mould of H. R. Giger aliens… terrorism, subterfuge and traitors… starships sporting particle beam weapons, railguns the size of skyscrapers, laser batteries, missiles… And then there are the uber-human super-soldiers clad in powered armour and wielding plasma weapons… This, dear readers, is the good stuff.
As we've established, I'm not the person to count on for a quality recommendation here. But I can point you to some more reliable sources. Here's Uncle Geoff at SFcrowsnest on The Lazarus War: Artefect.
[Click the images for space opera-sized versions.]
Dying is just another part of the day job for Captain Conrad Harris the commander of an elite military team — Simulant Operations. Remotely piloting simulant bodies, combat enhanced clones of themselves tailored for war, they take on suicide missions battling the Krell, a terrifying bioengineered alien species that make the xenomorphs from Alien look like docile puppies. When the team are send on a mission deep inside enemy territory to investigate a mysterious artefact they are stranded on a hostile planet without the use of their simulant bodies or backup of any kind. Faced with the sudden fragility of their own flesh they need to not only find a way to survive, but also a way home. What is worse is that the greatest threat might not even be from their alien foe.

Lazarus War: Artefact is a tense, heart-pounding SF adventure that forges ahead at an unrelenting pace. There is a surprising depth to all the characters as they struggle with the psychological aftermath of once again having to face their own mortality. The ending is a tantalizing promise of a much larger adventure that is still to come. It will be interesting to see the repercussions of their actions as the greater mystery unravels in later novels.

The Verdict: The Lazarus War: Artefact is a stunning debut novel; Jamie Sawyer shows that he is definitely an author to keep your eye on. If he continues on this trajectory Neal Asher might just need to watch his back. If you like gripping military SF filled with deadly tech, terrifying aliens and huge explosions then this is definitely the book for you.
Read the complete review here.
There are a total of three books (four, if you count the 85-page novella Redemption) in The Lazarus War series, which wrapped up in 2015. In 2017 Sawyer released the first novel in the sequel series The Eternity War. Two have been published so far; here are the covers.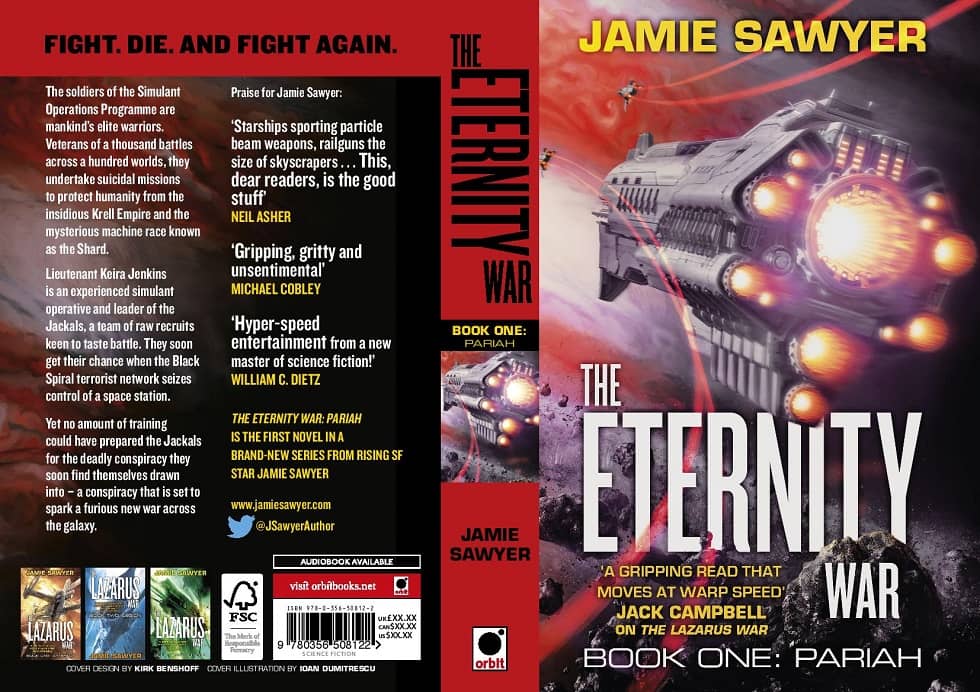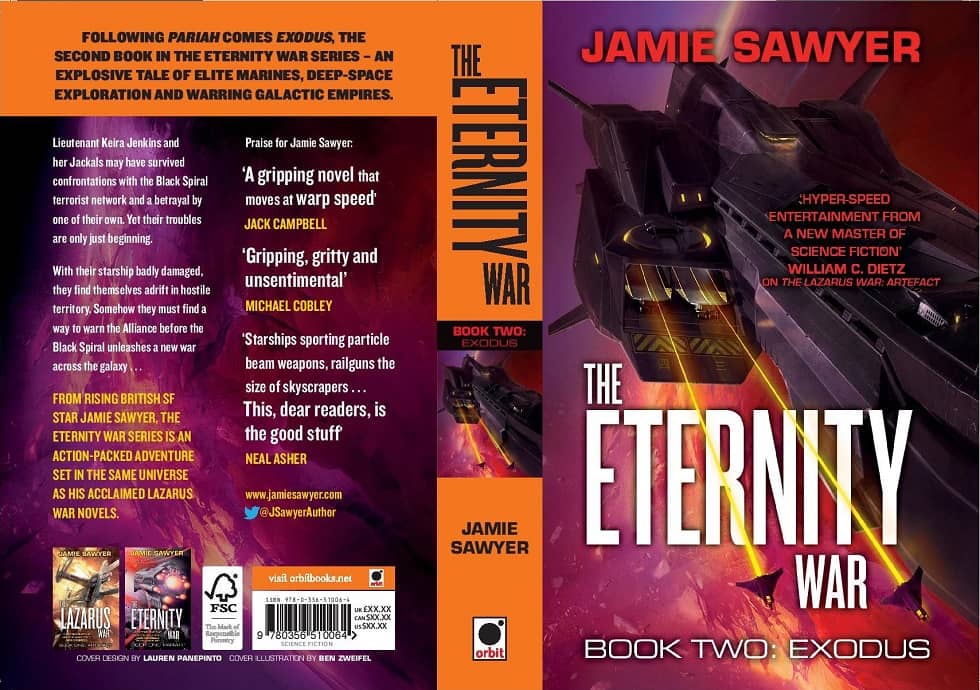 Here's all the publishing details.
The Lazarus War: Artefact (502 pages, $9.99 paperback/$4.99 digital, March 24, 2015) — Cover by Ioan Dumitrescu
The Lazarus War: Legion (463 pages, $9.99 paperback and digital, September 1, 2015) — Cover by Ioan Dumitrescu
The Lazarus War: Origins (443 pages, $9.99 paperback and digital, August 30, 2016) — Cover by Ioan Dumitrescu

The Eternity War: Pariah (439 pages, $9.99 paperback/$4.99 digital, September 26, 2017) — Cover by Ben Zweifel
The Eternity War: Exodus (439 pages, $9.99 paperback and digital, November 27, 2018) — Cover by Ben Zweifel
All five books are published by Orbit. Get more details at the author's website here.
See all our recent reporting in the best new SF and fantasy series here.