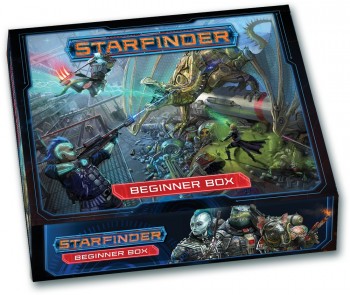 For the last couple of years, one of my favorite games has been the science fantasy RPG Starfinder from Paizo, the makers of the Pathfinder RPG. Starfinder has all the magic and adventure of Pathfinder, co-mingled with high technology and a wild space setting. The best way to describe the feel of the adventures is a mix of Dungeons & Dragons with Guardians of the Galaxy.
The game has expanded at a steady pace over the last couple of years. Two Alien Archive supplements have been released, with a third slated for a GenCon release in August. They've released the Pact Worlds setting book and an Armory supplement, and a Character Operations Manual focusing on increased player options is coming in October 2019. They've also just announced a collaboration with WizKids to produce a Starfinder Battles series of prepainted miniatures.
The setting focuses on the solar system that once housed the planet of Golarion, the main Pathfinder setting, but Golarion itself no longer exists. In its place is Absalom Station, a giant space station that houses the Soulstone and is a hub of travel for shifts traveling through the Drift, the mysterious dimension that allows for rapid travel across vast distances of space. Among many other things, Absalom Station is the headquarters of the Starfinder Society, a group of explorers and adventurers who travel throughout the Pact Worlds and beyond into the Vast to discover new worlds and civilizations, occasionally running afoul of the undead Corpse Fleet or other threats, from space pirates to alien menaces like the vicious Swarm.
For those who haven't yet explored the setting, and are looking for a guided introduction, the new Starfinder Beginner Box offers a great springboard to get into the game. It comes with a streamlined rule set, some cards that help provide rule and condition reminders, pregenerated characters, a variety of cardboard pawns representing characters and creatures, a gridded map for play, and an introductory adventure module.
---