The Golden Age of Science Fiction: The 1973 Nebula Award for Best Novella: "A Meeting With Medusa" by Arthur C. Clarke
The Golden Age of Science Fiction: The 1973 Nebula Award for Best Novella: "A Meeting With Medusa" by Arthur C. Clarke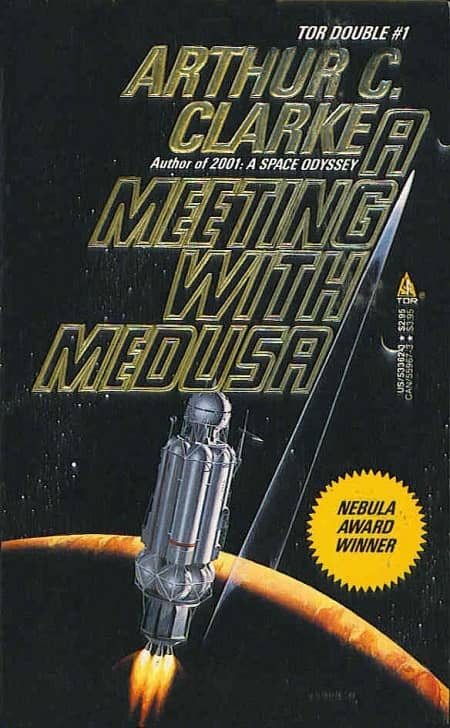 Tor Double #1, October 1988. Cover by Vincent Di Fate
Arthur C. Clarke, of course, was a towering figure in SF circles – when I began reading SF, there was an indisputable "Big Three": Isaac Asimov, Robert A. Heinlein, and Clarke. And, indeed, that's how I saw things at that age. Curiously, Heinlein was not really central to my earliest reading, and I didn't read the bulk of his juveniles until a couple of decades later (though I had read his adult work in my teens.) But Clarke and Asimov were among the "adult" SF writers I first discovered, and I was reading novels like Against the Fall of Night when I was 12.
Clarke was born in 1917. He began publishing SF in 1946 with "Rescue Party" (a story that still gives me a thrill.) He made his mark in SF in the next decade or so with many further fine stories and with novels like The City and the Stars and Childhood's End. He made his mark in the wider world when the movie 2001 appeared in 1968 – Clarke had written the original story ("The Sentinel") upon which it was based, and he also worked with Kubrick on developing the story for the movie, and wrote the "novelization." He had moved to Sri Lanka in 1956, partly because of his interest in scuba diving, but also possibly because he was gay, and homosexual activity was still illegal in England. He was knighted in 1998, at which time disturbing stories accusing him of pedophilia surfaced. He was cleared by the Sri Lankan police, and died a decade later.
"A Meeting with Medusa" first appeared in Playboy in December 1971. (I'm not sure why it was still eligible for the Nebula ballot in 1973 – this was before the "rolling eligibility" period of the Nebulas.) I'd have reproduced a cover image of its first place of publication, but Black Gate is a family website, as so well evidenced by the Margaret Brundage paintings we sometimes feature! I should also mention that this was a period when Playboy published a fair amount of excellent SF — for example, Ursula K. Le Guin's "Nine Lives", just a couple of years earlier.

[Click the images for Medusa-sized versions.]
Berkley Medallion, September 1975. Cover by Richard Powers
I read it first in Nebula Award Stories 8, and I remember liking it then. Over time, it faded in my memory somewhat – I thought of it as mostly a travelogue of Jupiter. But on rereading, I see I was wrong – it's more than just that (though it certainly is that to an extent), and it's a better story than I remembered – quite a good one, really. It opens with Commander Howard Falcon on the pilot flight of a huge lighter-than-air vehicle, when a sudden accident causes this vehicle to crash in the Grand Canyon. We jump to several years later, when Falcon, who we realize was severely injured in the crash, but after a long period was able to recover, is proposing to explore the atmosphere of Jupiter, using another lighter than air (well, lighter than hydrogen!) vehicle. He will be the pilot and sole passenger.
Much of the rest of the story details his expedition, and the wonders and dangers he encounters: storms, "mountains" of foam, Jupiter-quakes that cause remarkable electromagnetic effects, and, of course, life, including the huge and possibly intelligent creatures he calls "medusae." So, that part really is a travelogue, though very well done, quite fascinating, and apparently scientifically fairly plausible as of 1971. The "sting in the tail of the story" (to use John Clute's phrase) comes at the end, when we learn Howard Falcon's true nature, and how he was "repaired" after his crash. This slingshots to a nicely turned thematic disclosure about the future of men – and machines – in space.
A sample of the many anthologies and collection that include "A Meeting With Medusa."
Covers by Paul Lehr (left) and Paul Alexander (right)
It really is a strong story. Besides the coolness of Jupiter, and the interesting character of Falcon, there is some really nice incluing about the nature of this particular future, a fairly typical Clarke utopia. For one quick example, I loved the offhand revelation that "there were at least 1,000,000 men on Earth whose discretionary income exceeded 1,000 New Dollars a year," which hints nicely at a radically changed economy, and a significant revaluation of the dollar.
So, did it deserve its Nebula? Well, in many years it would have. But not this year. Because this year there were two magnificent Frederik Pohl novellas: "The Gold at the Starbow's End" and "The Merchants of Venus," perhaps his two best stories ever. Add Joe Haldeman's "Hero," the first of the stories that became The Forever War. And even then, we haven't come to the clear-cut best novella of 1972, one of the very greatest SF novellas of all time: "The Fifth Head of Cerberus," by the late, incomparable, Gene Wolfe. So, no, "A Meeting With Medusa" should not have been the Nebula Winner for Best Novella – but it certainly doesn't disgrace its award.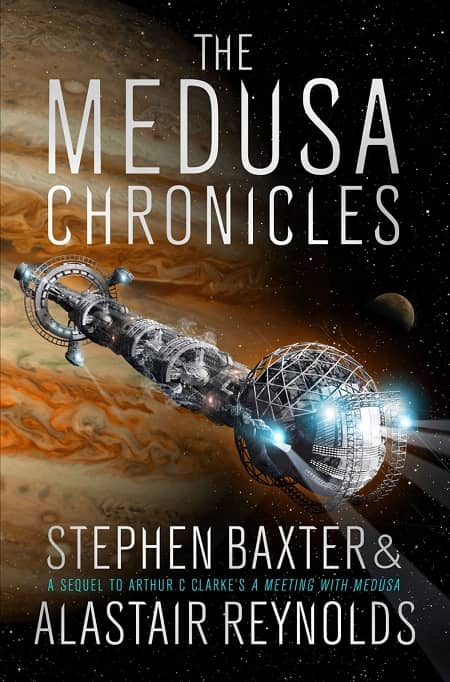 The Medusa Chronicles (Gollancz, June 2016).
Cover by Shutterstock.
(By the way, there was a sequel novel to "A Meeting With Medusa," The Medusa Chronicles, written by Stephen Baxter and Alastair Reynolds, published in 2016. I haven't read it.)
---
Rich Horton's last article for us was a look at the winner of the 1973 Hugo Award for Best Editor, Ben Bova. His website is Strange at Ecbatan. See all of Rich's articles here.