Smithsonian Magazine on how Sci-Fi Lovers Owe a Debt of Gratitude to Betty Ballantine
Smithsonian Magazine on how Sci-Fi Lovers Owe a Debt of Gratitude to Betty Ballantine
Assorted Ballantine paperbacks, 1971 – 1976
Anyone who's been reading Black Gate for any period of time, or is a fan of vintage science fiction, knows the name Betty Ballantine. With her husband Ian she founded Bantam Books, and later Ballantine Books. Last month Smithsonian Magazine paid tribute to Betty in an article titled Sci-Fi Lovers Owe a Debt of Gratitude to Betty Ballantine, in which they focus on the many ways in which she shaped 20th Century Science Fiction and Fantasy. Here's a snippet.
The Ballantines made the decision to leave Penguin following the end of World War II due to creative differences, and from there, they went on to found Bantam Books, and, later, Ballantine Books, making them the first outlet to release hardcover and paperback editions simultaneously. Both publishing companies are now part of Penguin Random House, according to the Associated Press.

It was at Ballantine that Betty gave a voice to the then-fringe genre of sci-fi. Tom Doherty, founder of Tor Books, says that before Betty, those works were deemed "unimportant pulp" only fit to be published in cheap magazines and books. But Betty was inspired by the concept of using real science to hypothesize the future of innovation. As if she was a character in her favorite genre, Betty was able to see the potential of science fiction in novel form.
Both Bantam and Ballantine were instrumental in finding, publishing, and promoting early science fiction and fantasy, but Ballantine Books especially was crucial. They were responsible for Lin Carter's legendary Ballantine Adult Fantasy line, the groundbreaking Best of series (which we have paid tribute to many times), bringing Tolkien to American audiences in an authorized edition, and much, more more.
[Click the images to embiggen.]
From the article:
The Ballantines were the first to publish Ray Bradbury's Fahrenheit 451, helped launch the career of Arthur C. Clarke, and popularized the works of other sci-fi greats like Anthony Burgess (A Clockwork Orange) and Frederik Pohl (Gateway).
Ballantine was also responsible for reprinting Clark Ashton Smith, H.P. Lovecraft, and many others in affordable mass market editions.
The Ballantine Best Of… series was one of the most important line of books keeping classic short fiction alive in the late 70s, and it was instrumental in introducing readers (including me) to pulp SF. The series, sometimes called the Ballantine's Classic Library of Science Fiction, included over two dozen collections from Philip K. Dick, Edmond Hamilton, Fritz Leiber, Murray Leinster, Stanley G. Weinbaum, Eric Frank Russell, Robert Bloch, Leigh Brackett, John W. Campbell, Frederik Pohl, Henry Kuttner, Jack Williamson, and many others.
There's been a nice surge in interest in the Best Of… books recently. The collection of 21 titles below (including two duplicates) sold for $127.50 on eBay last month, a very nice premium over the asking price (and about 60 bucks higher than my maximum bid). Click the image below for a bigger version.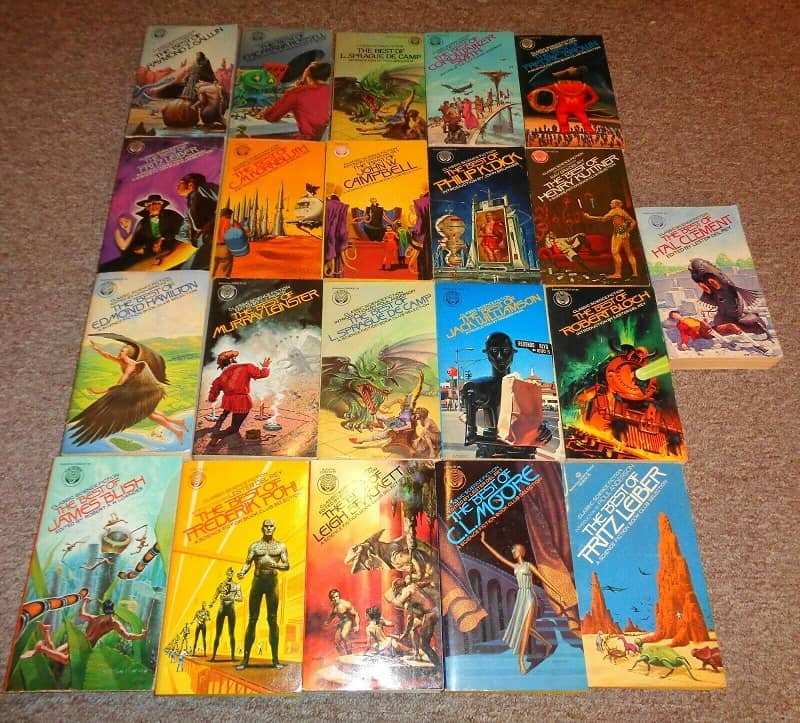 The classic Ballantine Best of…. series
For all their many accomplishments, today the Ballantines are perhaps best remembered for bringing Tolkien stateside in an authorized edition.
Tolkien can also thank the Ballantines, in part, for his Stateside success. His initial hardback versions had mostly remained within academic circles, but when Ace Books released an unauthorized copy in 1965, bookstores couldn't keep The Hobbit and The Lord of the Rings on their shelves, as Charlotte and Denis Plimmer report for The Telegraph. The Ballantines had made an unsuccessful bid for the paperback rights to original publisher Houghton Mifflin a few years earlier, according to Al Silverman's The Time of Their Lives: The Age of Great American Book Publishers. When Mifflin caught wind of the unauthorized copy, it quickly agreed to the Ballantines' earlier proposal.

Ballantine's edition came with a special note on the back cover from Tolkien himself stating theirs was the only authorized paperback of Tolkien's works. "Well, everybody got behind us," Betty later said. "There was literally no publication that did not carry some kind of outraged article. And of course, the whole science fiction fraternity got behind the book; this was their meat and drink."
Here's a look at the Ballantine editions, and the famous back covers.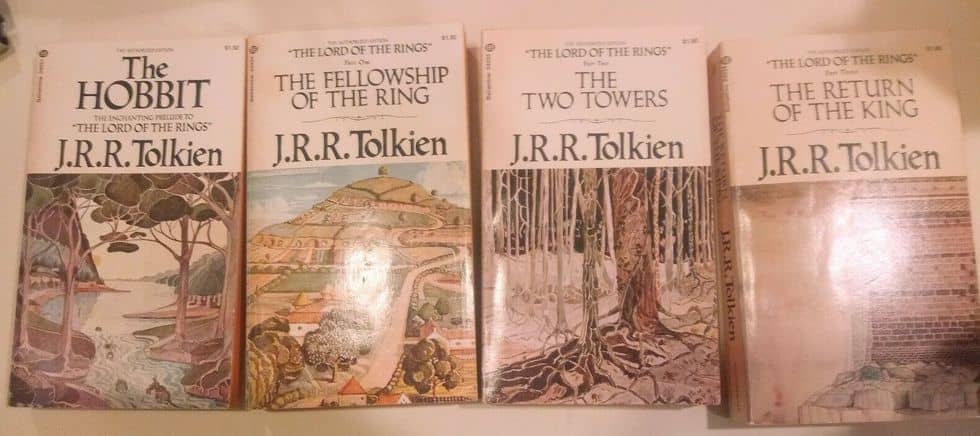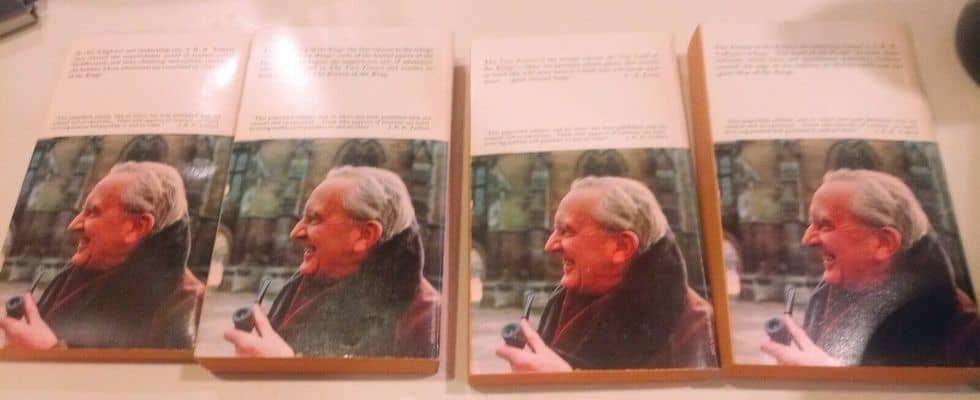 And here are just a few of the many Ballantine Adult Fantasy titles.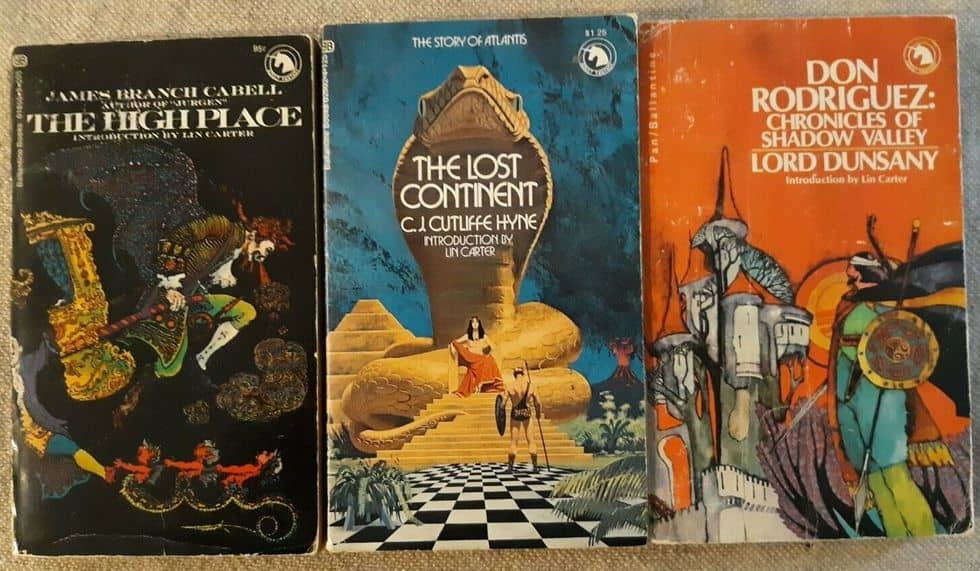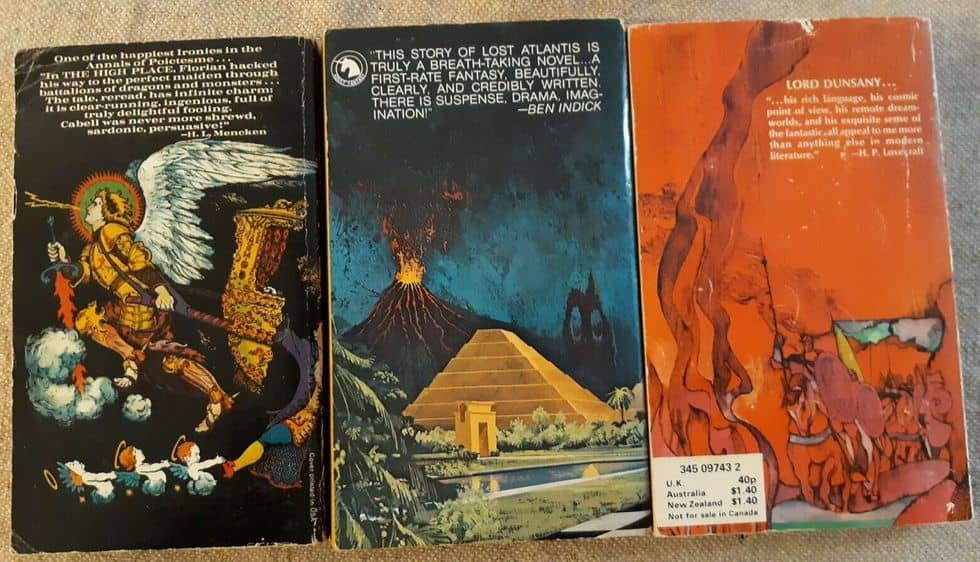 Read the complete article online here.