Future Treasures: Greystone Secrets #1: The Strangers by Margaret Peterson Haddix
Future Treasures: Greystone Secrets #1: The Strangers by Margaret Peterson Haddix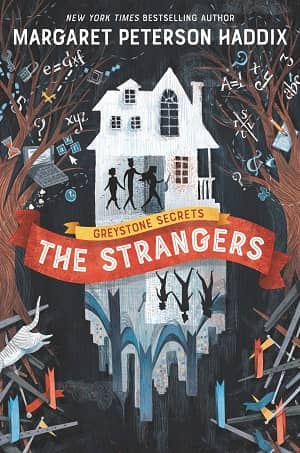 Margaret Peterson Haddix is The New York Times bestselling author of a bunch of stuff, including The Shadow Children, Children of Exile, and The Missing series. Her latest is a middle-grade thriller that Booklist says "blends adventure and sf elements into an engrossing mystery… secret rooms, alternate realities, and a cliffhanger ending raise the stakes and delight fans new and old." It arrives in hardcover on April 2.
What makes you you?

The Greystone kids thought they knew. Chess has always been the protector over his younger siblings, Emma loves math, and Finn does what Finn does best — acting silly and being adored. They've been a happy family, just the three of them and their mom.

But everything changes when reports of three kidnapped children reach the Greystone kids, and they're shocked by the startling similarities between themselves and these complete strangers. The other kids share their same first and middle names. They're the same ages. They even have identical birthdays. Who, exactly, are these strangers?

Before Chess, Emma, and Finn can question their mom about it, she takes off on a sudden work trip and leaves them in the care of Ms. Morales and her daughter, Natalie. But puzzling clues left behind lead to complex codes, hidden rooms, and a dangerous secret that will turn their world upside down.
Here's the rundown from Publishers Weekly.
In Ohio, the Greystone kids — responsible Chess, math-savvy Emma, and excitable Finn — have established a pleasant life with their mother years after their father's death. Until, that is, the day they find their mother weeping and wan over a news story about three kidnapped Arizona children… After their mom disappears on a "work trip" the very next day, the Greystones receive a cryptic farewell and a coded letter… A secret-stacked, thrilling series opener.
Greystone Secrets #1: The Strangers will be published by Katherine Tegen Books on April 2, 2019. It is 416 pages, priced at $17.99 in hardcover and $10.99 in digital formats. It is illustrated by Anne Lambelet, whom I presume also did the terrific cover. Read the first eight chapters here.
See all our recent Future Treasures here.