Future Treasures: Ancestral Night by Elizabeth Bear
Future Treasures: Ancestral Night by Elizabeth Bear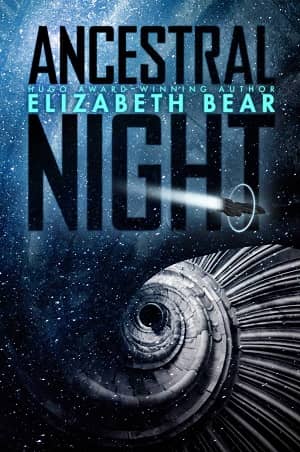 Elizabeth Bear is an author with ambition and big ideas, and that puts her in some rarefied company. Her new novel Ancestral Night, arriving in hardcover next month, is getting a lot of pre-release buzz — more than enough to pique my attention, anyway. Here's a sample from the starred review at Publishers Weekly.
Anyone who enjoys space opera, exploration of characters, and political speculation will love this outstanding novel, Bear's welcome return to hard SF after several years of writing well-received steampunk (Karen Memory) and epic fantasy (the Eternal Sky trilogy). As an engineer on a scrappy space salvage tug, narrator Haimey Dz has a comfortable, relatively low-stress existence, chumming with pilot Connla Kuruscz and AI shipmind Singer. Then, while aboard a booby-trapped derelict ship, she is infected with a not-quite-parasitic alien device that gives her insights into the universe's structure. This makes her valuable not only to the apparently benevolent interstellar government, the Synarche, but also to the vicious association of space pirates… Amid a space opera resurgence, Bear's novel sets the bar high.
Kirkus Reviews says the book "Offers plenty of big, bold, fascinating ideas…Impressive at the core." Here's the description.
A space salvager and her partner make the discovery of a lifetime that just might change the universe in this wild, big-ideas space opera from multi award-winning author Elizabeth Bear.

Halmey Dz and her partner Connla Kurucz are salvage operators, living just on the inside of the law… usually. Theirs is the perilous and marginal existence — with barely enough chance of striking it fantastically big — just once — to keep them coming back for more. They pilot their tiny ship into the scars left by unsuccessful White Transitions, searching for the relics of lost human and alien vessels. But when they make a shocking discovery about an alien species that has been long thought dead, it may be the thing that could tip the perilous peace mankind has found into full-out war.
Ancestral Night will be published by Saga Press on March 5, 2019. It is 512 pages, priced at $25.99 in hardcover and $7.99 in digital formats. It is the opening volume in the White Space series. We previously covered Bear's novels Shattered Pillars (2013) and The Stone in the Skull (2017).
See all our recent coverage of the best upcoming SF and fantasy here.