A Ride into the Darkness: The Long Way Home by Richard Chizmar
A Ride into the Darkness: The Long Way Home by Richard Chizmar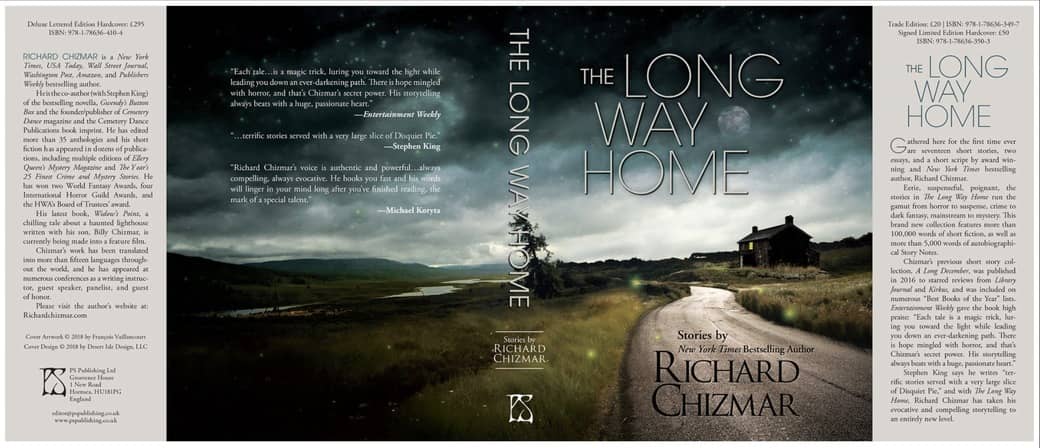 Richard Chizmar (publisher, editor, author) is one of those writers that I define as "dependable," meaning that you can count on him to deliver tales that are entertaining, thought provoking and extremely well written. And these features are particularly important for an author devoted to short stories, where time and space are short, and suspension of disbelief must be elicited from the very first sentence.
Chizmar's latest collection The Long Way Home assembles twenty stories in which the reader meets the many faces of the darkness which surrounds our lives and lurks in the deep of our souls. Sometimes the topic is overtly horrific (a wild serial killer, for instance), sometimes more subtle and occasionally deceiving.
Good examples of the former are "Mischief," a witty piece where a serial killer's confession to a journalist leads to an unexpected development; "The Man Behind the Mask," a tense story with a terrifying twist, about a mysterious Bogeyman abducting, raping and killing girls; and "Roses and Raindrops," a tale of graphic horror, deeply unsettling and not for the squeamish.
Examples of "quiet" horror are "Silent Night," an insightful tale featuring a man on the run getting a fickle glimpse of his former life, and the title story "The Long Way Home," a perceptive portrait of a former alcoholic and drug addict reviewing his past errors while driving home to attend his father's funeral.
Other especially accomplished stories are "The Bad Guy," a brief but quite effective piece in which a fatally wounded cop makes an unpredictable revelation; "A Nightmare on Elm Lane," describing the retrieval of human bones in the backyard of a respected family; and "The Custer Files," providing an alternative, more gruesome description of the Little Big Horn battle.
I also particularly enjoyed two stories featuring a couple of policeman: "Dirty Coppers," written with Ed Gorman and graced by terrific dialogue, and "The Hunch," a very fine detective story about multiple murders of young kids.
Highly recommended not only to horror fans but to any lover of good fiction.
---
Mario Guslandi was born in Milan, Italy, where he currently lives. He became addicted to horror and supernatural fiction (too) many years ago, after accidentally reading a reprint anthology of stories by MR James, JS Le Fanu, Arthur Machen etc. Most likely the only Italian who regularly reads (and reviews) dark fiction in English, he has contributed over the years to various genre websites such as Horrorworld, Hellnotes, The British Fantasy Society, The Agony Column and many more. His last review for us was A Ghost & Scholars Book of Folk Horror, edited by Rosemary Pardoe.