Birthday Reviews: Wynne Whiteford's "Night of the Wandjina"
Birthday Reviews: Wynne Whiteford's "Night of the Wandjina"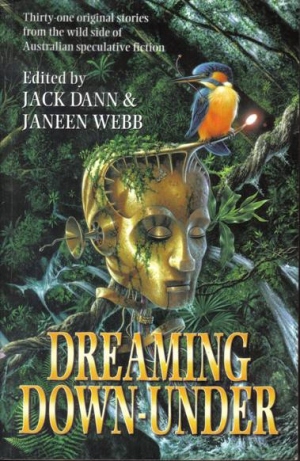 Wynne Whiteford was born on December 23, 1915 in Melbourne, Australia. He died on September 30, 2002.
In 1987, Whiteford received a short story award from the Epicurean and Cultural Society. Whiteford's novel The Specialist was nominated for the Ditmar Award in 1991. In 1995 he was presented with the Chandler Award, presented for Outstanding Achievement in Australian Science Fiction.
"Night of the Wandjina" was Whiteford's final published work and appeared in the 1998 anthology Dreaming Down Under, edited by Jack Dann and Janeen Webb. When the anthology was split into two volumes for a paperback printing, the story appeared in volume one. It has not, otherwise been reprinted.
When a company is preparing to drill for oil, one of their employees, Kel, warns them that he is uncomfortable that they plan to drill near an aboriginal site. Asked whether he believes they might disturb the spirits, Kel proceeds to tell a story about one of his earlier forays in oil exploration.
Kel tells his Director that he once went into the Outback with a team of four. When they found some aboriginal symbols looked like aliens, their aboriginal teammate, Djerri, commented that it represented a Wandjina, which he explained was a sort of wind spirit. When they decided to dig anyway, Djerri took one of their motorbikes and headed back to their camp, unwilling to be a part of the drilling team. They found a glass cylinder which they carefully unearthed, but when it broke it released a small whirlwind which seemed to take control of one of them and caused him to run until his body gave out.
The story treats the aboriginal culture and beliefs with respect, but at the same time carries a certain amount of "there are somethings man is not meant to know" and "don't disturb the ancient spirits." Kel and his mates approach the area knowing that they have a job to do and although Djerri can't convince them not to, they are try to do the least amount of damage they can, although they also give into their natural curiosity, with dire consequences.
Whiteford related his tale as a story within a story, which distances the reader from the action and also removes some of the sense of importance since the reader knows that the narrator, at least, will survive the strange incidents. While some stories benefit from this sort of removal, "Night of the Wandjina" doesn't really gain anything.  The narrator doesn't impart additional knowledge that could only be gained from later research and in the course of the story he is relating, he learns the outcome of everyone. There is a little indication that his story isn't over, but it isn't enough to really support the structure.
Reviewed in its only appearance in the anthology Dreaming Down Under, edited by Jack Dann & Janeen Webb, Tor Books, 2001.
---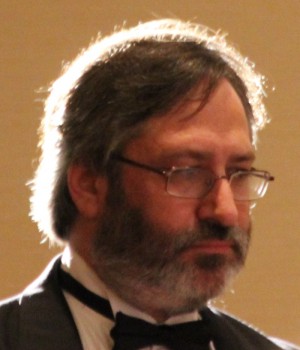 Steven H Silver is a sixteen-time Hugo Award nominee and was the publisher of the Hugo-nominated fanzine Argentus as well as the editor and publisher of ISFiC Press for 8 years. He has also edited books for DAW and NESFA Press. He began publishing short fiction in 2008 and his most recently published story is "Webinar: Web Sites" in The Tangled Web. Steven has chaired the first Midwest Construction, Windycon three times, and the SFWA Nebula Conference 6 times, as well as serving as the Event Coordinator for SFWA. He was programming chair for Chicon 2000 and Vice Chair of Chicon 7.