Birthday Reviews: Roger Dee's "Worlds Within Worlds"
Birthday Reviews: Roger Dee's "Worlds Within Worlds"
Front and back covers by Frank R. Paul
Roger Dee Aycock was born on December 6, 1914 and died on April 5, 2004. He wrote mostly using the pseudonym Roger Dee, although he also published one story as John Starr when he had two stories appear in the November 1951 issue of Planet Stories.
Dee's story "Worlds within World" initially appeared in the October 1953 issue of Science Fiction +, the final science fiction publishing project of Hugo Gernsback. It was the penultimate issue of the magazine. The story was reprinted in Science Fiction Monthly issue one, in September 1955, an Australian magazine edited by Michael Cannon.
"Worlds within Worlds" may not have been a cliché when it was first published, but in many ways it reads like one now, not just for its central idea that modern readers will see coming, but for the techniques Dee uses to tell his tale. From the earliest part of the narrative, he uses undefined terms and technobabble to give it a futuristic feel and it is only well into the story that the reader fully begins to understand the situation that the main character, Racon, is in, although Racon is fully cognizant of where he is and what is going on. Mostly. He is wondering why he isn't being allowed on an interstellar research ship that is about to launch.
When Racon goes looking for answers, he discovers that another experiment occurring in the space station has taken an unexpected turn. The station houses a series of experiments in which a virtual planet has been created in small globes. The scientists are watching activity on these globes for signs of life and on one of them, life has emerged and advanced much faster than expected. When life on the tiny globe attains the ability to not only leave their planet, but approach the sphere which encapsulates them, the decision is made to annihilate the experiment before they realize they are in a confined space.
Naturally, the situation Racon has found himself in leads to the realization that the experiment with the "Midges" that is about to be ended mirrors the situation he finds himself in. The humans are about to leave their confined space to travel to other stars and suddenly fear that launching the ship can trigger their own eradication by beings whose experiment they are.
Read in 2018, Dee doesn't offer any twists to the basic set up and his desire to try to play things close to the chest with a lack of description works against the story.
Reviewed in its original appearance in the magazine Science Fiction +, edited by Hugo Gernsback, October 1953.
---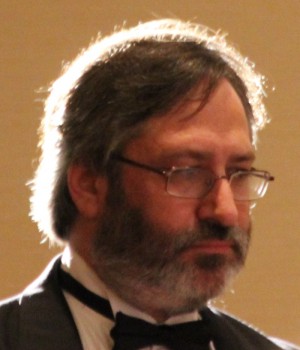 Steven H Silver is a sixteen-time Hugo Award nominee and was the publisher of the Hugo-nominated fanzine Argentus as well as the editor and publisher of ISFiC Press for 8 years. He has also edited books for DAW and NESFA Press. He began publishing short fiction in 2008 and his most recently published story is "Webinar: Web Sites" in The Tangled Web. Steven has chaired the first Midwest Construction, Windycon three times, and the SFWA Nebula Conference 6 times, as well as serving as the Event Coordinator for SFWA. He was programming chair for Chicon 2000 and Vice Chair of Chicon 7.