Goth Chick News: Visiting Great America's Fright Fest, I Mean Hell Fest… Well Neither Actually
Goth Chick News: Visiting Great America's Fright Fest, I Mean Hell Fest… Well Neither Actually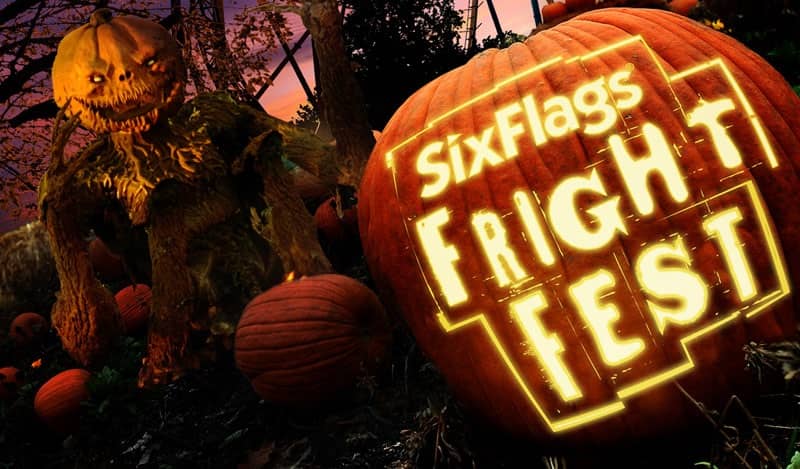 It was in my second year of writing for Black Gate, that I was invited to my very first Halloween press event, which was to cover our local Six Flags Amusement Park's Fright Fest. Launched in 1993, the Gurnee, IL attraction, Six Flags Great America, is hosting its 25th Fright Fest this year, and the Friday prior to its opening Saturday night has traditionally been used as a "dress rehearsal" for the staff while also hosting corporate outings and press. Attendance is held to 2000 people which is awesome for a park that reportedly has a capacity of 30K. This means lines are short and its actually possible to hit up all the rides as well as the special "haunted attractions" in the five hours the park is open that evening.
Over the years Fright Fest has had its ups and downs which seems to have loosely followed the mood of America itself. In 1999, Six Flags licensed and opened Alice Cooper's Brutal Planet "haunted house," featuring music from the album and using leather-clad go-go dancers as entertainment while you waited in line – assuming, I can only suppose, that something called "Fright Fest" was meant to be more of an "adult" event. Six Flags also licensed other intellectual properties for mazes and scare zones over the years, including the Saw films. Décor in the park back then pulled no punches, with elaborate and sometimes very gory scenes set up in the grassy areas, and impressive, movie-quality makeup on the actors.
Following the real-life horror of 2001, Great America pulled way back. That year and for several years after, Fright Fest became family friendly in the extreme with almost no decorations and the scares confined to a corn maze and lots of creepy clowns. I didn't mind. We'd seen enough stuff on the news to last us awhile.
In the last 10 years, Fright Fest has returned to a true Halloween event, albeit slowly. Somewhere during that time a decision was made to divide the park in two – with one side being no-scare zones safe for the younger set, and the other half being no-holds-barred. It was clear that substantial investments were being made in the "haunted houses" which became more elaborate and professional each year. When the Massacre Medical Center first premiered, looking like an actual abandoned hospital, complete with a water therapy room hiding a bloodied-up guy who stood up out of the tiled pool to scream for help, Fright Fest was once again well worth the hour trek north to attend.
It was therefore with much anticipation that Black Gate photog Chris Z and I headed to Gurnee to attend and report on the 2018 event. And this year, there was once again a movie tie in with a soon-to-be-released horror film, Hell Fest.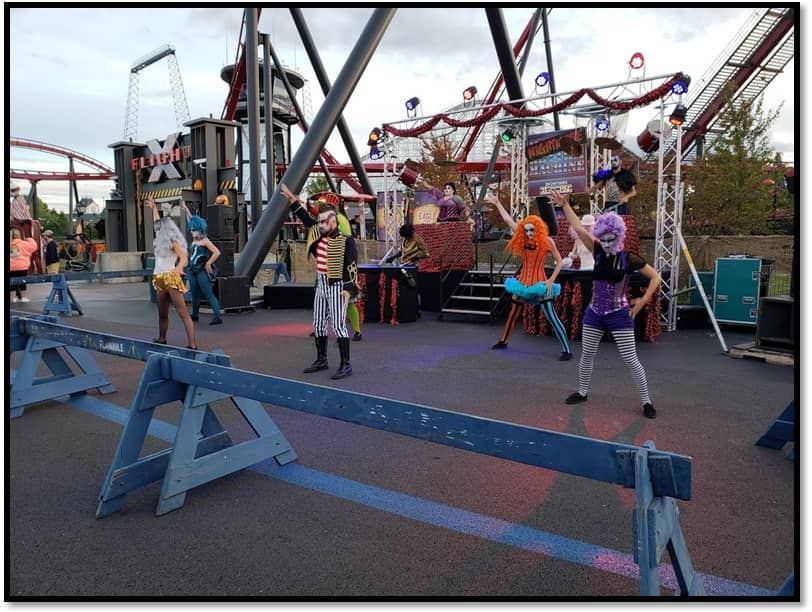 Street performers, but very few decorations…
The movie premise isn't new. There's been quite a list of horror movies set in amusement parks such as Closed for the Season, Funhouse, Carnival of Souls and my personal favorite, Zombieland, among many others. But this latest one seems promising to someone like me who has wandered around Fright Fest-like events in many amusement parks after dark, and wondered "what if":
Hell Fest — A bunch of friends get tickets for a traveling horror-tinged attraction at an amusement park, and they're followed by "The Other," a masked weirdo in a hoodie. Chaos reigns when the psycho starts picking them off one by one, and everybody else thinks it's just part of the show.
Sounds like the perfect opportunity for Great America to tie in one of their haunted houses, perhaps even making it an "18 and older" experience like Cedar Point does for several of their attractions during their Halloweekends. Chris Z. had found information indicating the attraction would replicate several scenes from the film, so expectations were high.
I'm not saying this Hell Fest is going to win any awards, but check out the RED BAND (NSFW) trailer to understand why we were geeked to have a look at the Fright Fest attraction for ourselves:
And the verdict is….?
Meh.
But oh, how I wish it wasn't.
Granted, going through as many haunts as we do each season, we understand we're a bit jaded. But honestly, we were ready and willing to go along with Great America on this one, and instead of a memorable scare event, we were treated to a recycled attraction from a prior year that seemed to make no reference at all to the movie and was so understaffed we had time to stand around in some of the "scenes" and critique the decorations. I'm no longer sure what I was expecting, but this wasn't it.
On top of it all was a park devoid of any meaningful decorations, even the standard pieces that had been present for the last seven or eight years. It looked so cursory that I would venture to say my own front yard in the month of October shows more ingenuity and care. Oddly, we started noticing all the buildings were wrapped in… could that really be what it looks like….?
Darkened Christmas lights???
It was true, and likely the cause of the anemic Halloween décor.
Beginning in November 2018, Six Flags Great America will stay open through the end of the year for a new event called Holiday in the Park, which will run weekends through December 23, 2018, and run daily December 26 through December 31.
Seriously.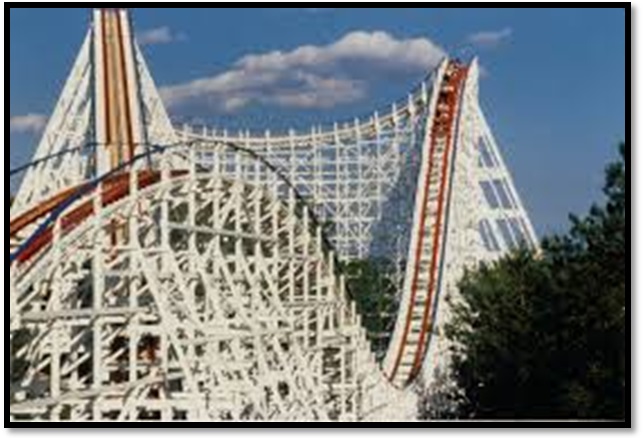 American Eagle coaster, circa 1976
According to their website the park will be running all their rides for this event, meaning someone is going to need to deice the American Eagle roller coaster which feels like any ride on it may be your last, even in warm weather. And this IS Chicago after all, where the normal wind chill in December can cause permanent skin damage, forget flying off the Batman coaster at 90 miles per hour which will likely cause your ears to freeze and drop off.
Anyway, it appears to be an effort to reduce the amount of work necessary to go from Fright Fest to Christmas Town that has caused the steep reduction in atmosphere this October, with a few wooden coffins barely obscuring the candy canes.
Major downer.
So, though this year's Fright Fest is nothing at all to scream about, we can still hold out hope for a bit of Halloween fun to come out of Hell Fest the movie, which hits theaters September 28th.
Have you hit up Fright Fest at one of the other 16 Six Flags locations in the US? Tell us about your experience here or drop a line to sue@blackgate.com.