The B&N Sci-Fi and Fantasy Blog on the Best Science Fiction & Fantasy of May 2018
The B&N Sci-Fi and Fantasy Blog on the Best Science Fiction & Fantasy of May 2018
We've reached the end of May already. I don't know about you, but I thought I'd have a lot more reading done by now. Well, that's why there's always next month.
But before we bring down the curtain entirely on May, let's make sure we haven't overlooked anything interesting. Over at the Barnes & Noble Sci-Fi and Fantasy Blog, Jeff Somers tells us all about their selections for the top release for the month. Here's a few highlights.
Black Helicopters, by Caitlin R. Kiernan (Tor Books, 208 pages, $14.99 paperback/$.99 digital, May 1)
An expanded version of a novella previously nominated for a World Fantasy Award, Black Helicopters is set in a world where logic and the laws of nature seem to be decaying. Off the coast of Maine, huge monstrosities appear, and head inland. Forces assemble to hold back the darkness, among them Sixty-Six, the scion of a CIA experiment, while across the ocean in Dublin, an immortal secret agent tracks down twin sisters with incredible powers to recruit them for the cause. As the world descends into paranoia and chaos, buried connections come to light that change everything. As a companion piece to the fungal horror of 2016's Agents of Dreamland, this novella doesn't disappoint.
We covered Agents of Dreamland just last year.
[Click the images for mega-sized versions.]
Song of Blood and Stone, by L. Penelope (St. Martin's Press, 384 pages, $26.99 hardcover/$13.99 digital, May 1)
In the land of Elsira, Jasminda is an outcast due to her dark skin and her Earthsong powers, which are feared and shunned. Living alone, she's powerless to stop a group of soldiers from invading her cabin to use as shelter, and bringing with them an injured spy whose mission was to prove that the Mantle between Elsira and the land of Lagrimar is failing — and that an ancient evil, growing in power, threatens to return. The spy, Jack, accomplished his mission, but must carry his findings back to his masters in order to save Elsira and its people. When Jasminda meets Jack, she's smitten, and risks healing him with her Earthsong. The pair escape the cabin and head off on a dangerous quest for knowledge necessary to save the world, but navigating a place where neither is welcome or trusted means they must trust each other totally—and both carry secrets that could ruin everything. This debut, which won awards when originally self-published, introduces an exciting new voice to the wider world of fantasy readers.
Song of Blood & Stone is Book One of the Earthsinger Chronicles.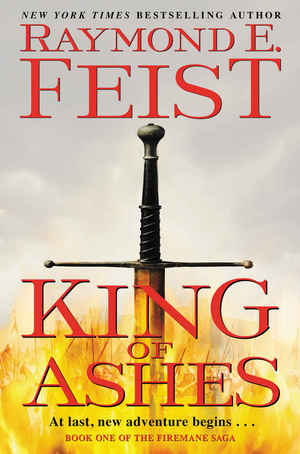 King of Ashes, by Raymond E. Feist (Harper Voyager, 512 pages, $29.99 hardcover/$15.99 digital, May 8)
Feist's first foray outside the universe of The Riftwar Saga begins in bloody fashion, as Baron Daylon Dumarch betrays his liege, King Steveren Langene of Ithrace, known as Firemane. Dumarch believes he is trading his king's life for his own family's safety, but he quickly comes to regret his betrayal when the five kingdoms of the world are plunged into the abyss of war, and Ithrace is destroyed. When a child that may be Firemane's heir is left with Dumarch, now a kingless free lord, he has a chance to make amends and chooses to raise and protect the boy in secret. Meanwhile, another child of mysterious origin, Declan, grows up as a blacksmith's apprentice, and somehow unlocks the ancient secret of forging what's known as King's Steel — putting his life in danger. Forced to flee, Declan and the unknowing heir to Ithrace's throne find their fates colliding, and leading them towards a terrible secret.
King of Ashes is advertised as "Book One of the Firemane Saga." No word yet on when future volumes will appear.
The Thousand Deaths of Ardor Benn, by Tyler Whitesides (Orbit, 784 pages, $16.99 paperback/$11.99 digital, May 15)
In a world where magical "grit" must be collected in unique ways — for example, feeding precious jewels to a dragon and collecting the, er, biological results — Ardor Benn fancies himself long past his harvesting days. And where others look at him and see a con artist and a thief, he prefers to see himself as a "Ruse Artist Extraordinaire," skilled in pulling of complicated schemes and a master of deceit. When he's hired to steal a king's crown jewels so they can be fed to a dragon and made into a particularly powerful batch of magical grit, he assembles an Ocean's 11-style team of forgers, thieves, dissemblers, and con artists to pull off the job. Even as they plan their audacious crime, it becomes clear there's much more at stake than simple larceny and a good payday. In fact, Ardor begins to think he and his team of criminals may be the only thing standing in the way of the end of the world. This one is for all you fans of Scott Lynch and Marshall Ryan Maresca eager to meet your next favorite fantasy ne'er-do-well.
Read Jeff's complete list of 30 fabulous titles for May here.
The Barnes & Noble Sci-Fi & Fantasy Blog is a great resource for those with limited reading time (like us). Here's a few of our selections from their recent articles.
The Barnes & Noble Sci-Fi & Fantasy Blog on the Best Science Fiction & Fantasy Books of April 2018
The Barnes & Noble Sci-Fi & Fantasy Blog on the Best Comics & Graphic Novels of February 2018 by Jeff Somers
The B&N Sci-Fi & Fantasy Blog on the Best Science Fiction & Fantasy of 2017 by Joel Cunningham
The B&N Sci-fi & Fantasy Blog on the Best Comics & Graphic Novels of August by Ross Johnson
The B&N Sci-fi & Fantasy Blog on the Best Science Fiction & Fantasy Books of August by Jeff Somers
B&N Sci-Fi & Fantasy Blog on the Best Science Fiction & Fantasy Books of 2017 So Far by Joel Cunningham
B&N Blog on 96 Science Fiction & Fantasy Books to Read in 2017 by Joel Cunningham
Barnes & Noble Sci-Fi & Fantasy Blog Selects the Best Horror Books of 2016 by Sam Reader
See all our recent New Treasures here.