Goth Chick News: King's Doctor Sleep Gets a Director and a Release Date
Goth Chick News: King's Doctor Sleep Gets a Director and a Release Date
Stephen King's The Shining is one of his most iconic stories, perhaps as much for the book itself as for the author's intense loathing of its screen adaptation by Stanley Kubrick, which has often been called one of the best horror movies ever made. King hated everything about Kubrick's take, from his interpretation of Jack Torrance to the victim that was Wendy. Some 38 years since the release of The Shining, King was recently quoted as calling the film, "a big, beautiful Cadillac with no engine inside it." I mean, I have only just cracked the binding of King's new work The Outsider when he introduces a character by noting that she's watching Stanley Kubrick's Paths of Glory because, in her words, it's "better than The Shining."
Ouch.
Understanding that King is still hanging onto significant ill feelings about The Shining's translation from page to screen makes me wonder a bit about the news this week that his Shining sequel, Doctor Sleep, has acquired both a director and a release date.
Mike Flanagan has had success interpreting King's work in the past, having recently adapted Gerald's Game for Netflix in 2017, and Warner Bros announced this week that Doctor Sleep has been greenlighted, with Flanagan at the helm and set to release on January 24, 2020.
[Click the images for Overlook-sized versions.]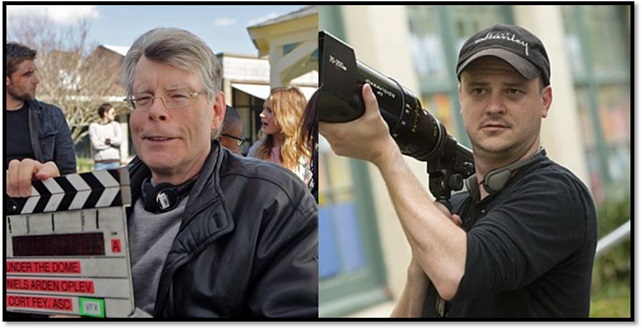 Stephen King and Mike Flanagan
Personally, I place Doctor Sleep in my list of top horror novels, liking it even more than The Shining. If you need a refresher, here's what Amazon has to say about the story:
On highways across America, a tribe of people called the True Knot travel in search of sustenance. They look harmless—mostly old, lots of polyester, and married to their RVs. But as Dan Torrance knows, and spunky twelve-year-old Abra Stone learns, the True Knot are quasi-immortal, living off the steam that children with the shining produce when they are slowly tortured to death.

Haunted by the inhabitants of the Overlook Hotel, where he spent one horrific childhood year, Dan has been drifting for decades, desperate to shed his father's legacy of despair, alcoholism, and violence. Finally, he settles in a New Hampshire town, an AA community that sustains him, and a job at a nursing home where his remnant shining power provides the crucial final comfort to the dying. Aided by a prescient cat, he becomes "Doctor Sleep."

Then Dan meets the evanescent Abra Stone, and it is her spectacular gift, the brightest shining ever seen, that reignites Dan's own demons and summons him to a battle for Abra's soul and survival.
This leaves me pondering how Flanagan will approach the sequel. It's probably safe to assume he won't add insult to injury by directly referencing the original film which King so despises, but Kubrick's version is widely loved by fans and its also safe to say that far more people have seen the movie than read the book.
***SPOILERS AHEAD***
Though in both the movie and the book versions of The Shining, Jack Torrance doesn't survive, the book has Mr. Halloran (played by Scatman Crothers in the film) living through the events at the Overlook Hotel and playing a significant role in the early chapters of Doctor Sleep. There are a few other tricky bits between book and film that would need adjusting to mesh with its sequel, but all in all Doctor Sleep is very much its own story and can likely be told on screen without too much upset to the fans of either version of the original work.
Rumor has it that hot of the box office success of IT, Warner Brothers is also going for a Shining trifecta. Word is they are producing a prequel called The Overlook Hotel for which we have no other details other than to guess it is an origin story on how the hotel became so haunted. As fans of the original book know, we got some glimpses into The Overlook's shady past – enough to imagine the prequel could be period piece from the 1920's. In any case, it's possible that between the prequel and the sequel, Warner Bros will be able to tie up any jagged edges left over from Kubrick which seem to still seriously irritate Mr. King.
There are no casting choices or rumors to report for either work at this time, but fans are going nuts making their opinions known. As of now the fan favorite for playing Danny (now "Dan") Torrance is Sam Rockwell (Three Billboards Outside of Ebbing, Missouri)
Watch this space for more…
Have a question or comment? Post it here or drop a line to sue@blackgate.com.